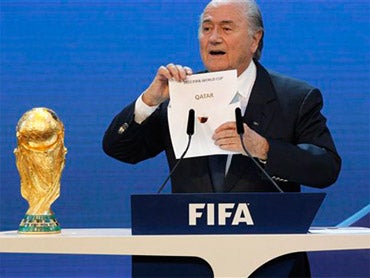 Bribery alleged in World Cup bidding process
LONDON - Soccer's governing body was hit with new corruption allegations Tuesday when six FIFA executive committee members were accused of receiving or demanding bribes during bidding for the 2018 and 2022 World Cups.
Issa Hayatou of Cameroon and Jacques Anouma of the Ivory Coast were allegedly paid $1.5 million to vote for Qatar, according to evidence submitted to a British parliamentary inquiry by The Sunday Times newspaper.
The Gulf nation beat the United States in the final round of voting in December for the 2022 tournament.
The Culture, Media and Sport Committee of the House of Commons also heard from the former head of England's 2018 bid, who described the conduct of executive committee members Jack Warner, Nicolas Leoz, Ricardo Teixeira and Worawi Makudi in the 2018 contest as "improper and unethical."
The parliamentary panel is looking into England's failed bid for the World Cup as part of a wider inquiry into soccer governance.
In Zurich, FIFA President Sepp Blatter said he will ask for evidence that supports the claims and forward any allegations to the FIFA ethics committee.
"I cannot say they are all angels or they are all devils," he said of the executive members.
"We must have the evidence and then we will act immediately against all those (who) would be breach of the ethical code rules," Blatter added.
Referring to his bid for re-election next month against Mohammed bin Hammam of Qatar, Blatter said: "I'm fighting to clear FIFA, I'm fighting to clean FIFA."
The bidding contest was rocked even before the vote when The Sunday Times published in October details of an undercover investigation that led to two of FIFA's 24 executive committee members being suspended.
Amos Adamu of Nigeria was found guilty by FIFA's ethics court of soliciting bribes from undercover reporters, while Reynald Temarii of Tahiti was banned for breaching rules on confidentiality and loyalty.
The British newspaper sent further evidence — which it did not publish at the time for legal reasons — to the British committee on Monday to be made public using parliamentary privilege.
Two of the paper's investigative journalists told the committee in a letter that a whistleblower who had worked for the Qatari bid told them in December that the country "had paid $1.5 million to two FIFA ExCo members — Hayatou and Jacques Anouma of the Ivory Coast — to secure their votes."
Reporters Jonathan Calvert and Claire Newell added that "a similar deal had been struck with Amos Adamu, although he was prevented from voting because he was suspended following our original article."
Calvert and Newell said the whistleblower — who was not identified — told them the cash would go to the three members' soccer federations, but "there would be no questions asked about how the money was used."
"It was said in such a way that 'We are giving it to you,"' they quoted the whistleblower as saying. "It was going to their federation. Basically, if they took it into their pocket, we don't give a jack."
"The whisteblower's allegations raise questions about the validity of Qatar's wining bid," Calvert and Newell wrote. "Hayatou and Anouma are both reported to have voted for Qatar."
While the reporters acknowledge the allegations are unproven, they wrote: "We believe they were credible because they were made by people who held or had held official positions in FIFA."
Hayatou also has been a member of the International Olympic Committee since 2001.
"The IOC takes all allegations of corruption very seriously and we would ask for any evidence of wrong doing to be passed to the IOC's Ethics Commission," IOC spokesman Mark Adams told The Associated Press.
Details of the alleged bribes were announced in the session by Member of Parliament Damian Collins as Englishman Mike Lee was answering questions about the World Cup bidding process. Lee worked on Qatar's bid.
Lee, who also worked on the successful bids by London for the 2012 Olympics and Rio de Janeiro for the 2016 Games, said he had no knowledge about the allegations being made by The Sunday Times.
The session also heard from David Triesman, who resigned as chairman of England's Football Association and its 2018 bid team last May — seven months before the vote — after being secretly recorded by a tabloid newspaper making unproven claims that Spain and Russia set up a bribery scam to influence referees at the 2010 World Cup.
Triesman — a member of the House of Lords — made the allegations about Warner, Leoz, Teixeira and Makudi to the committee.
He claimed that Warner, a FIFA vice president and CONCACAF president from Trinidad and Tobago, asked for money — suggested to be about $4.1 million — to build an education center in Trinidad and for about $820,000 to buy Haiti's World Cup TV rights.
Triesman also said that Leoz, of Paraguay, asked for an honorary knighthood, while Makudi of Thailand allegedly wanted to receive money from English TV for them to broadcast a planned friendly against the country.
Triesman claimed that Teixeira, a Brazilian, asked him to "come and tell me what you have got for me."
"These were some of the things that were put to me personally, sometimes in the presence of others, which in my view did not represent proper and ethical behavior on the part of members of the executive committee," Triesman said.
The British government responded to the allegations by calling on FIFA to look at how the IOC adopted strict rules following the Salt Lake City bidding scandal in 1999. Ten IOC members resigned or were expelled in the affair.
"The International Olympic Committee had to face up to big challenges after the award of the Olympics to Salt Lake City and they took serious action and restored confidence in their processes," said Culture Secretary Jeremy Hunt, who oversees sport in Britain. "FIFA needs to do the same."
Thanks for reading CBS NEWS.
Create your free account or log in
for more features.