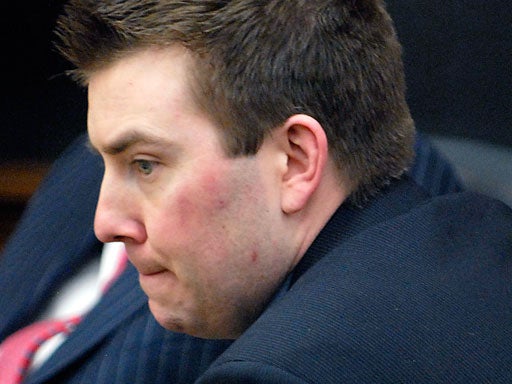 Brianna Denison's Killer, James Biela, Gets Death; Mom Says "He Messed With the Wrong Family"
Reno, Nev. (CBS/AP) Brianna Denison's family may feel a measure of closure after seeing her killer, serial rapist James Biela, sentenced to death Wednesday. For Brianna's mother, however, the vindication is palpable.
PICTURES: Brianna Denison's Life Ends in Brutal Rape and Murder

"When James Michael Biela messed with my little girl, he messed with the wrong families," Bridgette Denison said after the sentencing, "[He messed with] the wrong women, and the wrong city and state."
The same jury that last week convicted the
28-year-old Biela, deliberated for about nine hours before reaching a unanimous verdict to execute him by lethal injection.

Before sentencing deliberations began, the pipe fitter and ex-marine from Sparks, Nev. apologized in court Tuesday, saying he regretted that he would not be able to see his son grow up.

PICTURES: Brianna Denison's Life Ends in Brutal Rape and Murder
His public defenders urged the jury to consider that he had no previous criminal record and grew up in an abusive, impoverished home in the Chicago area where his father brutally beat his mother on almost a daily basis.
But the jury ultimately decided an unfortunate childhood did not absolve him of Brianna's brutal rape and murder or of the multiple assaults he committed in 2007.
As Biela was being led out of the courtroom he turned to his mother and apologized.
"He said `Don't cry.' He said he loved us,"' Kathy Lovell told reporters later.
Brianna, a sophomore at California's Santa Barbara City College, was home visiting friends during winter break when she was abducted Jan. 20, 2008, while sleeping on a friend's couch near the UNR campus.
"It started probably one of the most massive manhunts I've ever seen for a missing person in this community," Washoe County District Attorney Dick Gammick said Wednesday. "Nothing we do here can bring Brianna Denison back, but I think I can stand here now and say we did bring Bri justice," he said.
Biela's sentence will be automatically appealed to the Nevada Supreme Court.
COMPLETE COVERAGE: Brianna Denison's Murder
Thanks for reading CBS NEWS.
Create your free account or log in
for more features.