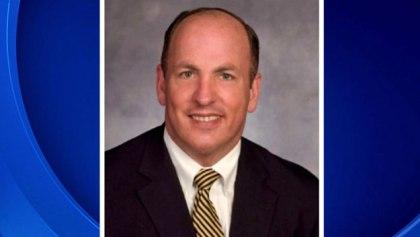 Former Sen. Brian Joyce arrested after federal indictment
BOSTON -- Former Massachusetts state Sen. Brian Joyce was arrested Friday and accused in a federal indictment of using his office for personal profit. Court documents allege Joyce, a Democrat from Milton, schemed to defraud the state by "conspiring to accept and accepting a stream of concealed bribes and kickbacks from private individuals," in exchange for official actions as a senator.
The 104-page indictment includes a number of charges including racketeering, extortion, wire fraud and money laundering. Joyce "violated the public's trust" and "decided to take the path of greed," federal law enforcement officials said, CBS Boston reported.
Joyce, 55, was expected to appear before a federal magistrate later in the day. His attorney, Howard Cooper, said was he was "reviewing the charges."
Joyce's law office in Canton was raided by the FBI in February 2016 in what was then described as "court-authorized activity in connection with an ongoing federal investigation." Cooper said at the time that Joyce was cooperating and believed he had done nothing wrong.
Joyce, who had served as assistant majority leader, said shortly after the investigation was announced last year that he would not seek re-election to the Senate. He had represented his district since 1998.
Court documents outline a number of complex schemes in which Joyce allegedly concealed payments made to him in exchange for official actions, including using his law office as a "money laundering conduit," and by making "false statements and omissions" to the state Ethics Commission.
In one case, prosecutors alleged Joyce used his position to exert influence on behalf of a New York-based energy brokerage business and formed a shell company to collect "concealed kickbacks" from the firm.
CBS Boston reports that in February 2016, the FBI and IRS raided Joyce's Canton office.
In 2015, then-Senate President Stan Rosenberg asked the commission to review Joyce's conduct after The Boston Globe reported on potential conflicts of interest focusing on whether he used his position to boost his law practice.
In an unrelated case last year, Joyce agreed to pay nearly $5,000 to resolve issues raised by state campaign finance regulators, including using campaign funds for his son's 2014 high school graduation party. Joyce said there had been no finding of wrongdoing on his part in that case.
The arrest is the second blow to the state Senate in the past week. Rosenberg announced Monday he was stepping aside as president of the chamber during a Senate Ethics Committee investigation into the circumstances surrounding reported sexual misconduct allegations by several men against his husband, Bryon Hefner.
Harriette Chandler, a Worcester Democrat who is currently serving as acting Senate president, released a brief statement Friday following Joyce's arrest.
"Law enforcement has done its job today," said Chandler. "This case now moves to the courts, and I am confident that the justice system will come to a fair and just conclusion in the days to come."
Thanks for reading CBS NEWS.
Create your free account or log in
for more features.