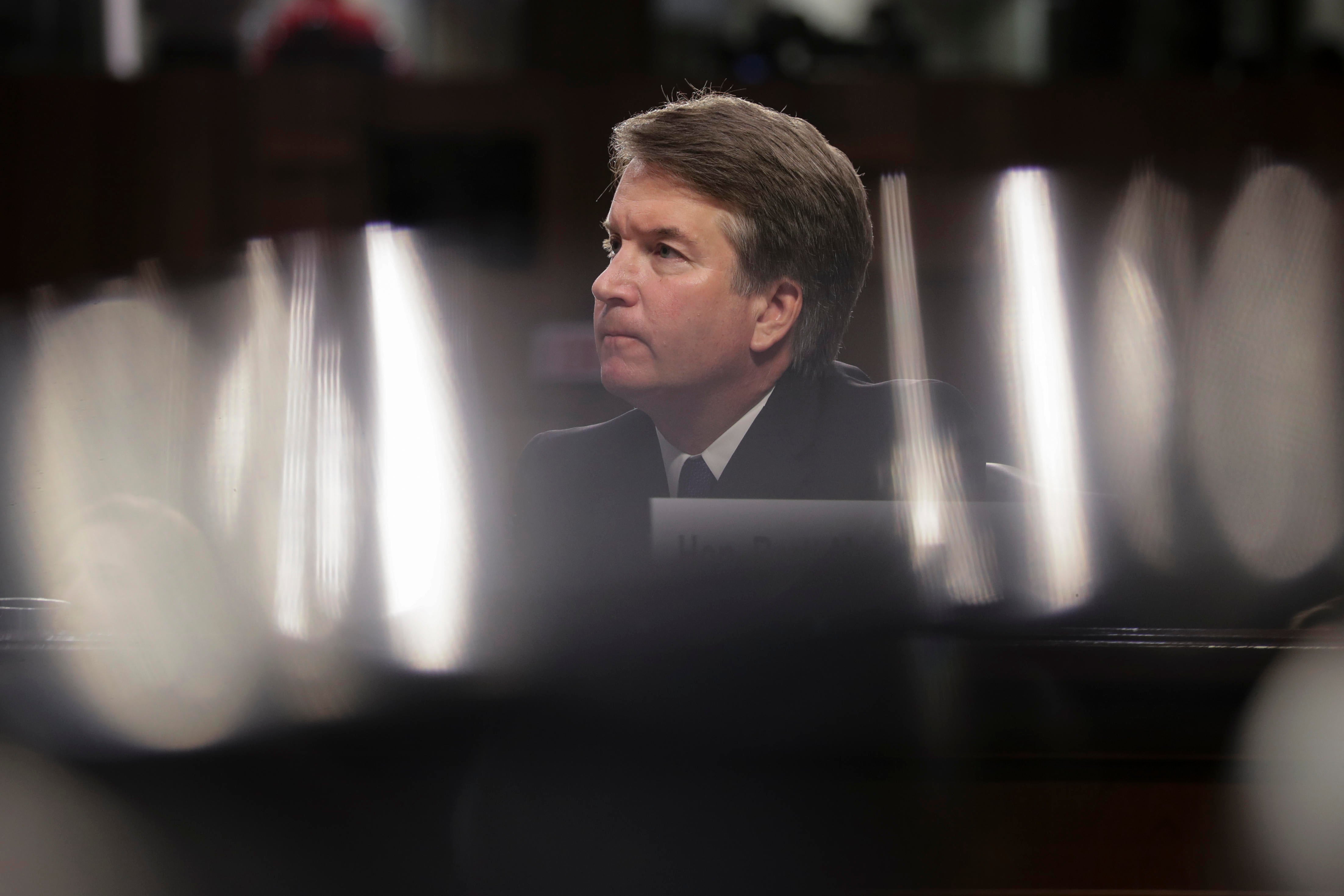 Brett Kavanaugh confirmation battle emerges as key election issue
The potential confirmation of Brett Kavanaugh, and thus the rightward shift of the Supreme Court, was supposed to be a key selling point for GOP candidates in the midterm elections. But now, Republicans are trying to keep Kavanaugh from becoming a liability.
Mindful of the echoes of Anita Hill, the surge of women candidates in 2018 and the way in which the MeToo era is fueling the Democratic base, Republicans say the woman who accused Kavanaugh of sexual assault while they were in high school should share her story, even as they question the motives of Senate Democrats. The Senate Judiciary Committee has invited both Dr. Christine Blasey Ford, the woman accusing Kavanaugh, and the high court nominee to appear for public testimony on Monday. Even President Trump has remained remarkably reserved for now, defending Kavanaugh but encouraging lawmakers to "go through a process."
"They understand the politics of ramming the guy through and that silencing this woman would blemish the whole thing," says former Virginia Rep. Tom Davis, who chaired the National Republican Congressional Committee and consults current campaigns. "This isn't just about a hearing for the Supreme Court. This is going to take everybody's attention heading into the election."
The stakes for Republicans are high, with just under 50 days to go until the midterm elections that could loosen the party's grip on Congress. Women voters, particularly those living in dozens of competitive House districts, figure to be a consequential constituency. Some have already dubbed 2018 the new "Year of the Woman," a reference to the 1992 midterms that sent a historic number of women to Congress, which partly stemmed from a backlash to the confirmation of Supreme Court Justice Clarence Thomas.
The Center for American Women and Politics calculates that 235 women candidates have already won their primaries for the U.S. House, shattering the previous record of 167 candidates. And 22 women won their U.S. Senate primaries this cycle, up from the previous record of 18.
Republican strategists are worried the politics of the moment could influence two key swing Senators in the party: Lisa Murkowski of Alaska and Susan Collins of Maine. Collins has expressed concern about the timing of the Kavanaugh accusation and has raised questions about why Democrats didn't alert members to the allegations earlier. But both she and Murkowski pushed to have Ford's account heard under oath.
Some party strategists say those two votes will become even more critical for confirming Kavanaugh, as they suspect allegations will provide political cover for red state Democrats up for reelection, who are otherwise inclined to cross the aisle, to vote against the judge. On Monday, the liberal group Demand Justice launched a $700,000 ad campaign targeting Collins and Murkowski, along with Sens. Cory Gardner of Colorado, who chairs the National Republican Senatorial Committee, and Dean Heller of Nevada, who faces an uphill reelection battle in November.
Additionally, the political environment has made the Supreme Court battle even more partisan than it would usually be. A Washington Post poll released just after Labor Day showed Americans evenly divided over whether Kavanaugh should be confirmed, with 78 percent of Republicans saying he should and 67 percent of Democrats saying he shouldn't.
"Republicans went into the court fight thinking that pushing this justice would be their midterm savior and it's looking more like an albatross," says Democratic strategist Jesse Ferguson.
At the same time, however, Republican strategists working on campaigns say there could be political upside for the midterms, depending how the proceedings go.
"I think a lot of this is driven by how the Democrats handle it," says one GOP strategist consulting Senate campaigns. "If they turn the dial up to 11 and break it off, then I think Republican voters will probably be galvanized. It is a very motivational thing on the right."
The confirmation of judges and the prospect of shaping both the high and lower courts for a generation has proven to be a mobilizing factor for Republicans voters, and helped to consolidate the party around Trump in 2016. The confirmation of Judge Neil Gorsuch was considered a signature achievement of the Trump administration, and Kavanaugh's appointment served as a reminder to conservatives who might have soured on the president to stay the course.
But with Kavanaugh's confirmation previously on a glidepath, GOP operatives were concerned about conservatives being complacent and staying home in the midterms. If the nomination appears to be in jeopardy or if Democrats overplay their hand, Republicans believe their sleepy base could be awakened.
"Let's let things flesh out a bit, let's figure out as much as we possibly can," says Tim Chapman, executive director of the conservative group Heritage Action, which has spent millions in support of Kavanaugh. "One problem we have is a lack of energy on the conservative side right now compared to the left. But if this is perceived as a last minute effort to derail a nominee, and now this all hangs in the balance for the election, that could help engage conservatives."
Republicans also say the timing of the release of the allegations has already riled up the base. "Right now, the conservative base is feeling like they need to dig in," Chapman says.
Several Republican U.S. Senate candidates echoed that sentiment, even as they argued Ford should be heard. While the Senate map favors Republicans, polls show close races even in states where Trump is popular. And the Supreme Court battle could be critical in rallying conservative voters to expand the majority in the upper chamber.
"The allegations should absolutely be taken seriously, but Senate Democrats have done a disservice to the accused, the accuser, and the American people, by politically waiting until the 11th hour to bring forward these allegations," said West Virginia Attorney General Patrick Morrisey, who is running against Democratic Sen. Joe Manchin.
In an interview with conservative radio show host Hugh Hewitt, Tennessee Senate candidate and current Rep. Marsha Blackburn described Kavanaugh allegation as a "delay tactic." Blackburn, who would be the first woman to represent Tennessee in the U.S. Senate if elected, later told USA Today that Ford's story should be heard under oath.
And Missouri Attorney General Josh Hawley, who is running against Democratic Sen. Claire McCaskill, said that while sexual assault allegations should never be disregarded, "The Democrats have played politics with this entire process and were opposed to Brett Kavanaugh before he was even nominated. They don't care about the truth."
On Monday, the conservative Judicial Crisis Network launched a $1.5 million ad campaign defending Kavanaugh. The spot featured a woman named Louisa Garry, a 35-year friend of the judge, vouching for his character.
"We are not going to stand by and let Judge Kavanaugh be smeared. Countless women have attested to his exemplary personal and professional character throughout his life," said the group's policy director, Carrie Severino.
Thanks for reading CBS NEWS.
Create your free account or log in
for more features.