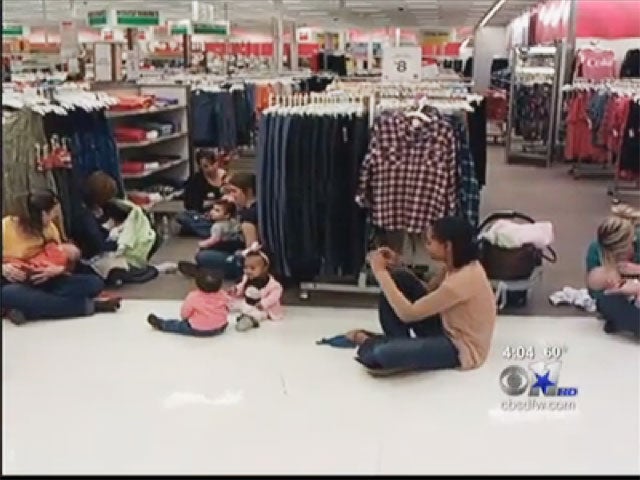 Breastfeeding moms stage "nurse-in" protests at Target stores
(CBS) Should breastfeeding be allowed in public? The oft-debated controversy that pits moms against retailers and nosey onlookers reached a fever pitch yesterday when women across the country protested Target by holding "nurse-ins" at more than 100 stores in 35 states.
PICTURES: Breast-Feeding State by State: Who's #1?
"Feeding your baby is nothing to be ashamed of," North Texas nursing mother Angela Jackson told CBSDFW.com during a nurse-in. "I feel like asking someone to move to feed their baby is basically segregation."

The nationwide protests began because of an incident on Nov. 28, when Michelle Hickman of Houston sat on the floor of the women's clothing department and began breastfeeding her infant who had just woken up hungry. Despite covering herself and the baby with a blanket, two female employees came over to her and asked her to move and threatened her that she'd get a ticket, Hickman woman wrote in a blog for the breastfeeding advocacy site, Best for Babes.

Hickman legally had a right to breastfeed in public, so when she called Target to voice her complaints, a representative told her despite her rights, Target is a "family friendly public place" with different policies than what's legally permitted, and suggested Hickman shouldn't "flaunt" her feeding publicly.
That's when Best for Babes stepped in, and with the help of a Facebook group Hickman started, organized the nurse-in for December 28, 2011. Leading up to the protest, representatives from Best for Babes reached out to Target in an effort to broker a truce and get an apology for Hickman. At the 11th hour, Target replied that it has a long-standing policy in support of breastfeeding in stores, and that the company would work to educate its team members on the store's policies.

The letter was too little too late in the organization's mind, so the nurse-in went on as planned. From Houston - where the incident took place - to Philadelphia to San Jose, moms across the nation brought their babies to Target stores to feed them in public.
"It's going to take a couple of generations before it's a non-issue," one nurse-in organizer, Kelly Roth, told Time. "Our ultimate goal is for people to not notice that anything is happening, just like with breathing or speaking or a baby taking a bottle."

This incident is by no means the first time a public battle over breastfeeding has unfolded. This past June, Detroit women organized a nurse-in after a breastfeeding mom was forced off a bus, CBS News reported.
Breast milk contains antibodies that boost babies' immune systems and help fight infections. Studies have shown that breast-fed babies have reduced chances of becoming obese or developing diabetes in childhood, and sudden infant death syndrome is less common in breast-fed infants.
According to the National Conference of State Legislatures, 45 states and Washington D.C. currently have laws that allow women to breastfeed anywhere in public.

Here's a nurse-in unfolding in Texas:
Thanks for reading CBS NEWS.
Create your free account or log in
for more features.