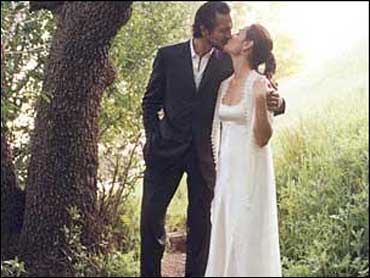 Former "Law and Order" star Benjamin Bratt and Talisa Soto, his co-star in "Pinero," were married Saturday in Bratt's hometown of San Francisco.
Bratt spokeswoman Ina Treciokas says the actor, 38, and Soto, 35, were "wedded on Saturday in San Francisco at an intimate family gathering, a day that perfectly celebrated their love and happiness."
Bratt rose to prominence as Detective Reynaldo Curtis on "Law & Order," but left the series after four years in 1999 to focus on his movie career. His films include "The River Wild," "Traffic" and "Miss Congeniality."
Last May, he ended a three and a half year relationship with Oscar winner Julia Roberts, giving gossip columnists everywhere plenty to write about.
The two took the high road in every respect after the breakup - refusing to discuss details - but published reports said the split came because Bratt was unable to get Roberts to commit to marriage.
Soto, 35, began her career as a model and is known for playing the role of the exotic Kitana in "Mortal Kombat" (1995) as well as sequels "Mortal Kombat: Annihilation" (1997) and "Mortal Kombat 3: Domination" which premieres next year. Her credits also include "The Mambo Kings" and "Spy Hard."
Her three-year marriage to actor Costas Mandylor ended in divorce in 2000. In 1990, Soto was chosen by People magazine as one of the 50 Most Beautiful People in the world.
Bratt has never been married before.
Peg Donegan, a spokeswoman for Soto, said the couple met prior to the filming of "Pinero," the 2001 film about hard-living Puerto Rican poet-playwright Miguel Pinero, who died of cirrhosis at 41 in 1988.
Thanks for reading CBS NEWS.
Create your free account or log in
for more features.