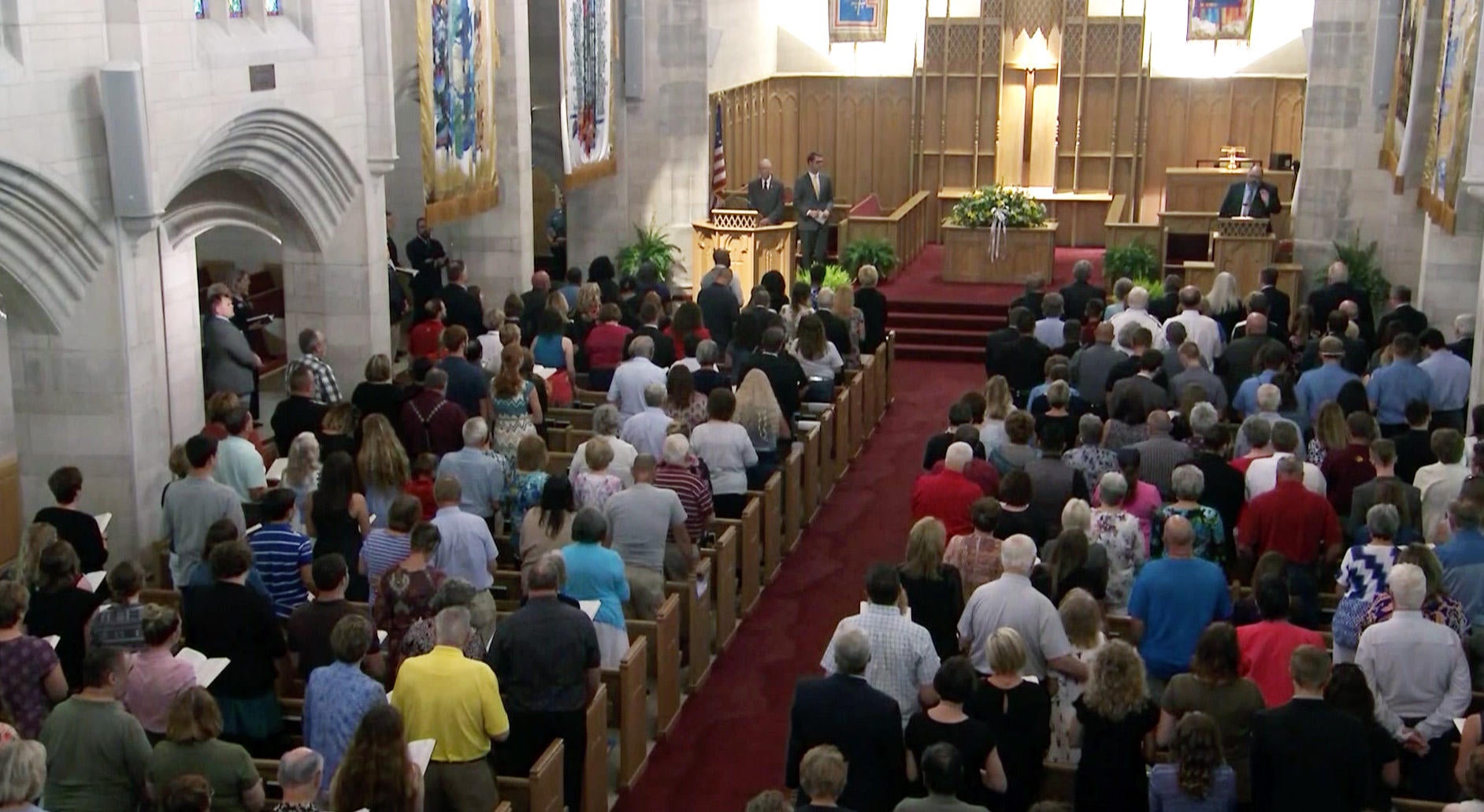 Community mourns Missouri duck boat accident victims
BRANSON, Mo. -- The 17 people killed when a tourist boat sank in a Missouri lake were remembered Sunday during a service attended by around 200 people in the tourism community of Branson. A church bell at Williams Chapel at College of the Ozarks chimed 17 times for those who died Thursday at Table Rock Lake, the Joplin Globe reported.
"Today we honor the 17 lives that were lost," said Branson Mayor Karen Best. "We honor the 14 survivors. And we honor the many heroes who did everything in their power to save lives."
The service was held at the college near the site of the accident, which happened as winds approached hurricane strength. The city and college hosted the remembrance for the victims. The other victims killed were from Missouri, Arkansas and Illinois.
More than a dozen survivors of the tragedy, along with their family and friends, filled the front pews of the church to organ music. Although a patrolman guarded their privacy, he allowed one attendee, Carmen Lawson, to deliver pink and red roses after the service to a family that lost nine loved ones.
"It was such a tragedy," said Lawson, 61, of Branson, who delivered the flowers. "I feel for the family."
Branson Mayor Karen Best recalled the desperate family members who turned to City Hall for information about their loved ones.
"We started putting faces with names. Those who were once strangers to us quickly became family," Best said. "They were a part of our community. And we did what families do. We held hands, we wept and we prayed together."
She praised the people who tried to save others from drowning, calling them "heroes who did everything in their power to save lives."
"Today we are all family," said College of the Ozarks President Jerry C. Davis. "We are here to comfort those who have been affected by this tragedy in so many, many ways."
The service came amid efforts by federal investigators who are now focused on the duck boat's black box and video from inside the boat, CBS News' Omar Villafranca reports.
The National Transportation Safety Board (NTSB) also wants to know what the captain knew about the forecasted weather when he knew it.
"The real objective is going to be to find out what kind of information they had on board when they made the decision to go out," Dr. Earl Weener of the NTSB said.
Nine of the people who died were part of one Indiana family. Online fundraisers had raised more than $400,000 for their funeral expenses by Sunday afternoon. Authorities identified them as 45-year-old Angela Coleman, 1-year-old Arya Coleman, 69-year-old Belinda Coleman, 76-year-old Ervin Coleman, 7-year-old Evan Coleman, 40-year-old Glenn Coleman, 70-year-old Horace Coleman, 2-year-old Maxwell Coleman, and 9-year-old Reece Coleman.
Two GoFundMe campaigns are underway for the Coleman family, who lost three generations in the duck boat accident. GoFundMe spokeswoman Katherine Cichy says it's verified one campaign that's raising money. Ingrid Coleman Douglas told The Indianapolis Star a second campaign is also legitimate.
The other victims were identified as 69-year-old William Asher, 68-year-old Rosemarie Hamann, 63-year-old Janice Bright, 65-year-old William Bright, and the crew member operating the boat, 73-year-old Bob Williams, all from Missouri. Also killed were 64-year-old Leslie Dennison of Illinois, and 53-year-old Steve Smith and his son, 15-year-old Lance Smith, both from Arkansas.
During the closing benediction, Nixa Fire Chaplain Steve Martin said of the victims that while "most of them are visitors ... they are not strangers to us."
Thanks for reading CBS NEWS.
Create your free account or log in
for more features.