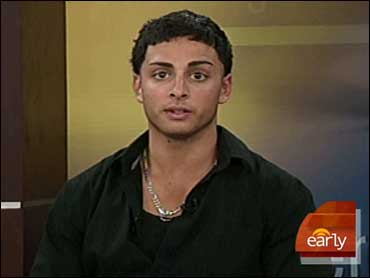 Boyfriend: Missing Teen Still Alive
John Greico refutes many of the theories surrounding the disappearance of his girlfriend, Brittanee Drexel.
He says he doesn't think Drexel's problems at home or depression caused the 17-year-old spring breaker to vanish nearly two weeks ago in Myrtle Beach, S.C.
Both are from Rochester, N.Y.
"That is something that I really want to get out to the nation, that she didn't run away," Greico told Early Show news anchor, Russ Mitchell, on Thursday. "This is not a runaway case, and it should not be handled like a runaway case."
And he says he still believes -- 12 days after her disappearance -- that Brittanee is alive.
"I speak for myself, my family, and her family, we miss her terribly. And we're going to do everything in our power to bring her home safely," Grieco said. " ... We all love her with all of our hearts."
Grieco told CBS News Drexel was going through a lot when she traveled to Myrtle Beach without her parents' permission: Her parents were getting divorced, she had her own relationship issues, and her family was losing their home.
Grieco said she needed the trip to clear her head.
Drexel told her mother she was going to stay the weekend a friend's house.
"I knew she was going," Greico said. "It was only for three days, so I wasn't concerned -- I never thought anything could happen in three days."
Grieco himself has taken two trips to Myrtle Beach to search for Drexel and follow leads -- many of which have now gone cold.
"I can't stand to be in Rochester without her," he said. "It is more like a marriage. I miss her. I was going through my voicemails, and there was one of her yelling at me, and I even miss her yelling at me."
Grieco says something must have gone wrong, but he doesn't think suicide should even be considered.
"She definitely met with foul play," he said. "I think somebody saw her walking and offered her a ride and she got in the car with the wrong person."
Grieco said the police have leads that they won't discuss, so as not to ruin the investigation.
"(The police) are giving us a positive vibe, so we are hoping that the outcome is also positive." Grieco said. "(Brittanee) is a fighter. If anybody of going to survive this she will."
The last person known to have been with Brittanee is Peter Broswick, a high school friend she went to visit in another hotel that night. Police named him a "person of interest" in the case.
Drexel is described as five feet tall, weighing 103 pounds. She has brown, shoulder-length, straight hair and blue eyes. She was last seen wearing a multi-colored striped shirt, black shorts, and silver flip-flop sandals. She was also seen holding red flip-flop sandals in a surveillance video.
If you have any information about Brittanee Drexel's possible whereabouts, contact the Myrtle Beach Police Department at (843) 918-1382. Anyone with pictures or videos from 11 South and 20 Ocean Blvd. between 8:45 p.m. and 9:15 p.m. on April 25, is urged to contact police. Crime Stoppers is now offering a $1,000 reward to anyone with information in the case.
Thanks for reading CBS NEWS.
Create your free account or log in
for more features.