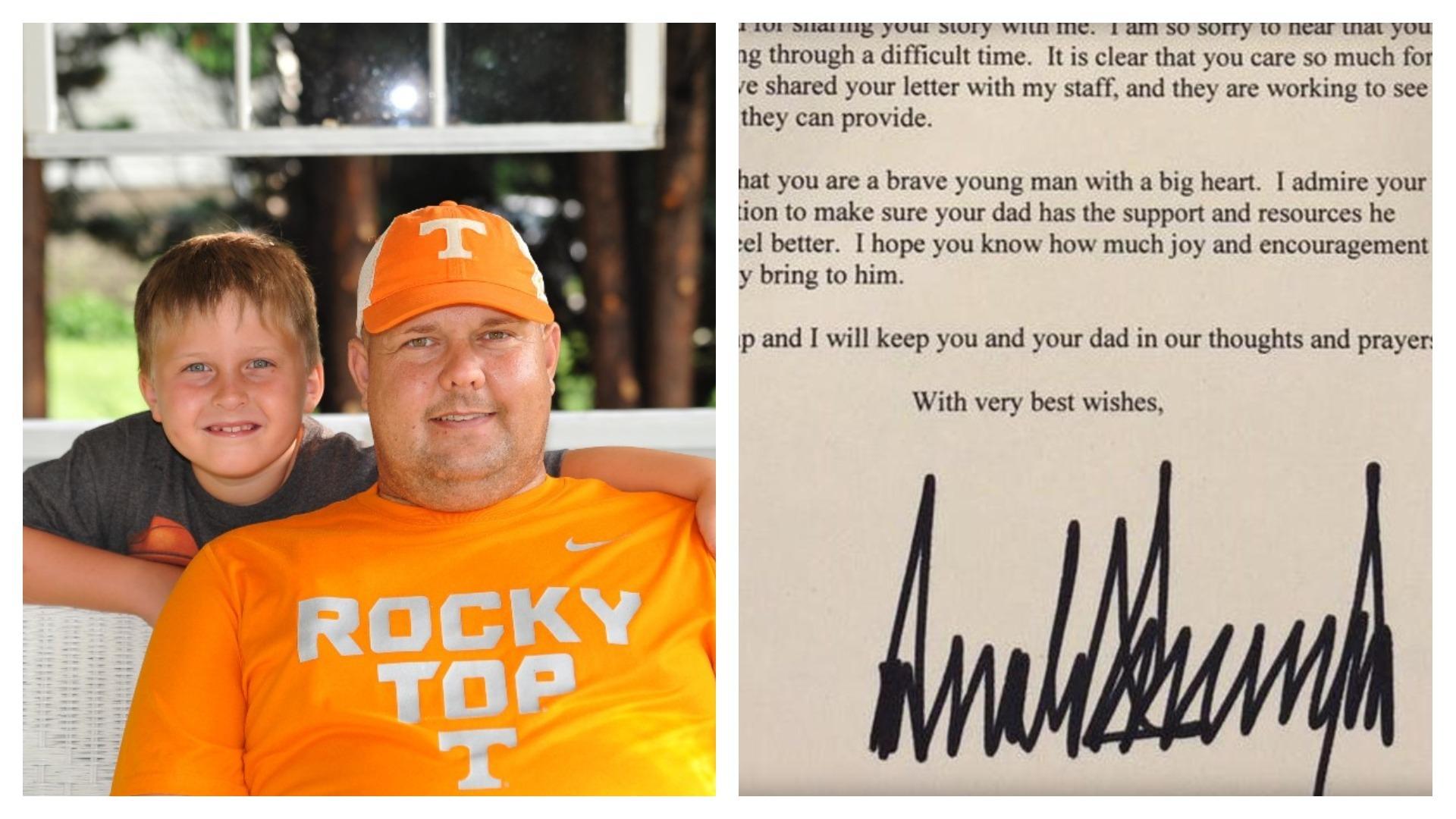 Boy with sick father turns to President Trump for help and gets touching response
Eight-year-old Fore Putnam has watched in silence for three years as his father, Trae, suffered through dialysis treatments and sat on the transplant wait list, hoping and praying for a new kidney. The North Carolina boy was powerless against the rare blood disease that rendered his father in complete renal failure. However, he's powerless no more.
Just before Christmas, with a little help from his grandmother, Fore penned three letters: one to President Trump, one to his daughter Ivanka, and one to Santa Claus.
In the letter to Mr. Trump, the little boy wrote, "My dad has been sick for a long time... I want him to get better, so he can get a job again so we can play. My mom just left, so if my dad gets better, she might come back... Please help my dad for Christmas. That's all I want for Christmas, and maybe one toy."
A few months later, to his grandmother's delighted surprise, a response arrived directly from the White House.
"I went to the mailbox and I got it out and it was in the official envelope," Fore's grandmother, Sheila Sherrill, told CBS News. "I really thought it's probably just a canned picture of him with some sort of canned response. But I called my son and told him that Fore had some mail here. And when we opened it, I was just in awe. As busy as presidents are, he took the time to write to an 8 year old that has such a heart for his dad."
In the letter, Mr. Trump expresses his sympathies for the family's predicament and tells the young boy, "I admire your determination to make sure your dad has the support and resources he needs to feel better."
Then, in what has become a glimmer of hope for the young family, the commander in chief writes: "I have shared your letter with my staff, and they are working to see what help they can provide."
"It really has given me hope," Trae Putnam told CBS News. "I've been on the kidney list for three years and you kind of feel helpless, just like I'm never going to get it. But all of the people that've responded to it on Facebook, and people calling. We've actually had a few people give us their information that are interested in maybe donating."
Trae says he had no idea that his son had written the letter and that his family was completely shocked by the response they got from President Trump "with a signature and everything."
"I just want people to know how proud I am of my son," Putnam said. "He's really special. He always thinks about everybody else more than he thinks of himself and that's rare for an 8 year old."
Maybe even rarer than receiving a personalized letter from the president of the United States.
Thanks for reading CBS NEWS.
Create your free account or log in
for more features.