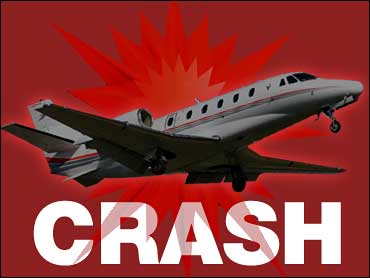 Boy Survives Lake Erie Plane Crash
Rowing through darkness, Chuck Herndon steered his boat toward where he had seen a plane's taillights plunge into Lake Erie. Then he heard a faint cry.
"I'm coming, I'm coming," Herndon yelled, rowing furiously and following the voice. But he still couldn't see anything until a pair of small hands reached up and grabbed the side of the boat.
Once safely onboard, the shivering 7-year-old boy told Herndon that his dad and older brother didn't survive.
"He said, 'My father and my brother were killed in a plane crash,' just like that," Herndon said Tuesday, a day after the Monday night crash off Kelleys Island, midway between Toledo and Cleveland.
Search crews found the body of his older brother, 9-year-old Jeremy Hutchison, on Tuesday, the U.S. Coast Guard said. Their father, Jeff Hutchison, 46, was the pilot and remained missing.
Joel Hutchison, the only survivor, was in fair condition at St. Vincent Mercy Medical Center in Toledo.
Herndon said the boy told him he managed to get out of the plane only because his seat belt broke during the crash.
The single-engine plane went down shortly after taking off just before 9:30 p.m. from the island airport, a short landing strip that caters to sightseers and residents who own summer cottages.
The boys and their father, a farmer, were leaving the island and heading home to Lima, about 94 miles away.
Herndon and his wife, Cindy, were near the beach when the plane flew by too low. There was no explosion, no loud boom.
"It just took a nice smooth arc into the water," he said.
Herndon ran for his row boat, ignoring his wife, who was yelling at him to take a life jacket. There weren't any other boats nearby or in the water.
"I thought if anybody was going to find anybody, I was going to be the one," Herndon said.
The boy was in the water for at least 15 minutes without a life jacket while Herndon searched in the dark.
"I was lucky, and the kid was smart and strong," he said.
Herndon said he kept the boy close to his body, trying to warm him up, as they rowed toward the shore.
Rescuers and divers from nearby communities and the Ohio Department of Natural Resources joined the search for the wreckage of the 1962 Cessna 172C Skyhawk in an area where debris and floating oil were spotted, authorities said.
They found the fuselage in 20 feet of water, the Coast Guard said. Divers then found the 9-year-old's body. Jeff Hutchison's wife and their two other children were not on the plane.
Thanks for reading CBS NEWS.
Create your free account or log in
for more features.