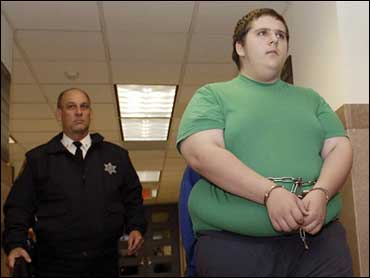 Boy Behind Columbine-Style Plot Sentenced
A 14-year-old boy who admitted that he planned a Columbine-style attack on a high school outside Philadelphia was sentenced Wednesday to up to seven years in a juvenile treatment facility.
Dillon Cossey will remain in the facility until he turns 21, unless the courts decide he has been sufficiently rehabilitated before then, Montgomery County Judge Paul Tressler ruled.
Dillon had admitted in juvenile court that he committed three felonies - criminal solicitation, risking a catastrophe and possession of an instrument of crime.
Dillon, who was arrested in October, felt bullied and tried to recruit another boy for a possible attack at Plymouth Whitemarsh High School, authorities said.
He told a friend that he wanted to pull off an attack similar to the 1999 assault on Columbine High School in Colorado, saying "the world would be better off without bullies," according to prosecutors.
In court, the judge said Dillon's mother, Michele Cossey, had created a "me and mom against the world" attitude in her son.
"This kid has been so totally desocialized, he has no friends," Tressler said.
"You want this kid dependent on you? Go buy a dog, go buy a pet," he told Michele Cossey.
Authorities do not believe the teen was close to pulling off an attack. He had no ammunition.
Authorities said they searched Dillon's home in Plymouth Township and found a 9 mm rifle, about 30 air-powered guns modeled to look like higher-powered weapons, swords, knives, a bomb-making book, videos of the 1999 attack on Columbine High School in Colorado and violence-filled notebooks.
Authorities have accused his mother, Michele, of helping him build his weapons stash. She is awaiting trial on charges of illegally buying him a .22-caliber handgun, a .22-caliber rifle and the 9 mm semiautomatic rifle.
The teen's attorney, J. David Farrell, said people he spoke with don't think Dillon would have followed through with the plot. Farrell has described the attack plan as a "fantasy that was beginning to cross the line."
Thanks for reading CBS NEWS.
Create your free account or log in
for more features.