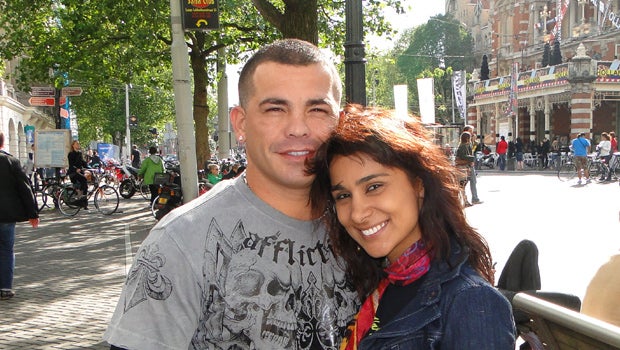 Boxer Arturo Gatti's death: Suicide or murder?
Produced by Doug Longhini and Josh Yager
To look at them together it's clear: Amanda Gatti lives for her 3-year-old boy, Arturo Jr.
"He's everything I asked God for," Amanda told "48 Hours Mystery" correspondent Erin Moriarty in her first American television interview. "Junior makes me complete."
In no small part, she says, because he's the spitting image of his father... a man they're both learning to live without.
"The smile is the same...just like his daddy," she said. "I miss my husband very much. I miss him when I go to sleep...I miss him when I wake up..."
It's a loss made all the more difficult by the shadow of suspicion that surrounds Amanda.
In July 2009, Amanda was arrested for murder and held before investigators shocked the world with their findings: Arturo Gatti, world class fighter who never gave up in the ring, had committed suicide.
"I knew. I knew. I knew," Amanda said in broken English. "My husband kill himself. Oh my God, my husband killed himself."
But even today, more than two years after Arturo's death, many of his friends, family and fans refuse to believe he took his own life.
By late 2006, Arturo Gatti had been crowned welterweight champion and amassed a multimillion-dollar fortune when, Amanda Rodrigues, then a struggling Brazilian immigrant, says they met walking dogs near his home in New Jersey.
She says she had no idea who he was. "I remember when I find out he was a fighter, I told him ... 'Oh... I thought you was even a movie star...but not a fighter...because he was so cute...'"
"Arturo was special. ...There was nobody like him," according to Tom Casino, a boxing photographer who had met Arturo years earlier -- soon after the fighter moved down from Montreal. "He looked like this little peanut."
But Arturo, then just 19, already had his eye on the prize.
"Did you have any idea the kind of fighter he'd become? Moriarty asked Casino.
"No, not a clue," he said. "Not, until I saw him fight."
That happened a few months later in an amateur fight where 19-year-old Arturo took on a much older, more seasoned fighter.
"The guy couldn't hit him... he's pot-shotting the guy and then hitting him like BANG," Casino explained. "He won and I was like 'Wow.' ...I've never seen anything like it. ...I knew this guy was gonna be a champ."
And Arturo Gatti became just that -- bobbing, weaving and punching his way to three world titles.
He won 40 fights - 31 by knockout. His relentlessness in the ring made Arturo a crowd favorite. And he partied outside the ring as hard as he fought in it.
"I would get calls that Arturo did something crazy," Casino told Moriarty. "Everybody that I met in the tri-state area had a party story with Arturo Gatti."
But it was his rivalry with one man that really made him a legend. "Irish" Micky Ward became a household name when actor Mark Wahlberg made a movie, "The Fighter," about Ward's life.
"I had three amazing fights with Arturo Gatti and in doing that became a very good friend..." he said.
The Ward-Gatti trilogy would become the stuff of boxing lore. Ward won the first fight; Gatti took the second.
"He caught me in the ear and I stumbled into the corner like this," Ward demonstrated in the ring for Moriarty, "and I went boom!"
And in their final bout, Gatti stunned the crowd by winning - with a broken hand.
"Gatti...it's just the poster boy of courage and heart," said Casino.
The battles Gatti fought with Ward brought out the best in both of them.
"It showed that two guys, we can actually try to fight, win and that we respected each other," said Ward.
Video: Micky Ward on his relationship with Gatti
Photos: Gatti's life and career
Gatti showed that respect after the third fight when a battered Ward was being examined by an emergency room doctor.
"And he opens up the curtain and says, 'We got someone here who wants to say hi to ya.' The next bed over is Arturo...he's laying there, he was getting stitched up also I believe," recalled Ward.
"Well you put him there," noted Moriarty.
"Right, and he put me there. And the first thing outta his mouth, he says, 'Micky, you OK?' And that showed me...what a kid! What a guy."
It would be the start of an extraordinary friendship.
Which is why, to this day, Micky Ward can't believe Arturo could have killed himself. "I just can't see him taking his own life," he told Moriarty. "That's just not him! ...Everything in life was going good for him."
In 2006, after almost two decades in the ring, Arturo met Amanda. In less than a year, he sat her down, popped a bottle of champagne... "And then he just asked me if I would marry him. ...I think it was one of the most beautiful moments in my life," she said.
Moriarty asked Amanda, "Did you ever see him fight?"
"I only saw his last fight," she replied.
In July 2007, Gatti, now 35 and plagued by injuries, faces a much younger Alfonso Gomez. It would be Arturo's last professional fight.
"And I remember that...he was so sad...And he says, 'Baby, I wanted you to be the champion's wife." And I said, 'Baby, you're always gonna be my champion.'"
Despite his newfound love, retirement from boxing would hit Arturo Gatti hard.
According to Casino, "He partied like he fought... hard and heavy."
"48 Hours Mystery" reveals the truth about a man boxing the darkest shadows... and headed for a fall.
"I knew if he continued drinking something bad was gonna happen," Casino said. "...it was inevitable."
In 2007, one month after Arturo Gatti walked out of the ring for the last time, he married 21-year-old Amanda Rodrigues at the Grand Canyon.
"He was very romantic, you know," Amanda told Erin Moriarty. "The love he had for me was like, crazy love, you know ...When he retired we both were very happy, you know. ... The day we married he already wanna have kids."
Gatti already had a daughter from a previous relationship. About a year after his wedding to Amanda, she gave him the baby boy he's always wanted.
"His son meant the world to him," Casino explained. "If you didn't know that Arturo Gatti's son meant the world to him, you didn't know Arturo Gatti."
"He had Amanda and he had little Arturo Jr. Life was goin' good for him," said Micky Ward.
But only on the surface. Arturo Gatti, who went into real estate in Montreal, was having trouble adjusting to life outside of the ring and away from the limelight. As "48 Hours" learned, he was struggling with ongoing alcohol and drug abuse and domestic violence.
Photos: Gatti's life and career
According to Amanda, Arturo took retirement hard.
"Well, he got depressed ... He didn't know what to do," she said. "He started drinking a lot..."
Gatti had always partied hard. His longtime friends, Tony Rizzo and Gisella Minieara, never saw it as a problem.
"He used to party like everybody else, he used to have a few drinks," said Tony.
"He did drink, we all drank," Gisella said. "But I can't say that, I didn't really see him in a state where I would say, 'you know, this guy is an alcoholic.'"
Public records tell a different story about Arturo Gatti. A decade before he met Amanda, he had already been convicted on drunk driving charges in three different states and eventually lost his license.
According to Casino, "He couldn't drive for 10 years."
And it wasn't just driving. Arrest reports obtained by "48 Hours" show Gatti's drinking led to fights with police officers and that another confrontation left a Florida man brain damaged.
"And Amanda was living with him. So she got the brunt of it," said Casino.
"There was the man I fell in love [with], the funny, the romantic, the lovely husband and father. And then was this person that would change when he was drunk," said Amanda.
"In what way?" Moriarty asked.
"He would become aggressive...nasty," she replied. "He was a completely different man when he was drinking.'"
What's more, "48 Hours" has learned that in early 2008, just six months into his marriage -- and while the couple was on vacation in Maui -- Arturo was cited for domestic violence.
"You found out you were pregnant in Hawaii. You have one of your awful fights with Arturo in Hawaii," Moriarty noted to Amanda.
"Yeah."
"Did he hit you when you were pregnant?"
"No," Amanda replied. "But I, I don't like to talk about that."
"It was like a roller coaster. There was no relationship. It was constant fighting," according to Tony Rizzo, one of Arturo's longtime friends who have lined up against Amanda. He claims she gave as good as she got. "She took a broom and hit him over the head. ...I seen on numerous occasions, he had black eyes."
Tony says Amanda could hurt Arturo in ways no boxer could. "She would tell him, 'You're good for nothing. You're a bad fighter. You embarrass me. You're a druggie, you're an alcoholic' - she only used to look at his bad things," he explained.
"The only reason we used to fight was the drink," Amanda told Moriarty.
"Would you hit him?"
"No. But I used to throw things on him," she replied. "When I was mad, it happened. I'm not gonna lie, you know. But I never touched my husband."
Amanda says their fights were all about getting Arturo to stop drinking.
"She tried to help him," Casino said. "I was there when she tried to help him."
But Arturo wouldn't listen. By the spring of 2009, he was living apart from Amanda and the baby and even talking divorce. "I would just say, 'Oh, it's over... Oh, I'm leavin.' You know, 'I cannot take this anymore,'" she explained.
According to Gisella, "He was fed up with her, fed up of living that life."
But separation - and even a court order demanding Arturo stay away from his wife - didn't end the bickering. The Gattis began furiously texting each other.
"For me you are an embarresment inside and out of the ring..." wrote Amanda... "wake up looser. Noone is jeualous of your f----d up life!!!!"
In another: "i hope u crash wan u text"
But just as quickly as the Gatti relationship could erupt into violence, it could settle back into domestic bliss.
"One day that it's over, he couldn't take it anymore, he couldn't hack her attitude, her character," Gisella explained. "And then three days later...we'd know they were back together. We couldn't understand."
And that's exactly what seemed to happen in late May 2009, When Amanda says her husband surprised her with a trip.
They would spend two weeks in Europe, and then fly to Brazil for a family graduation. She says it was a second honeymoon. But Arturo's friends think he had his reasons for patching things up.
"His son, he was scared to lose his son," Tony Rizzo said. "I spoke to him about it a few times. He said, 'Tony, I have to see my son, I got to stick to this no matter what."
And they believe Amanda had her own agenda.
"The way I saw it at the end of the day it was a money relationship," said Tony.
"I think if Arturo didn't have this money, I don't think Amanda would've been with him," said Gisella.
Amanda insists she didn't even know he had money when they met. But according to Tony Rizzo, Amanda's relationship with Arturo didn't start as a walk in the park as she claims.
Although even Arturo told some people they'd met walking dogs, Tony Rizzo says he heard it actually was at a New Jersey strip club where Amanda reportedly worked. "He said he met her at the Squeeze, the strip bar," he said.
"It's a lot of things I've done in the past of course I'm not proud of," Amanda told Moriarty. "But I never worked in this place."
But "48 Hours" was given taped statements from four employees of the Squeeze Lounge who contradict her.
Lanette Sciarra: "I met her when I was working at the Squeeze Lounge."
Michael Prosperi: "She was a stripper."
Lanette Sciarra: "Exotic dancer, stripper, however you want to label it."
Naomi Prosperi: "...she was actually on stage."
Lanette Sciarra: "I have a picture of her on stage."
Amanda says that picture was taken at a party in the Squeeze Lounge, but there's no record that she ever worked as a stripper in the club and she has sued publications that reported that she did.
"Why [would] so many people say you worked in this strip club?" Moriarty asked.
"They just want to make me look bad," Amanda replied.
"The reason why it matters is there are critics who say if you're not honest about that -"
"Of course."
"What else are you not being honest about?"
"Of course. I believe that, too. But I never worked there," she insisted.
Suspicions about Amanda deepened when, just before the couple left on their trip to Europe and Brazil, Arturo drew up a new will leaving nearly everything he had - an estate worth millions - to his wife and son.
"That was signed like few days before we went to Europe," said Amanda.
"I mean less than a month before he died," Moriarty commented.
"Yes."
"Had you pushed him to do it?"
"No. Not at all," said Amanda.
"He signs a new will, and three weeks later he's dead? Come on," said Tony Rizzo.
After signing the new will, the couple took off for Europe.
Three weeks later, when Arturo's friend, Gisella got news of his death, she remembered an outburst from Amanda in the midst of one of the couple's angry texting sessions. At one point she says Amanda turned toward her, saying words she'll never forget.
"'I'm gonna show him what bad is. I'm gonna show him what a bitch is. I'm gonna kill him,'" Gisella recalled.
Amanda denies she said it, and has her own supporters.
"There are a lot of people who think she's a gold digger, that she married him for his money and might be responsible for killing him for his money," Moriarty remarked to Tom Casino.
"I happen to disagree" he replied. "I think she was a loving wife that tried to help him."
The trip to Europe in June 2009 was not just a second honeymoon says Amanda Gatti... it was a second chance.
Asked how she would describe the couple's relationship at that time, Amanda called it "beautiful" and "perfect."
Well, maybe not perfect. According to Arturo's friend, Tony Rizzo, a phone message left by Arturo during the trip tells the real story:
It's a f-----g nightmare. ... I'll talk to you later, alright? ...Ciao!
"He was just fed up," Tony said. "He knew it had to come to an end."
But if Arturo had misgivings about the marriage, it didn't stop him from picking up the baby and meeting Amanda in Brazil right after the trip in Europe.
Photos: Gatti's life and career
On July 10, 2009, the Gattis arrived at a resort in the beach town of Porto de Galinhas.
For the first time, Amanda talks publicly about the night that so dramatically changed her life... and forever put her under a cloud of suspicion.
It started as a family dinner out, Amanda says, but ended as too many other nights had before - with Arturo drunk and mean.
"I told him...' OK, you gonna stay, but I'm gonna go because I couldn't stay more...and that's when the fight started," she told Erin Moriarty.
"It was an ugly fight!"
A crowd soon gathered. According to police reports, Arturo threw her to the ground. Police video shows the injuries to her arm and chin.
"Did he hit you?" Moriarty asked.
"He didn't hit me, but he threw me on the floor. And I hurt my arms," Amanda replied.
"How did he throw you?"
"I don't want to talk about that."
In a flash, Arturo took their 10-month-old baby... and took off.
"He took the stroller and he went to another direction," she said.
"So they just left you?"
"They just left me."
When he returned minutes later to look for his wife, the angry crowd began throwing things at him. Witnesses say he got hit in the head with a rock and even a bicycle. Bleeding from his head and shoulder - and furious - Arturo fought back. People described him as "The Incredible Hulk."
Amanda made her way back to the condo. When Arturo and the baby caught up with her, she says she noticed a cut on the back of her husband's head.
"I believe it was around two, two in the morning..." Amanda continued.
"He was like, 'Look what happened to me. I got in a fight with four people in the street, four guys.'"
But by now, the storm had passed and Arturo saw for the first time what he had done to his wife.
"He was not angry," Amanda explained. "It seems like the other Arturo, my husband, was there. ...and he was like, 'Who did this to you?' And I was like, 'You did that to me Arturo."
According to Amanda, she had finally had enough and took their son with her to bed. "Before I got in the stairs, he look at me...and he was sad. And he just say, 'So I guess it's over, huh?' And I look at him and I say, 'It's over.' I couldn't take that anymore."
"So what's the next thing you remember?" Moriarty asked.
"So I wake up ...junior was already woke up. It was time for him to have his bottle. And I went downstairs and Arturo was on the floor."
Amanda says she was not alarmed. "So I look at him, he looks like he was sleeping."
He had often passed out on the floor, she says, so she just left Arturo there and never said anything to him.
Unaware that anything was wrong, she says she came downstairs about two hours later... still so upset, she was ready to say goodbye.
"When I touch him, he was cold. And at that time, I knew something was wrong," she said. "I wanted to believe that he was just pass[ed] out, so I started shaking him.... I was calling his name. I say, 'Arturo I forgive you, please wake up!"
Amanda says she began to panic. "So I open the door and I started screaming. I say, 'my husband is dead, my husband is dead! Please someone help me.' I was going crazy," she said in tears.
On the floor nearby was a broken strap from Amanda's own purse.
Asked if she knew what happened to Arturo at that point, Amanda told Moriarty, "Yes, I knew. I knew.... My husband kill himself! Oh my God, my husband killed himself."
But to the Brazilian police, things just didn't look or sound quite right. Arturo's body was on the floor face down in a pool of blood. How did he get a deep gash on the back of his head? And why was a knife lying nearby? More important, why didn't she call police the first time she saw Arturo on the floor?
"Didn't you have to walk right past him to get to the... refrigerator?" Moriarty asked.
"No. ...Here's the living room, and here's the kitchen. So here's the stairs...I walked through here," she pointed out.
"You didn't see any blood?"
"There was no blood there at that time."
But when security systems showed that no one else had entered the apartment during the night, the police reached one conclusion. Amanda was arrested and jailed.
But almost three weeks later, she was suddenly freed. After an autopsy, Brazilian investigators concluded Arturo Gatti had hung himself.
His friends and family refuse to accept it.
"Coming out with...these big glasses like she's a movie star, with a smile from ear to ear," said John Lynch, Arturo's lawyer. "Grinning like a Cheshire cat," added Pat Lynch, Arturo's former manager.
"She's been described as a black widow, is that the way you see her?" Moriarty asked the brothers.
"Yeah, I'd say so," said Pat.
The story doesn't make sense the Lynch brothers. So they are sending a pair of private detectives to Brazil to investigate.
Arturo Gatti's final round is being fought in probate court in Montreal, Canada. Sadly it is Gatti versus Gatti.
Arturo left behind a fortune in cash, investments and real estate. All of it willed to his wife and son.
"I think his estate was $5, 6 million...I don't know," said Fabrizio Gatti. "My brother really sweat for it, he bled for it, for that money."
Arturo's younger brother says the rest of the family was cut out when Arturo signed the will, just three weeks before he died.
"It looks bad," said Erin Moriarty.
"Yeah, it does," acknowledged Amanda. "But I don't have an explanation for that. Because that's what happened, you know? I don't have an excuse for that because there's no excuse."
Photos: Gatti's life and career
"She wants to go to court because she wants everything," said Fabrizio.
The Gattis say they offered to split the assets with Amanda, but she refused. So now they're slugging it out in court. They hope the judge will throw out the will if they can connect Amanda to her husband's death.
"I don't understand," Amanda said, "Because if they have any doubts, they would fly to Brazil, they would do an investigation themselves or hire someone to do it."
Amanda didn't know it at the time, but that is exactly what the Gatti family did.
They enlisted private investigators Paul Ciolino and Joe Moura. Both have worked in the past for CBS News and "48 Hours," but not in this case.
"I told them from the beginning ...when we hired them, to prove to everybody that my brother got murdered," said Fabrizio.
Backing the investigation are John and Pat Lynch in New Jersey. The goal, says Pat, is "to clear his name."
"Do you want to make sure that Amanda is proven to be involved in his death?" asked Moriarty.
"This is not a witch hunt against Amanda, OK? We have our suspicions about what happened," John replied.
When the private family investigators arrived in Brazil last May, they headed straight for the beach-front condominiums where Arturo, Amanda, and their son had vacationed in 2009.
They're convinced Brazilian police bungled the investigation.
"Well, local authorities gave this thing about eight hours worth total when they started," Ciolino explained. "We've already got six months into it, almost full time."
And they've got tools Brazilian police didn't have, like forensic specialist Andre Stuart's high-tech measuring stick.
"This is a 3D dimensional device," Stuart explained. "It measures three dimensionally, points in space, a million points a second."
And they want to see if evidence at the scene supports the authorities' official theories, which Ciolino boils down to this:
"He took his wife's purse strap, a cloth purse strap, tied it around this beam right here," Ciolino said motioning. "Pull the chair underneath [the stairs], stood up on top of the chair, wrapped the cloth around his neck and hung himself. That's the theory."
The detectives don't buy it. For starters they don't think Arturo was hanged at all.
"I believe he was hit in the head in that apartment, rendered unconscious and then strangled," stated Ciolino.
"Murdered?" asked Moriarty.
"Yes. ...without doubt he was murdered."
After investigating for 10 months, that's the conclusion they deliver in a 317-page report and press conference. A panel of experts they've assembled strongly agrees.
"You simply cannot hang yourself the way the Brazilian authorities have identified," Dr. Alfred Bowles, an expert on body movement, told those in attendance.
"And that blood tells us everything we need to know," forensic scientist Brent Turvey explained. "Blunt-force injury to the back of his head was most likely inflicted in the apartment. And why do we know that? We know that because of the blood flow."
"There's not a drop of blood from here down. There's no blood right here where he would have been standing. And it would have been falling off of him," Ciolino said at site where Arturo died. "There's no blood on his back--he's shirtless, OK? There's no blood on the stool he would have stood on. The only blood is here [points at side of kitchen counter]. Marks on here, and on the floor, pooling."
But witnesses say Arturo was bleeding earlier in the evening. "48 Hours" tracked down a taxi driver who saw Arturo fighting in the street.
"I could see the back of his head was bleeding," he said. "And the next day, I saw that the head rest in the back seat was stained with blood."
And "48 Hours" spoke with two other people who also saw Arturo Gatti bleeding from the street fight.
But the detectives say what happened after Gatti died is just as important. They say where his body was found rules out suicide.
"If he fell after hanging himself, he's going to fall straight out on that table, he's going to be out there, he's not going to be underneath here," Ciolino explained at the scene.
The detectives took those measurements from the scene to Dr. Bowles, who was brought in by Ciolino to determine if Arturo's body could have ended up where's it's shown in police photos.
"He took a dummy that weighed the same amount as Arturo, that was the same height as Arturo and they dropped that thing about 1,000 times,"
Ciolino explained. "And the same thing happened every time... no matter how you do it he's not gonna fall sideways underneath the stairs with his head underneath the counter, it's not gonna happen."
But Dr. Bowles' tests were based on those death scene photos -- photos the detectives themselves admit were taken after evidence was moved around. A stool wasn't found where it was pictured -- near Arturo's feet -- according to one of the first people on the scene.
Dr. Bowles concedes that could affect his findings, but that possibility doesn't change anything for the detectives.
"Arturo Gatti was murdered," said Moura.
Asked if he believes Amanda killed her husband, Ciolino replied, "I think it's a distinct possibility she killed him."
The detectives make a strong case, but not an airtight one. There is considerable medical evidence that supports suicide. And this question remains - and it's a tough one: How could a 100-pound woman single handedly knock out and then strangle a 160-pound world champion boxer?
"Do you believe she had an accomplice?" asked Moriarty.
"I think it's distinctly possible," replied Ciolino.
"Do you have any evidence?"
"I have emails."
"Of her in contact with someone planning murder?
"Oh no, I don't have anything like that."
"This is just your idea?"
"It is a feeling I have, yes."
In fact, there is no evidence of an accomplice. Still, Ciolino told reporters, "He was murdered because there's $6-and-a-half-million bucks sitting in a bank here in New Jersey and somebody wants it."
The investigators say they've left no stone unturned, but "48 Hours" tracked down a pair of witnesses they never talked to -- witnesses who could make you see this case in an entirely different way.
After 10 months looking into Arturo Gatti's death, the private investigators hired by his former manager claim they can prove he didn't kill himself.
"I would come back from the grave to prove this case as a homicide," Paul Ciolino told reporters.
"Arturo Gatti did not commit suicide," said Joe Moura.
"This strap is just not strong enough to suspend Mr. Gatti's body," said Dr. Alfred Bowles.
"If he were hung, there wouldn't be all this blood," said forensic pathologist Dr. Stanley Zydlo.
Now they're sending their report to Brazil and asking authorities to reconsider Amanda as a murder suspect.
"This case must be re-opened, this is a case that cries out for justice," said forensic pathologist Dr. Cyril Wecht.
Asked if she had anything to do with the death of her husband, Amanda Gatti told Erin Moriarty, No, I would never do anything to harm my husband."
"Did you hire anyone to kill your husband?"
"Of course not! ...I never had any doubt that he killed himself."
According to Ciolino, "No one, nobody alive, except Amanda, will ever tell you that Arturo was ever suicidal at any time in his life. ...Never, not one time."
But "48 Hours" uncovered information that points to a different conclusion.
"He wanted to kill himself... yes, he wanted to die," said Mario Costa, a friend and mentor who first met Arturo when the fighter was 17.
As the years went by, Mario says Arturo struggled with debilitating injuries.
Photos: Gatti's life and career
"His eyes -- the phone rang, he put a phone...an inch away from his eye. I said, 'Put it in the other eye.' He said, 'I see three."
"He got addicted to painkillers -- Percocet, Vicodin, Oxys...coke," he continued. "He was just not himself. ...the losses were like somebody stabbin' him in the back and the knife going through his heart."
After a particularly tough loss in 2005, Arturo was hospitalized for an overdose; medical records show the doctor requested a psychiatric consult. In child support documents, the mother of Arturo's daughter called it a suicide attempt.
"I told him, I says, 'Arthur, you have to talk to a professional," Mario said. "'You have to go to a psychiatrist.'"
Another time, Mario remembers an inconsolable Arturo showing up at his New Jersey bar and demanding to borrow his gun.
"He took his finger and he said, 'This is what I'm gonna do' and he shoved it in his mouth," he recalled. "And I felt like if I gave him the gun that night, he woulda blown his head off.
"Did you think he was serious?" Moriarty asked.
"He was very serious."
Mario Costa hadn't seen Arturo for three years before his death, but he has no question how he died.
Asked if he believes Arturo committed suicide, Mario replied, "Yes."
Then there's Joe Gatti, Arturo's big brother. He is breaking with the rest of his family and speaking on television for the first time.
"My brother is me, we talk the same, we laugh, we joke the same," he told Moriarty. "I just hate to say it, but it came to this, that people need to know the truth. He was on drugs. He was on pain killers. And he was an alcoholic."
It's a painful reality for Joe, who fought pro himself and remembers always looking out for his little brother.
"Do you believe your brother took his own life?" Moriarty asked.
"I believe it, I believe it," he replied. "That night in Brazil, he found himself in a dark place..."
Joe admits he had his suspicions about Amanda at first, but after she was released, she called and asked to come visit him to set the record straight. He says he was looking for any sign that Amanda wasn't being truthful.
"What changed my mind is when I got her to my house. ...She showed up and I'm looking at her...there was no signs of anything," he said. "She looked at my eyes and it was nothing."
In the end, Joe says, Amanda won his trust by showing a surprising trust in him. While she traveled to Canada in 2009, she left Arturo junior in his care.
"And he wouldn't let me go," he said. "He was just hugging me. He wouldn't let me go. I put him down, he wanted to play with me. ...It was something else."
Back in Montreal, Amanda is not only fighting for her husband's estate, she is still fighting to clear her name.
"I know I was not a perfect wife, I know I was not perfect, but it's not fair what they're doing to me and my son," she said.
Even if she wins in court, the accusations have taken a deep toll.
"It's hard, you know, when people look at me, sometimes they're not even looking at me," Amanda cried. "I'm always embarrassed because I don't know what they're gonna think about me."
And Amanda is discovering, like everyone else who loved Arturo Gatti, just how hard it is to let go of a legend.
Brazilian authorities say they will examine the private investigators' report on Gatti's death.
The Canadian court still has not ruled on who gets the Gatti fortune.
Thanks for reading CBS NEWS.
Create your free account or log in
for more features.