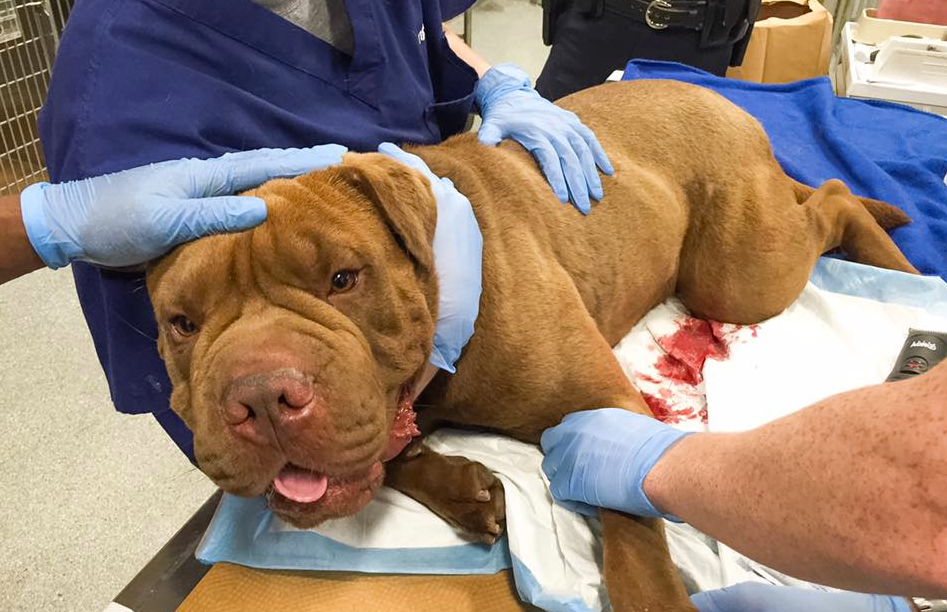 Boston police officers cover vet bill for dog who "took a bullet" for his owner
An innocent young woman and a family dog were struck with bullets after an argument erupted in gunfire in a Boston neighborhood last month.
According to CBS Boston, police were searching for suspects in the shooting of 18-year-old Dashaye Mizhari, who ended up in the intensive care unit. The teenager was reportedly shot three times as she ran for cover.
But officers believe there could have been at least one more person injured if it weren't for a 10-month-old mastiff mix named Felony.
When Boston police officers arrived on the scene in Dorchester, Massachusetts, the dog's owner told police the pup jumped in front of him.
"The way I look at it is that dog put himself in front of his owner and took a bullet for him," Officer David Lanteigne said at a press conference later that day.
After making sure the shooting victim was transported to the hospital by EMS, the cops rushed the dog - which had been shot in his front leg - and his owner to the Angell Animal Medical Center, where they were told Felony would need an expensive surgery.
The dog's owner said he didn't have the funds to pay for treatment.
That's when the three officers decided to step in and split the costs.
Together, Officers Lanteigne, Brian Smith and Sgt. Tommy Brooks put down a credit card to cover the initial cost of $1,545.
"It's just a natural human response to somebody in need, and to help them out with their family," Lanteigne said. "Dogs are family."
Nobody understands that better than Lanteigne.
Three years ago, Lanteigne adopted a pit bull named Lilly as a companion for his mother, whose suffered from alcoholism nearly her entire life.
The pair formed an unbreakable bond.
A few months ago, the 8-year-old dog risked her life for her owner. Just after midnight on May 3, the engineer of a freight train watched the dog frantically pull an unconscious woman away from the tracks, according to a blog about the pet's heroic act.
Lanteigne's mother was unharmed, but Lilly suffered from a fractured pelvis and other internal injuries. Her front right leg needed to be amputated.
Lanteigne will never forget about the sacrifice Lilly made for his mom. And now he's paying it forward by making sure Felony gets the help he needs. A Facebook post detailing the dog's needs posted by "Lilly the Hero Pit Bull" is going viral with nearly 2,000 shares.
Dozens of people have already offered to help.
"Hopefully we will get enough to cover the full bill and enough to maybe buy this fellow a new bed and a couple toys," the group said.
Thanks for reading CBS NEWS.
Create your free account or log in
for more features.