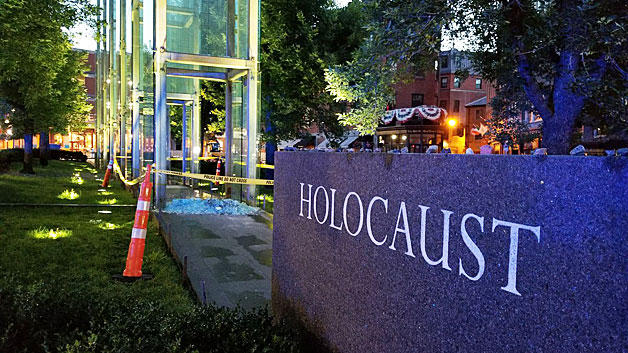 Boston's Holocaust Memorial vandalized; suspect in custody: police
BOSTON -- A vandal used a rock to shatter a glass panel on the New England Holocaust Memorial early Wednesday, drawing quick condemnation from Boston Mayor Marty Walsh and religious groups.
"As a city we stand with the Jewish community," Walsh said at the memorial later in the morning.
Police responding to a call from a witness at about 2 a.m. found a roughly 9-foot tall glass panel on one of the memorial's six 54-foot-high towers shattered. They quickly arrested James Isaac, 21, of Boston, and charged him with malicious destruction of personal property and destruction of a place of memorial.
Isacc's lawyer said he suffers from mental health issues. Isaac was held on $750 bail on Wednesday on charges of malicious destruction of personal property and destruction of a place of memorial. But he had his bail revoked and was held for violating the terms of his probation in other pending cases.
Not-guilty pleas were entered on his behalf.
His court-appointed attorney, Rebecca Kozak, said her client is "struggling considerably" and is participating in a partial hospitalization program at a mental health facility.
"When we hear the sound of broken glass, we shudder," said Barry Shrage, president and CEO of Combined Jewish Philanthropies, referring to Kristallnacht, a wave of anti-Jewish violence in Germany in 1938.
The Massachusetts chapter of the Council on American-Islamic Relations also denounced the vandalism.
"Desecration of a religious memorial is always heartbreaking and must be condemned," chapter Executive Director John Robbins said in a statement.
Izzy Arbeiter, 92, a Holocaust survivor who played a key role in building the memorial, came out to see the damage late Wednesday morning, CBS Boston reports.
Arbeiter said he found out about the vandalism this morning when his wife came to him crying.
"I lost my entire family in the Holocaust, in Auschwitz. I was in Auschwitz myself. It was a terrible thing," he said.
His number, etched on him from Auschwitz, was on that panel.
"The Jewish people are strong. The city of Boston is strong," he said.
The memorial designed by architect Stanley Saitowitz opened in 1995 and is located just off the Freedom Trail, near Faneuil Hall and City Hall. It is open at all times.
The glass towers are lit internally and etched with millions of numbers that represent tattoos on the arms of many Jews sent to Nazi death camps.
Extra panels were made and stored when the memorial opened, and the organization that oversees the memorial did not expect repairs to take long.
"When a memorial is desecrated, when this glass is shattered, people feel that," said Robert Trestan from the Anti-Defamation League. "It really impacts people in a very profound way."
Investigators are not currently ruling the act a hate crime. Members of the Jewish community came together for a prayer service there just before noon.
Arbeiter asked, "Why did they do it? Did they pick it because it is a memorial for the Holocaust?"
Thanks for reading CBS NEWS.
Create your free account or log in
for more features.