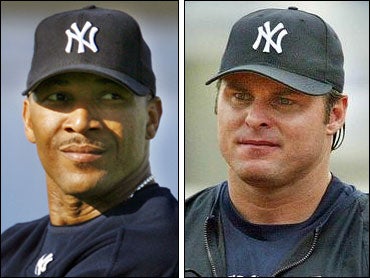 Book: Bonds Not Only Player Doping
Gary Sheffield knew full well he was doping, and Jason Giambi was turned on to a cocktail of performance-enhancing drugs similar to what Barry Bonds was taking, according to a new book.
"Game of Shadows," set for release Thursday, says BALCO's performance-enhancing drugs were used by several athletes, including track stars Marion Jones and Tim Montgomery, NFL players such as Bill Romanowski, and baseball sluggers including Bonds, Sheffield and Giambi.
It centers on Bonds' allegedly extensive drug regimen, steroids, human growth hormone, insulin and more, but also undercuts Sheffield's claims that he took designer steroids unwittingly.
Sheffield has admitted that he used a cream two years ago, but said he did not know it contained illegal steroids. The authors, however, say Bonds' trainer, Greg Anderson, put Sheffield on injectable testosterone and a human growth hormone in 2002, and later sold him designer steroids known as the "cream" and the "clear."
Sheffield adopted Bonds' heavy training program when he visited the San Francisco star after the 2001 season and lived in his home in Hillsborough, California, for two months, according to the book.
Though the two had a personal falling out, Sheffield wanted to maintain a relationship with Anderson so he could keep getting the drugs, the authors wrote.
On Wednesday in Tampa, Sheffield denied using any drugs mentioned in the book.
"What can I do? I'm not going to defend myself my whole life," he said. "It doesn't matter to me. I don't have anything to say. No need to. It is what it is."
The book describes how Bonds started using steroids because he was jealous of the attention paid to Mark McGwire's home run race with Sammy Sosa in 1998, and felt he needed to bulk up significantly to compete with the St. Louis Cardinals' slugger. Bonds broke McGwire's single-season record with 73 home runs in 2001.
Bonds used a vast array of performance-enhancing drugs for at least five seasons beginning in 1998, according to the book, written by two San Francisco Chronicle reporters. Excerpts from the book, scheduled for release Thursday, were released earlier this month.
The book also says Bonds tried to shield himself from the unfolding BALCO scandal. It quotes Bay Area Laboratory Co-Operative defense lawyer Troy Ellerman as saying attorneys from the supplement company met "three or four times" with Michael Rains, an attorney for Bonds.
"Shadows" also claims BALCO founder Victor Conte encouraged clients to keep quiet and claim they were taking flaxseed oil if asked by authorities about their use of a designer steroid known as "the clear," among the designer steroids distributed by BALCO that were said to be undetectable.
Bonds reportedly told a grand jury investigating BALCO in 2003 that his trainer said he was giving him flaxseed oil and arthritis balm. Bonds didn't acknowledge reporters while getting dressed for the Giants' exhibition game against the Los Angeles Angels on Wednesday night.
Giambi, the 2000 American League MVP when he played with Oakland, developed a relationship with Anderson during a baseball exhibition trip to Japan in 2002, by which time he had signed with the Yankees, the authors wrote.
The book said Giambi wanted to learn "what was Anderson doing to keep Bonds playing at so high a level. Could Anderson help Giambi, too?" Giambi later flew to Bay Area and met Anderson at a gym, and that the pair went to the hospital to have Giambi's blood drawn and take a blood and urine sample to BALCO.
The book said Giambi tested positive for Deca-Durabolin, and that Anderson advised the slugger he would fail baseball's new drug test, which was starting in the upcoming season.
Anderson then started Giambi on a cycle of testosterone, saying the hormone would clear his system before he was tested by the league. Calendars seized by government agents show Giambi took drugs similar to Bonds.
"I have nothing to say. I haven't seen it," Giambi said at New York Yankees camp in Tampa, Fla.
Thanks for reading CBS NEWS.
Create your free account or log in
for more features.