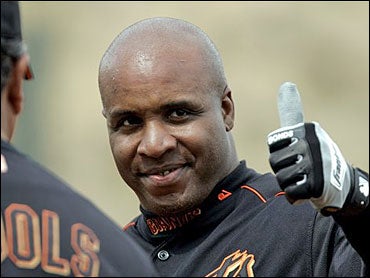 Bonds' Bid To Block Book Profits Nixed
A judge on Friday denied a bid by Barry Bonds' lawyers to block the authors and publishers from making money on a book claiming the San Francisco Giants slugger used steroids and other performance-enhancing drugs.
Bonds' attorneys say the book's authors, publisher Gotham Books, the San Francisco Chronicle and Sports Illustrated, which published excerpts of the book, should be held liable for publishing "illegally obtained grand jury transcripts."
But Judge James Warren said free speech protections shielded the defendants from such accusations and that he thought Bonds' lawsuit had little chance of success.
The book, "Game of Shadows," by Chronicle reporters Mark Fainaru-Wada and Lance Williams, is based partly on grand jury testimony from a federal investigation into the Bay Area Laboratory Cooperative, or BALCO, where Bonds and several other major league players allegedly obtained performance-enhancing drugs.
The book hit shelves on Thursday, the same day Bonds' attorneys said they would sue the writers, Gotham, the Chronicle and Sports Illustrated.
Bonds sought a temporary restraining order on all profits from the book. He did not attend the hearing.
"We are seeking to have the credibility and integrity of the grand jury proceeding restored," Bonds lawyer Alison Berry Wilkinson told the judge during a 40-minute hearing in San Francisco County Superior Court.
Another Bonds lawyer, Michael Rains, said laws prohibit people from possessing grand jury materials unless they are unsealed and that the defendants have no right to profit from illegally obtained material. He said Fainaru-Wada and Williams, "have made a complete farce of the criminal justice system."
Jonathan Donnellan, a lawyer for the two writers and Hearst Corp., which owns the Chronicle, said the writers and publishers are protected by the First Amendment and that the suit "takes direct aim at protected speech."
Earlier Friday, Bonds' lawyers also sent a letter to a federal judge, demanding that Fainaru-Wada and Williams be held in contempt of court.
"The true victim is not Barry Bonds, but the sanctity and integrity of the grand jury process," the attorneys wrote to U.S. District Judge Susan Illston.
The book claims Bonds used steroids, human growth hormone, and other banned substances for at least five seasons beginning in 1998.
"We certainly stand by our reporters and the reporting they did for us," Chronicle executive vice president and editor Phil Bronstein said Thursday. "Nothing that's happened will change that."
"We fully stand behind our reporting of the book," Fainaru-Wada said.
Lisa Johnson, a spokeswoman for publisher Gotham Books, said the publisher supports both authors. "We at Gotham Books are shocked that Barry Bonds would take such a foolish step," she said. "Any respected First Amendment lawyer in America knows that his claim is nonsense."
Rains said Bonds will not comment directly on the lawsuit but strongly supports the case.
"His bat speaks for himself, and he's not going to speak on this action and this book," Rains said.
The book also claims sluggers Jason Giambi and Gary Sheffield, both now with the New York Yankees, also used performance-enhancing drugs.

Thanks for reading CBS NEWS.
Create your free account or log in
for more features.