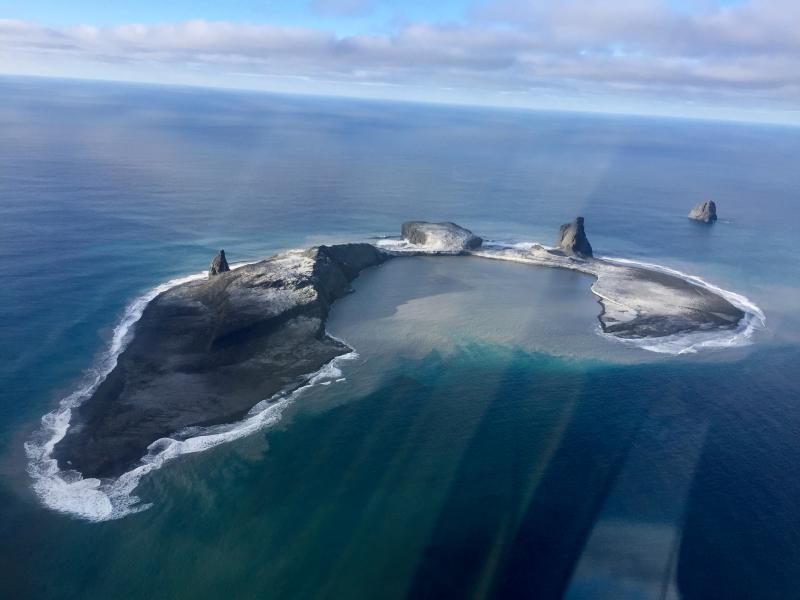 Photographs show how Alaska volcano's eruptions have changed island
ANCHORAGE, Alaska -- A volcano in Alaska's Aleutian Islands has sent up two more ash clouds but neither reached 20,000 feet, the height as which ash becomes a major concern for intercontinental air carrier flights.
The Alaska Volcano Observatory says Bogoslof Volcano erupted at 11:23 a.m. Thursday and produced a cloud that reached 18,000 feet.
A second eruption at 12:35 p.m. sent up an ash cloud to 14,500 feet.
Both eruptions were seen by pilots.
Bogoslof is 850 miles southwest of Anchorage. The volcano has erupted more than 10 times since Dec. 16.
CBS affiliate KTVA reports that scientists are getting a unique look at how eruptions are changing the layout of Bogoslof Island and its volcano.
AVO geologist Chris Waythomas noted how the landscape has changed in a pair of photos taken nearly 19 years apart.
He noted ash building up and causing more mass near the point labeled "C" on the image above. The underwater volcano has also created a massive crater that's taken out about a third of the island's landmass.
"It might help us with the understanding of the ash plumes that have been generated," he noted. "They're all happening in a submarine environment, so seawater plays a big role in driving this eruption. So magma, seawater interaction is a big part of the eruptive process."
Scientists say the island is home to a large number of the world's fur seal population. Vulcanologists will go out to the area this summer with U.S. Fish and Wildlife Service biologists to see the impact to the seals and other wildlife.
Thanks for reading CBS NEWS.
Create your free account or log in
for more features.