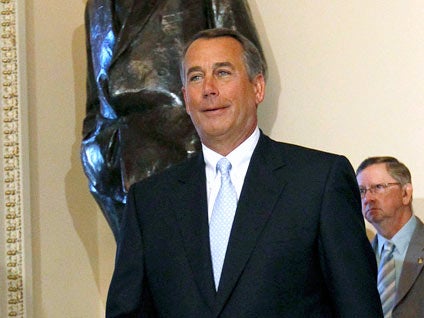 Boehner on Birthers: "It's Not Up to Me to Tell Them What to Think"
House Speaker John Boehner was asked by NBC's Brian Williams today about how much responsibility he feels for an incident on the House floor this morning in which an apparent "birther" yelled out from the gallery while the Constitution was being read.


As Rep. Frank Pallone (D-N.J.) read the portion of the Constitution mandating that only a "natural-born citizen" may be president, a woman in the gallery shouted, "Except Obama, except Obama." You can watch the video at left.

Williams noted that 12 Republicans are co-sponsoring legislation expressing concern about Mr. Obama's birthplace, and asked Boehner if he would be willing to say, "this is a distraction, I've looked at it to my satisfaction. Let's move on."

"The state of Hawaii has said that President Obama was born there," the speaker responded. "That's good enough for me."

Williams asked if Boehner would be willing to express that same message to the dozen Congressional Republicans who don't seem to feel it's good enough for them.

"Brian, when you come to the Congress of the United States, there are 435 of us," Boehner responded. "We're nothing more than a slice of America. People come, regardless of party labels, they come with all kinds of beliefs and ideas. It's the melting pot of America. It's not up to me to tell them what to think."

Other highlights from the interview, which will appear on the "NBC Nightly News with Brian Williams":

Boehner on his smoking habit: " You know, it's a bad habit. I wish I didn't have it. But I have it... I've tried to quit -- from time to time. But not for a while."

On what he does for strength: "I pray. I pray from the moment I wake up, I may pray all day long. Because it's, you can't do this by yourself. Can't do it....I get strength every day just, uh, going to my Facebook site. You know, people having conversations with people. It doesn't make a difference anymore what airport I go to or what restaurant. You talk to Americans. And you learn from them. And I'm humbled by the confidence that they have in me."

On whether his emotional displays - which have included crying - are a distraction: " No. Listen, it's who I am. You know, there are some things I feel very strongly about. And you probably heard that I don't take myself very seriously. But I take what I do very seriously. And when it comes to kids. When it comes to my own family. Soldiers. You know, I get, I feel very strongly that I want America to be the country that I grew up in. A country where you really do have opportunity."

On if he can name a program he would cut from the budget (after being asked if the Defense and Homeland Security budgets are "sacred"): "I don't think I have one off the top of my head. But there is no part of this government that should be sacred. I believe there's room to find savings in the Department of Defense. "

On what people should expect from the government: "Well clearly, I believe in the safety net. You know, we live in a competitive society. We live in a capitalist society. For those who can compete and do well, fine. Some Americans can't compete. I think we have a responsibility as a people to help those who can't compete. But do we have a responsibility to help those who won't compete? I would have serious doubts about that."
Thanks for reading CBS NEWS.
Create your free account or log in
for more features.