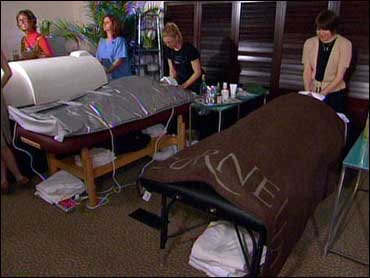 Body Wraps: Way To Look, Feel Slimmer?
Body wraps, a staple at spas, are considered an effective, all-natural way to enhance and moisten your skin, making it look softer.
Now, they're being touted by many beauty experts as a way to help women look and feel slimmer.
Amy Keller, beauty editor of Allure magazine (http://www.allure.com), had the scoop on the beauty treatment Thursday, as The Early Show continued its series, "Weapons of Mass Reduction."
Wraps are designed to improve the texture and appearance of the skin by helping to rid the body of excess fluids and toxins. Benefits of body wraps may include detoxification, boosting of the lymphatic system and metabolism, body contouring, temporary inch-loss, skin tightening, and skin softening.
The Early Show had four different wraps done on four women during the program. They were measured before and after, off-camera, to see if the wraps made a difference. All four volunteers lost from two-to-four INCHES within an HOUR.
Three spas did the wraps: Cornelia Day Spa, Great Jones Spa, and Paul LaBrecque. So did a medi-spa, the Natural Alternative Center, which promises you can lose six-to-twelve inches in one two- hour procedure.
How Are Body Wraps Performed?
People undergoing body wrap treatments typically have their torso, legs, arms, and neck wrapped with elastic cloths (either dry when wrapped or pre-soaked with a body wrap mixture). The elastic cloths absorb and help remove excess body fluids and toxins. The cloths are wrapped snugly (though not too tightly), creating a thermal blanket that promotes sweating and aids in the shedding of unnecessary interstitial fluid (fluid located between the small spaces of body tissues).
Possible Benefits of Body Wraps
Body wraps are all-natural, most often containing a mixture of herbs and minerals designed to beautify the skin. Essential oils and sea salts may also be used in daily spa body wrap treatments, seeking to help tone and soften the skin, and help rid you of those unwanted inches. Results may be realized immediately. But toxins and interstitial fluids eventually re-accumulate, so regular body wraps may provide better long-term benefits.
More on Body Wraps:
Body scrubs may use salts and other natural ingredients to exfoliate and detoxify the skin.
Body wraps use detoxifying organic materials, such as mud or aloe vera, to draw toxins from the body and soften skin. Most body scrubs use a blend of oils with fine and coarse grains, and are followed with the application of emollient lotions to further soften skin. Skin will feel soft, and fine lines will lessen after just one treatment. Such deeply relaxing treatments are shown to decrease stress, thereby lowering blood pressure. Since the skin is our largest organ, detoxification can have profound effects on our health and sense of well-being.
Body Wrap Costs
Body wraps typically cost between $100 and $300, depending on your location, at most day spas. Body wraps are often performed as part of a larger body treatment that may include aromatherapy, mud baths, hot tubs, and saunas. Day spa body wraps can be less expensive when performed in conjunction with other body treatments or day spa therapies that may include facials, massages, or waxing.
How does Alure rate body wraps?
Keller says editors first look for those that promise "detoxifying," "firming," "tightening," or "slimming" effects. Then, they check for ingredients dermatologists and aestheticians have said have some kind of tightening effect, however temporary. That includes things such as seaweed, caffeine, and muds. To pick the best, it comes down to trial and error: Editors try them, to see if they feel as if they've lost any water weight, and if they're actually tighter and firmer -- and how long the effects last.
The following information was provided by the spas represented on the show:
DR. ROSSI'S NATURAL ALTERNATIVE CENTER
As founder, and director of The Natural Alternative Center on West 72nd Street in Manhattan for more than 20 years, Dr. Trisha Rossi is a well-known lecturer and talk show personality. She has treated the likes of Britney Spears, Hillary Swank, Jennifer Gardner, Missy Elliot and an endless list of others who have, along with "The Discovery Health Channel," dubbed her "the naturopathic doctor to the stars." She compliments her practice with various licenses and certifications from nutrition, and food allergy-related alternative therapies to colon/digestive disorders and organ drainage detoxifications. She enhances her treatment programs with proven herbology and DNA/TMA detoxification protocols. Her specialty is in weight- and inch-loss, pain management, and problem skin issues. On the show Thursday, a demonstration was done of how one can lose inches on a natural, non-surgical, non-chemical level.
GREAT JONES SPA, of New York City
Green and White Algae Body Wrap
60 minutes, $160
90 minutes, $230
Includes massage
Marine algae are the base of the food chain and contain all the minerals, trace elements, and vitamins essential to life. Providing re-mineralization, restoring balance and inducing relaxation, this treatment nourishes and hydrates skin while stimulating natural detoxification. Performed as a wrap in a Vichy shower, marine algae grown in the pristine waters off the Brittany coast of France are applied to the skin to provide nutrients on a cellular level and draw out toxins. This treatment reduces the effects of bloating, fatigue, stress, and water retention while replenishing skin to its optimum level of nutritional balance. The 90-minute treatment includes a relaxing massage with a hydrating moisturizer. This wrap will leave you soft and rejuvenated. Those with iodine allergies should instead choose the Sedona Mud and Red Algae Body Wrap & Hydrotherapy Treatment.
PAUL LABRECQUE
Detoxifying Seaweed Body Wrap
60 minutes $125
Series of six, including tax $715 ($780 value)
This treatment starts with a wonderful body polish using 100 percent natural energizing herbal powder, followed by a detoxifying and re-mineralizing slimming and firming action of a algae wrap. Natural plant essences of lemongrass, geranium and tonka bean help to reduce water retention, and flush out excess fluids and toxins. Localized drainage massage is added to specifically target stubborn areas of cellulite. Also includes a luxurious scalp massage. Start your contouring cure!
CORNELIA
Algae Slimming Body Treatment
Bathe in mineral rich soaking teas, slimming algae and essential oils to alleviate water retention. The slimming body wrap promotes circulation, pulls out impurities and restores balance to the body.
90 Minutes $260
Thanks for reading CBS NEWS.
Create your free account or log in
for more features.