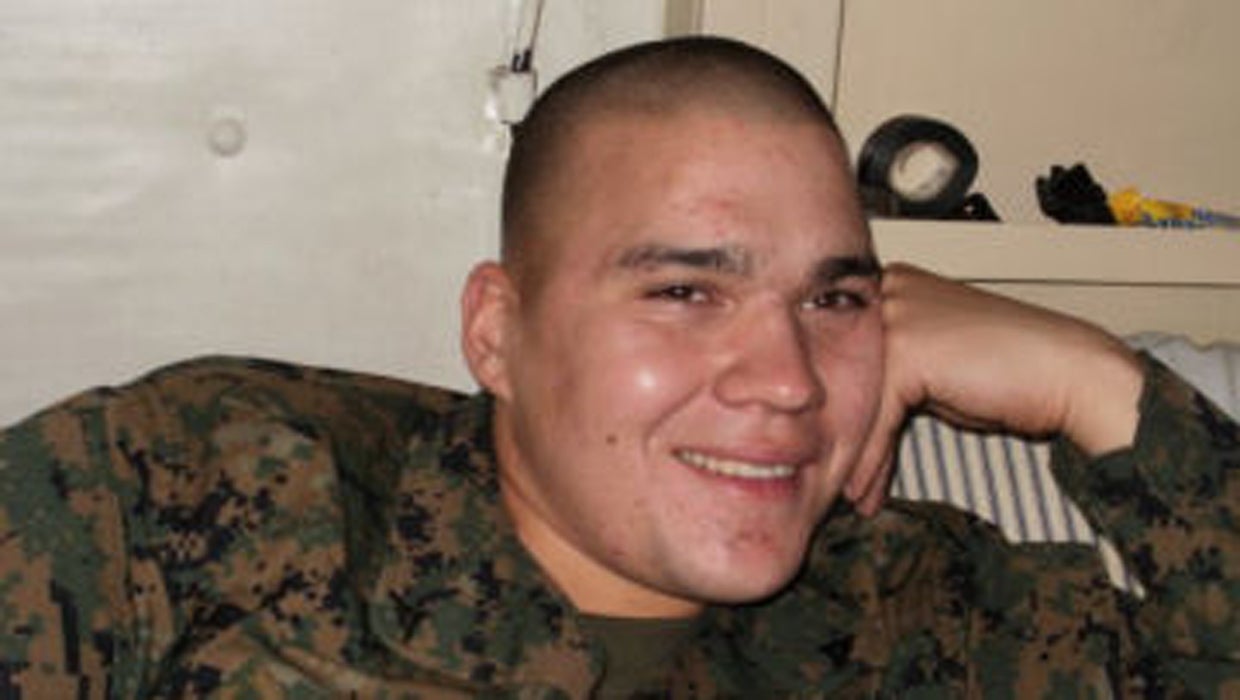 Body found, arrest made in case of missing Marine wife
TWENTYNINE PALMS, Calif. - The body of Erin Corwin, the missing wife of a U.S. Marine, was found in a mine shaft in Southern California over the weekend and her alleged lover and former neighbor was arrested on suspicion of homicide, authorities say.
Christopher Brandon Lee, 24, was arrested in Alaska at 9 p.m. Sunday on an extradition warrant out of California, where San Bernardino County authorities want him for homicide, said Jennifer Castro, a spokesman for the Anchorage Police Department.
Corwin, 20, was reportedly in the early stages of pregnancy when she disappeared June 28 from her Twentynine Palms, California, home. Her husband, Marine Cpl. Jonathan Corwin, reported her missing the next day.
The 20-year-old's body was found Saturday 140 feet down an abandoned mine shaft on federal land near Twentynine Palms after authorities spent nearly two months searching 300 square miles in the remote area east of Los Angeles, San Bernardino County Sheriff John McMahon said.
Her remains were identified Sunday through dental records, he said.
Shortly after the investigation into Corwin's disappearance began, the investigation began to focus on Lee, according to court papers first obtained last month by the Desert Sun newspaper.
Erin Corwin's friend told investigators that Lee and Erin Corwin were having an affair and that the unborn child might be Lee's, the papers show. The friend showed authorities text messages that said Erin Corwin was planning to go on a special hunting trip with Lee to celebrate on the day she disappeared.
Lee, a former Marine, previously told investigators he was not with Corwin the day she disappeared and said that although the two had kissed, they had never had intercourse.
The investigation found that Lee and Corwin did have an "intimate relationship" dating back to at least February, sheriff's Sgt. Trevis Newport said.
It wasn't immediately clear if Lee, who has yet to make a first court appearance or arrive in California, had retained an attorney.
Sheriff McMahon said other evidence was found in the shaft along with Corwin's body, but declined to discuss what it was. Authorities did not release her cause of death, citing a pending autopsy.
Lee was arrested last month on suspicion of possessing a destructive device after a search warrant was served at his Yucca Valley home. He was taken into custody after the July 4 search and released on bail two days later.
He was then honorably discharged after seven years in the Marine Corps and subsequently moved his family to Alaska.
Corwin and her husband are from Oak Ridge, Tennessee.
Thanks for reading CBS NEWS.
Create your free account or log in
for more features.