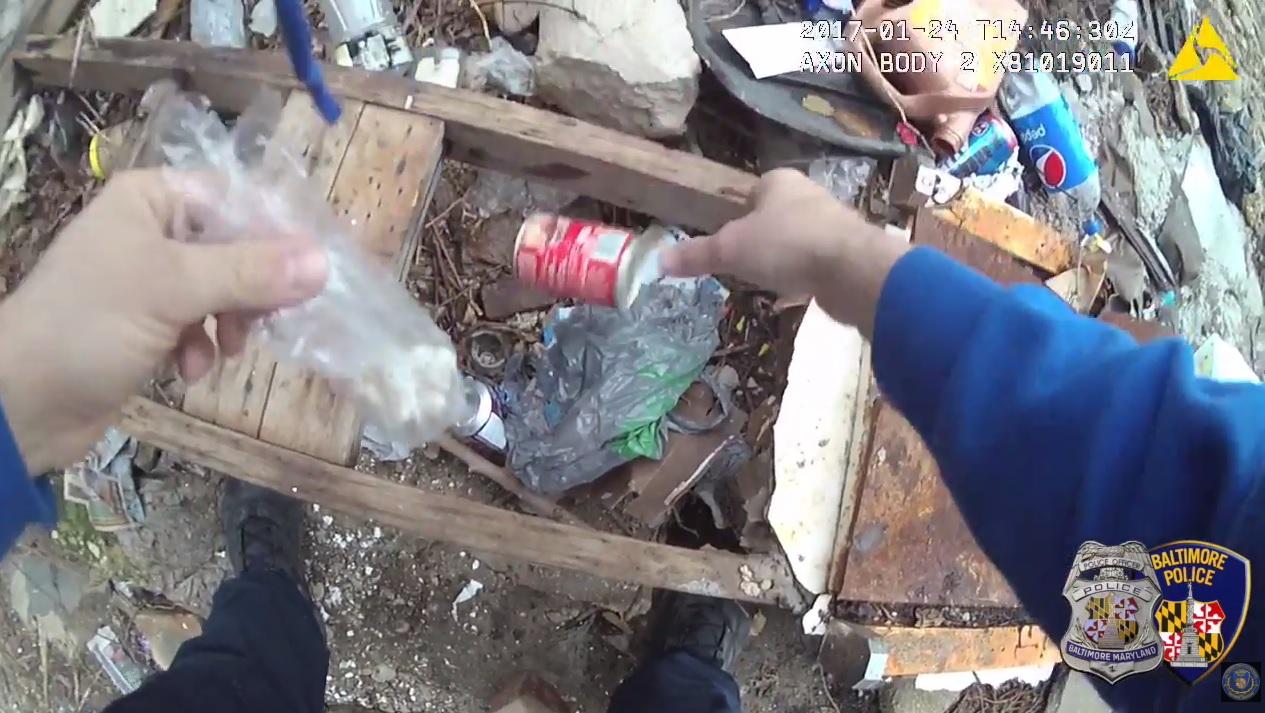 Body cam video shows police officer planting drugs, attorneys say
BALTIMORE -- A Baltimore officer has been suspended after defense attorneys released a body camera video they said shows the officer planting drugs.
The 90 seconds of footage has police investigating their own officers, but officials say there is more to this story than a short video clip showing officers planting drugs, CBS Baltimore reports.
Officials have since released more video to back up their claims as they continue to investigate these serious allegations.
The footage in a Baltimore alley is clear, as it was recorded on police body cameras, but the reason why the Baltimore police officer appears to be planting drugs is not.
"What we think we see, and if you slow down the video especially in the first five seconds, the officer appearing to place a red can underneath some trash, push the fence up, and hide it," said public defender Debbie Katz Levi.
The footage was caught on camera in January, but not discovered by a public defender in Levi's office until this month.
Levi says the alleged act of planting drugs was caught because Baltimore police body cameras capture the 30 seconds before an officer actually hits the record button, but without audio.
When the sound does kick in, "he then walks down the alley and miraculously goes to the same space where he appeared to have just planted the can with the suspected narcotics," Levi said.
On Wednesday, police fired back with extended footage tied to the same drug arrest.
It shows police searching the same southwest Baltimore yard minutes before, and finding another bag of suspected heroin.
Police are investigating if the officer planted the second set of drugs there or if he was recreating the discovery when his body camera was rolling.
"It's certainly a possibility that we're looking into, to see if the officers, in fact, replaced drugs that they had already discovered to document the discovery with their body-worn cameras on," said Baltimore Police Department Commissioner Kevin Davis.
Unanswered questions that could trickle down to other criminal cases on the court docket, as the officer in question is a witness in more than 50 other cases.
At a press conference Wednesday afternoon, a reporter asked Davis whether he was concerned that the video could jeopardize the other cases.
"No, I'm not concerned," Davis said. "Obviously, we're going to partner with them and look into those other cases."
Following the discovery of the video, one officer was suspended, and two others are on desk duty while the Office of Professional Responsibility investigates.
The man arrested on drug charges tied to the video was set for trial last week, but the State's Attorney's Office dropped the case.
In the press conference, Davis said that they will look at "what happened, crimes committed, policies or procedures violated" and that he's "convinced we're going to get to the bottom of it, if evidence was planted and take assertive action if that's the case."
"This is a serious allegation of police misconduct," Davis added. "There's nothing that deteriorates the trust of any community more than thinking for more than one second that uniformed police officers -- and police officers in general -- would plant evidence of crimes on citizens."
Thanks for reading CBS NEWS.
Create your free account or log in
for more features.