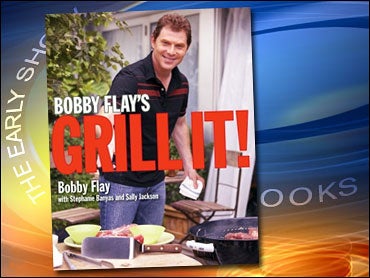 Bobby Flay Says "Grill It!"
The Early Show's resident chef, Bobby Flay, thinks everything can be cooked on the grill. Well, almost everything, anyway.
And, just in time for grilling season, he has a new cookbook called "Grill It!" that does a long way toward proving that theory. It shows the best way to grill almost anything you're craving, from summer squash to juicy burgers.
"Grill It!" is Flay's eighth cookbook.
Because he likes to head to the store, see what looks good, then come home and make it, he's arranged the book's chapters by ingredient. You walk in the door with a beautiful piece of salmon, but aren't sure what to do with it? Turn to the "salmon" chapter. The chapters cover steak, shrimp, corn, potatoes, etc.
The book immediately addresses a question Flay gets frequently: Does he prefer grilling with gas or charcoal?
His response in "Grill It!" is, "I am on record many times as saying I prefer the ease and consistency of gas grills. However, that doesn't mean I don't use charcoal grills myself from time-to-time. Charcoal burns hotter than gas, allowing for a better sear and more flavor from the smoke. But I have never had a problem getting a really good sear on the gas grill, and I also like to add flavor to my food while it's grilling and after it comes off the heat. So, for me, it's a wash. I guess what I am trying to say is -- there is no right or wrong answer."
On the show Thursday, Flay grilled up two things: asparagus, because it's in season, and chicken, because he's found that most people tend to grill only chicken breasts; he wants to mix it up with some wings and thighs.
ASPARAGUS
Flay says asparagus stalks tend to be thin earlier in the season and thicker later on. One is not necessarily better than the other. He finds that white asparagus tends to be a bit milder than green, while purple is sweeter. Traditionally in season March through May, you can get good results any time of year if you select and prepare it well. Always look for stalks with tightly closed buds at the tip, and avoid stalks whose bottoms look dried out.
CHICKEN
There are so many delicious options for chicken beyond the standard grilled chicken breast, Flay points out. Chicken thighs are a particular favorite of his: The meat is tender, juicy, and flavorful. Pound-for-pound, thighs tend to be cheaper than breasts. You can find thighs bone-in or boneless, but Flay feels poultry on the bone makes for a juicer end-product.
FLAY'S RECIPES
Perfectly Grilled Asparagus
Serves 4
1 1/2 pounds (about 24 medium stalks) fresh asparagus
3 tablespoons olive oil
Kosher salt and freshly ground black pepper
1. Heat your grill to high.
2. To trim the asparagus, snap the spears with two hands; the tough part should break right off. For a cleaner look and less waste, you can cut off the tough bottoms with a knife and peel the bottom half of the stalk if necessary.
3. Place the asparagus on a baking sheet, toss with the oil, and season with salt and pepper. Grill the asparagus, perpendicular to the grates of the grill, for 3 to 5 minutes on each side or until just crisp-tender.
Grilled Asparagus with Olive Oil, Feta & Black Pepper
Is it their long, skinny, spaghetti-like shape that makes me think of pasta when dressing asparagus? Who knows? Regardless, this simple combination of asparagus, pepper, cheese and really good extra virgin olive oil is delicious. The creamy, briny flavor of the feta is heightened by the black pepper, and the olive oil keeps it luscious.
Serves: 4
1 recipe Perfectly Grilled Asparagus
1/2 teaspoon coarsely ground black pepper
8 ounces Greek or French feta, crumbled
1. Remove the asparagus from the grill and transfer to a large platter. Add the oil and pepper and toss to combine. Sprinkle the feta over the top of the asparagus. Serve immediately.
Grilled Asparagus Panzanella
Serves: 4-6
Six (1-inch) slices day-old country-style bread
1/4 cup red wine vinegar
1 clove finely chopped fresh garlic
Salt and freshly ground black pepper
1/2 cup extra virgin olive oil
1 recipe Perfectly Grilled Asparagus, cut into 1-inch pieces
8 red cherry tomatoes, sliced in half
8 yellow cherry tomatoes, sliced in half
1 small red onion, halved and thinly sliced
1/2 cup Nicoise olives, pitted
2 tablespoons capers, drained
8 fresh basil leaves, cut into thin ribbons
1. Heat your grill to high.
2. Grill the bread on both sides until slightly charred, about 1 minute per side. Remove from the grill and cut each slice into 1-inch pieces.
3. Whisk together the vinegar, garlic, ½ teaspoon salt, ¼ teaspoon of pepper and oil in a large bowl until combined. Add the asparagus, tomatoes, onions, olives, capers, grilled bread and basil and mix until combined. Season with salt and pepper. Let sit at room temperature for 30 minutes before serving and up to 1 hour.
Go to Page 2 for Flay's grilled chicken recipes.
Grilled Chicken Thighs with Green Olives & Sherry Vinegar-Orange Sauce
Unlike breast meat, chicken thighs seem to stay moist no matter how long you cook them. The dark, dense meat is able to stand up to assertive flavors such as the vinegar and rosemary in this sauce. Chicken thighs are not only extra flavorful, they have a sturdy texture which make for perfect grilling.
Serves: 4
3 tablespoon olive oil
2 shallots, coarsely chopped
1 clove garlic, coarsely chopped
1 cup orange juice, not from concentrate
Zest of 1 orange
1/4 cup aged sherry vinegar
1 can (14.5 ounce) low sodium chicken stock
2 sprigs fresh rosemary
1 tablespoon honey
Salt and freshly ground black pepper
Four 8-ounce bone-in, skin-on, chicken thighs
1/2 cup Picholine olives, pitted
Fresh rosemary sprigs, for garnish
1. Heat 1 tablespoon of the oil in a medium saucepan over high heat. Add the shallots and cook until soft and lightly golden brown, 2 to 3 minutes. Add the garlic and cook for 30 seconds.
2. Add the orange juice, zest and vinegar and cook until reduced by half. Add the stock and rosemary and cook until reduced by half and slightly thickened, 8 to 10 minutes. Strain the sauce into a bowl and stir in the honey and season with salt and pepper. Keep warm. Can be made 1 day in advance and reheated before serving.
3. Heat the grill to medium-high.
4. Brush the chicken on both sides with the remaining oil and season with salt and pepper. Place the chicken on the grill, skin-side down and cook until golden brown and slightly charred, 4 to 5 minutes. Turn the thighs over and continue cooking until just cooked through, 5to 6 minutes longer. Remove the thighs to a platter and drizzle with the sauce. Scatter the olives around the platter and garnish with rosemary sprigs. Serve additional sauce on the side.
Chipotle-Honey Glazed Grilled Chicken Wings with Toasted Sesame Seeds & Green Onion
Serves: 4-6
1 cup honey
2-3 tablespoons chipotle puree (depending on how spicy you like it)
3 tablespoons ancho chile powder
2 tablespoons Dijon mustard
4 tablespoons canola oil
Kosher salt and freshly ground black pepper
2 teaspoons Spanish paprika
2 teaspoons ground cumin
2 teaspoons ground coriander
3 pounds chicken wings
2 tablespoons toasted sesame seeds (see technique TK)
3 green onions, thinly sliced
1. Heat the grill to medium-high.
2. Whisk together the honey, 1 tablespoon of the ancho powder, chipotle, mustard, 2 tablespoons of the oil, 1 teaspoon of the salt and ½ teaspoon of the pepper in a large bowl. Remove half of the glaze and put it in a small bowl to use while chicken wings are grilling.
3. Stir together the remaining 2 tablespoons of ancho powder, paprika, cumin and coriander in a small bowl.
4. Rinse the chicken wings under cold water and pat dry with paper towels. Cut the tips jinto 2 pieces through the joint.
5. Place the chicken wings in a large bowl, add the spice rub and the remaining 2 tablespoons of oil and toss to coat. Season with salt and pepper and place on the wings on the grill in an even layer. Grill until golden brown and slightly charred, 4 to 5 minutes. Reduce the heat of the grill to medium, turn the wings over, close the lid of the grill and continue grilling until just cooked through, 15 to 20 minutes longer, turning once or twice more during the cooking time.
6. Begin brushing with the glaze every few minutes during the last 10 minutes of cooking. Transfer the wings to the bowl with the remaining glaze and toss to coat. Transfer to a platter and sprinkle with the sesame seeds and green onions.
Thanks for reading CBS NEWS.
Create your free account or log in
for more features.