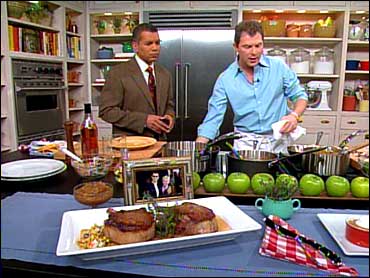 Bobby Flay Cooks Up Boyhood Favorites
Many chefs find inspiration in their childhood memories, and today we learn about our resident chef Bobby Flay's own boyhood favorites.
Flay joined The Early Show on Thursday for part four of its series on "Culinary Inspirations." He demonstrated some of his mother's best recipes, adding a touch of his own flair. On the menu: pan roasted double-cut pork chops with homemade applesauce, Mexicali corn, and butterscotch pudding.
FOOD TERMINOLOGY
Cotija is also known as Queso Anejado or "aged cheese". The curd is aged and sold in small rounds or large blocks. When it is produced, it is a hard-ripened cheese with a closed texture, providing a distinctively salty flavor. This pungent cheese comes in a moist version, a bit like feta. The more common version is very firm, more like Parmesan. The cheese can be crumbled and used in tacos, soups, salads or over beans. It can be served as a topping or an ingredient for chili, enchiladas, lasagna, pasta, refried beans or salad dishes. Parmesan, anejo, or feta cheese can be substituted when cotija is not available. This cheese is also known as Queso Anejado.
Double-Cut Pork Chops: Chops are smaller cuts from the loin primal cut. They are individual serving cuts that are sliced to various thicknesses. Depending on the size, one or two chops can be served as a single serving. Single chops may vary from 1/2" to 1 1/2" thick and double rib chops may be as thick as 2 inches. The thickness chosen will depend on how they will be prepared and the appetites to be satisfied. They are available fresh, smoked and bone-in or boneless, varying in quality and composition according to their location on the loin.
RECIPES
Pan Roasted Double-Cut Pork Chops with Homemade Applesauce
Serves 4
4 double center-cut pork chops, with or without the bone
Olive oil
Salt and freshly ground black pepper
1. Preheat oven to 425 degrees
2. Heat two tablespoons of oil in a large oven-proof sauté pan over high heat. Season chops on both side with salt and pepper.
3. Place chops in the pan and cook until golden brown, flip over and transfer to the oven.
4. Roast in the oven until an instant read thermometer inserted into the center of the chop reaches 150 degrees.
5. Transfer chops to a plate and tent with foil. Let rest 5 minutes before serving.
Homemade Applesauce
1/4 cup apple cider or apple juice
1 tablespoon granulated sugar
1 tablespoon light brown sugar
1 tablespoon Calvados or Apple Jack brandy
4 Granny Smith apples, peeled, cored and diced
2 teaspoons ground cinnamon
1 tablespoon cold unsalted butter
1. Combine apple juice and sugar in a medium saucepan over high heat. Cook until the sugar is dissolved.
2. Add the Calvados and cook for 1 minute.
3. Add the apples and cinnamon. Cook until slightly softened but some of the shape of the apple remains, about 10 minutes.
4. Stir in the butter. Transfer to a bowl and let cool to room temperature.
Mexicali Corn
2 tablespoons corn oil
1 red onion, finely diced
2 cloves garlic, finely chopped
1 serrano chile, finely diced
1 roasted yellow pepper, finely diced
1 roasted red pepper, finely diced
2 cups fresh corn kernels
Salt and freshly ground black pepper
1 tablespoon cold unsalted butter
Juice of 1 lime
2 tablespoons finely chopped fresh cilantro
Grated cotija cheese
1. Heat the oil in a large sauté pan over high heat.
2. Add onions and cook until soft.
3. Add garlic and serrano chile and cook for 1 minute.
4. Stir in the yellow and red pepper and corn and cook until the corn is tender, about 10 minutes.
5. Stir in butter, lime juice and cilantro; transfer to a serving bowl and sprinkle with cotija cheese.
Butterscotch Pudding
Serves 8
3/4 cup sugar
1/4 cup water
1/4 cup whipping cream
1/2 cup (packed) golden brown sugar
1/3 cup cornstarch
1 teaspoon salt
3 cups whole milk
4 large egg yolks
1/4 cup (1/2 stick) unsalted butter, cut into small pieces, room temperature
2 tablespoons Scotch
1 teaspoon vanilla extract
Whipped cream
1/2 cup English toffee bits (optional)
1. Stir 3/4 cup sugar and 1/4 cup water in a heavy medium saucepan over low heat until sugar dissolves.
2. Increase heat to high and boil without stirring until syrup turns deep amber color, occasionally brushing down sides of pan with wet pastry brush and swirling pan.
3. Remove from heat. Add cream slowly (mixture will bubble vigorously). Stir until smooth.
4. Set caramel sauce aside.
5. Mix brown sugar, cornstarch, and salt in heavy medium saucepan.
6. Gradually whisk in milk. Stir over medium-low heat until mixture thickens and boils, about 8 minutes. Remove from heat. Whisk in caramel sauce.
7. Whisk egg yolks in large bowl to blend.
8. Gradually whisk 1 cup warm caramel mixture into yolks. Gradually whisk yolk mixture back into caramel mixture in saucepan.
9. Bring to simmer over medium heat. Gradually whisk in butter, Scotch, and vanilla.
10. Divide pudding among eight parfait glasses. Chill until cold, at least 6 hours and up to 1 day.
Top puddings with whipped cream and toffee bits.
Thanks for reading CBS NEWS.
Create your free account or log in
for more features.