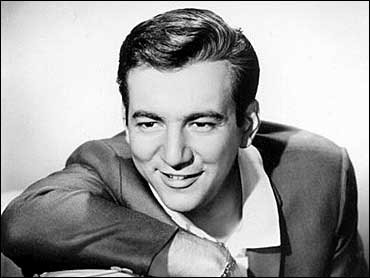 Bobby Darin: Brash, But Talented
In the 1950s and '60s, Bobby Darin was one of the biggest names in music. Even though he died at only 37, Darin was a huge star. Not only was he the youngest headliner in Las Vegas, his finger snapping hits such as "Mack the Knife" and "Splish Splash" are still popular today.
"There's a huge Bobby Darin cult out there," New York Post columnist Michael Starr told The Early Show co-anchor Harry Smith. "There are Web sites devoted to Bobby. There's a movie coming out ("Beyond the Sea") with Kevin Spacey starring as Bobby, singing Bobby's music.
"He died young, and when people die young, and especially people who accomplish as much as Bobby did, you have this whole mythology, although in Bobby's case, he was such a talented man, it's justified."
Starr penned the new book, "Bobby Darin: A Life." He says the tales of Darin's attitude are true: "He was brash. He was cocky. He was arrogant. But he was extremely talented, and he could back it up. He could make claims like, 'I want to be a legend by the time I'm 25.' I don't know if he reached legendary status, but he came very close to it. nominated for an Oscar. He had huge hits with 'Mack the Knife' and 'Dream Lover' and 'Splish Splash' and 'Beyond the Sea.'"
Starr says one thing that surprised him as he researched the book was Darin's allegiance to his friends: "I had heard he was brash, cocky and arrogant, and I think all of that was true and, yes, he had the talent to back it up. But he was so dedicated to the people who were close to him in his life. His manager...was like a brother to Bobby, and they were very close throughout Bobby's life. And he would lavish gifts on people. He was just very generous, giving them parts in movies and TV shows. He was just a really good friend and, even though he had that cocky streak, people to this day are still crying about his death."
Darin's brashness caught the attention of Frank Sinatra, Starr notes. "I think Sinatra felt a little bit threatened by Bobby. He used to, as only Frank could, say, 'I do that kid's proms.' That was the kind of attitude he had.
"It was because Bobby came out and said, "I want to be bigger than Sinatra. He did a very famous Life magazine interview and when Sinatra heard that, it was war, because nobody was going to encroach on Sinatra's territory.
"But they made their peace. Bobby never quite reached Sinatra's heights, but he certainly gave him a run for his money, and I think there are a lot of people out there who think Bobby was just as good as Frank Sinatra."
Starr points out that Darin wrote "Splish Splash" in only 12 minutes. And, in the case of "Mack the Knife," Darin took a dirge and turned it into an up-tempo mega-hit.
Starr adds that, while Darin married and loved Sandra Dee, and they had a son together, Darin's first true love was Connie Francis: "She always said -- she still says now -- she told me, "I never got over Bobby.'"
---
The following excerpt of most of Chapter One of "Bobby Darin, A Life" is reprinted with express permission of Taylor Trade Publishing. All rights reserved.
In 1996, John Schriver lay dying in a Florida hospital, his weak heart no match for the diabetes and Parkinson's disease ravaging his body. Forty years earlier, the vigorous young man, an avowed Frank Sinatra fan, had shifted his musical allegiance to the brash newcomer, Bobby Darin. Bobby's "Mack the Knife" was sweeping the nation and it became John's favorite song.
It was also the last sound he would hear on Earth.
Back in New Jersey, Gregg Schriver's phone rang. It was his mother, Juanita, calling from the hospital. The doctors didn't expect John to survive the night. Gregg stayed on the phone with Juanita, asking if John was comfortable, hoping he wasn't in any pain.
"I brought dad's Walkman and put his earphones on and played his favorite tape," his mother told him. "He turned up the volume and I was able to hear what he was playing. 'Mack the Knife.' A smile came across his face, and his hand that I was holding was tapping to the rhythm of the song. Suddenly the tapping stopped and he was gone.
"But the smile remained."
The smile. The tapping. With Bobby, they seemed to go hand-in-hand. Ahmet Ertegun remembered Bobby on a blustery fall day, thirty years and a lifetime removed from the singer's death. The legendary founder of Atlantic Records sat regally at his desk, impeccably dressed, the walls of his midtown Manhattan office plastered with photos of the greats from the worlds of rock, R&B and jazz. Ertegun had, in one way or another, influenced them all. But it was Bobby he spoke passionately about, the years melting away as he tapped his big oak desk—dum, dum, dum, dum— to the hypnotic, familiar beat of "Mack the Knife," remembering the recording session that produced Bobby's greatest hit.
That record swings, of course [tap, tap]. Great arrangement [tap, tap]. And you know, before he even started singing, when I was writing down the arrangement, I said this is a hit record, whatever Bobby does. I mean, the arrangement was fabulous. I think the first day it sounded like a smash. We did it again just to please everybody, so the band could play better. We had two or three takes, and some of the live performances that we have down at the Copacabana sound just as good.
Ah, yes. The Copa. Bobby opened there in 1960. He was all of twenty-four, and the New York critics couldn't wait to take it to the brash kid who'd already made it a point—in Life magazine, no less—to proclaim he wanted to "become a legend" by his twenty-fifth birthday. One more year to go kid, they wrote sarcastically. Are you serious? This pischer, this Bobby Darin who swaggers like Sinatra but lip-synchs "Splish Splash" on American Bandstand? On the biggest stage in the biggest city facing the biggest challenge of his career? Sammy Davis Jr. shattering records here is one thing. But Bobby Darin at The Copa? Fuggedaboutit! It'll never work.
Earl Wilson, June 3, 1960: "The Copacabana was so crowded this morning at Bobby Darin's opening that when Louis Prima attemped to smooch his wife, Keely Smith, he missed and kissed composer Jule Styne. Maybe that's an exaggeration, but only one more male could have squeezed in: Eddie Arcaro."
Walter Winchell, June 7, 1960: "Darin, 24, opened a sensational engagement at the famed nightclub last Thursday night and has been playing to capacity throngs since. It was his first New York engagement after making show-business history on the West Coast."
It wasn't the first time, and it certainly wouldn't be the last, that Bobby Darin would confound his critics. Confidence wasn't a problem. He knew he had the talent, and screw everyone else if they didn't agree. He didn't care. All he needed was the stage.
"I like people who don't know me to dislike me," he said shortly after his record-breaking Copa engagement. "It gives me great pleasure to get bum-rapped.
"I thrive on it."

It was that spunkiness that accompanied Walden Robert Cassotto when he came kicking and screaming into the world on May 14, 1936. The Cassottos lived in a South Bronx tenement, a mixed neighborhood on East 135th St. comprised mostly of Italian and Irish immigrants who hadn't quite cashed in on the American dream. Nonetheless, the Cassottos were, by all accounts, a happy, loving lot who made do with what little they had in their tiny railroad apartment, getting by on government assistance and Polly Cassotto's odd jobs. Walden Robert soon became known as Bobby—a blessing for a kid in a tough neighborhood. "There was a rough element," Bobby recalled. "Some of the boys are doing time in local and federal penal institutions, but a small percentage. Most were basically good, but victims of poverty."
Bobby, when he was old enough to understand such things, was told that his father, Saverio "Sam" Cassotto, had died just months before Bobby's birth. An Italian-immigrant cabinet maker, Sam was also a part-time inventor who, according to family lore, had the brilliant idea of putting ice cream on a stick. Exactly what else he did in his spare time has been the source of some speculation; according to Darin archivist Jeff Bleiel, Sam was reportedly partners in a bar with Frank Costello, one of the most notorious underworld figures in the annals of New York City crime. One version of the story even had Sam convicted of pickpocketing, sent up the river to Sing-Sing, and dying there. Bobby himself repeated the Sing-Sing story to high school pal Steve Karmen, who recounted an exchange in his memoir, Me and Bobby D.
"He died in prison."
"No!"
"Yeah. Nina won't tell me the whole story; I think she's afraid. And Momma breaks up when she starts to talk about him. He owed money to somebody, and didn't pay up. Gambling, something, I don't know. He thought he could tough 'em out, but somebody set him up and he was arrested. Then, one day, Momma got the call. They made him an example for the rest of the neighborhood."
But Bobby, for the most part, didn't ask questions about Sam, and no answers were offered—or forthcoming.
Bobby knew that his mother, Vivian Cassotto, who everyone called Polly, had been a vaudeville singer. She was born Vivian Fern Walden, the daughter of a millowner in Pascoag, Rhode Island and grew up in the Chicago area. Her parents divorced shortly after Polly was born and her mother married a Chicago restaurant owner. Polly had actually attended college but dropped out, working the vaudeville circuit under the stage name of Paula Walden. While in Chicago she met Sam and, shortly thereafter, chucked her stage career and became a schoolteacher, settling down with Sam in New York City and having Bobby late in life. She was around forty-five when Bobby arrived, but no one ever really knew Polly's exact age. She was in show-business, after all, and shaved a few years off here and there.
Polly had also developed a drug habit after taking some medication for dental problems. "Not that she was high all the time but she needed just enough morphine to keep her sane," said her grandson, Gary. "She had gotten addicted to it for dental problems when she was in the business."
Now, with Sam dead and a new baby in the cramped quarters, Polly worked a string of menial jobs trying to support the family as best as she could, with the city of New York providing some assistance in the form of food coupons.
Bobby's sister Nina was seventeen years older than her baby brother. Nina, a heavyset woman, was forced to work at a young age in order to help with the family's expenses, including supporting Polly's morphine addiction. The age difference between Nina and Bobby made Nina more of Bobby's protector—roles that would be reversed in later years once Bobby became a star.
"My mother went to work and they found themselves on home relief, because what kind of job was she going to find without a high school diploma and no skills?" said Nina's son, Gary. "You're going to get factory work, whatever you can possibly get. And her mother still had a morphine addiction. Drugs had to be expensive; they're expensive now, imagine what they cost seventy years ago. They were never cheap."
Nonetheless, there was nothing about the Cassotto family that stood out in those early years. The tenement neighborhood was poor, and they were poor. Everyone worked if they could. That's just the way it was.
"In most ways we were like everyone else on our block," Bobby said. "Mom worked while my sister and I were in school. We worried a lot, and never stopped hoping that some day things would change.
"In the evenings we'd sit together and talk about our dreams—how Mom would have a piano again so she could sing to us like she used to, how we'd leave the city and have a house with trees and grass and flowers.
"We were as poor as you can be in a slum, but we were rich, too. Mother never forced anything on us. She told us anything we wanted to know. She gave me a free hand and trusted me enough to let me do whatever I wanted."
Young Bobby was extremely frail and sickly, but he was also inquisitive and bright. Polly, the former schoolteacher, thought he should be home-schooled, and didn't enroll Bobby in public school until he was seven-and-a-half. He went straight to first grade and quickly proved to be an excellent student, earning a reputation as the neighborhood "genius"—exactly the wrong reputation to have in such a rough-and-tumble environment. He offset the reputation with a sense of humor.
"I hung around with kids a couple of years older. They at least tolerated me," he said. "They used to think I was pretty funny and they liked to have me around to make them laugh. Kids on our block used to call me 'the walking dictionary' because I could spell the hard words like 'delicatessen' and 'restaurant.'"
He was a voracious reader, a habit not only encouraged by Polly, but one that he would pursue zealously throughout his life—spurred, perhaps, by the feelings of intellectual inadequacy he assumed was part-and-parcel of the Cassottos' proximity to the poverty line.
"Bobby was this intellectual sponge," remembered Hollywood friend Tom Mankiewicz. "He wanted to know everything about everything. I played a lot of tennis and Bobby said, 'I've got to play tennis, too.' So I got him an appointment with Alex Almedo, who was a terrific player at the time and the pro over at the Beverly Hills Hotel. And Bobby got all the equipment . . . the wristbands and all that. He wanted to be able to do everything right away.
"But in the meantime, he read every single thing about tennis there was to read. So all of the sudden I'd be talking to him and he would say, 'Did you know that Don Budge only won three sets at Wimbledon in 1939?' I mean, he knew the history of tennis. He bought fourteen books on tennis, had six rackets. The phrase I would always say about Bobby was that he always 'jumped into the deep end of the pool.' He never took steps."
It was a plunge the young boy, and later the man, always seemed willing to take. Grab life by the horns—NOW—because God only knew what was lurking around the corner. It was a lesson Bobby had learned early on. The illness that afflicted him as a child, beginning at the age of four and leaving him weak and bedridden a handful of times, was finally diagnosed as rheumatic heart disease, which eventually damaged the heart valves. Polly and Nina shielded eight-year-old Bobby from the truth, which was grim: It would be a miracle, the doctors told them, if Bobby made it past his teens. There was no cure.
"My earliest recollections were of being in bed, stiff, hurting," he would recall. "I used to read or do coloring books. I couldn't do what everybody else was doing."
What he could do, however, was sing. Even at an early age, and despite his frailty and poor health, Bobby proved to have an impressive set of pipes, and loved performing for the family. Often, with baton in hand, he would conduct the orchestras he heard on the radio. Polly, who played the piano, neither encouraged nor discouraged Bobby's musical dabbling—but it was apparent the kid had talent.
"Bobby started singing when he was two-and-a-half," Nina said. "I remember he came over to me one day and said, 'Nina, I sing for you, okay?' 'Okay,' I said. I thought I was going to hear something like 'Mary Had a Little Lamb.' So what does he do? He begins to sing 'McNamara's Band.' Honest to God, the whole thing, about twelve verses. Just from hearing it on the radio.
"And then he follows it with a song called 'Turkish Delight,' word for word. And then he picks up the harmonica, one of those dollar-and-a-half Woody Herman things we had laying around the house, and he starts to play 'The Sabre Dance' by Khachaturian!
"Well, I figured then, that day, that we had a real honest-to-goodness musician on our hands!"
Armed with his burgeoning musical skills, sharp intellect and a sense of humor shielding him from the neighborhood toughs, Bobby breezed through elementary school, completing the equivalent of six years in only four before continuing on to Elijah D. Clark, an all-boys junior high school over on 145th Street.
It was there that he met John Bravo, and the two boys found that they had a lot in common. They shared the same birthday—Bravo was a year older—they were both frail and slightly built and they shared an interest in show business.
"Bobby was always frail and he wasn't the most popular kid at that point. He couldn't do sports because of his heart," Bravo said. "We palled around and were buddies in that period. We'd go to the Bronx Opera House, which wasn't really an opera house, to see old Charlie Chaplin and Laurel and Hardy and Hope and Crosby and Marx Brothers movies. There were two vaudeville theatres, the RKO Royal and the Loews National. The RKO Royal was vaudeville one night a week and the Loews National had a matinee.
"At 6 p.m. they kicked the kids out—we weren't allowed to be in the theater at night—but we would go up to the bathroom or up in the balcony and try to find someone in the orchestra who looked like they could be our parents, and we'd sit next to them and watch the show.
"I remember he was always poorer than my family and it always surprised me that he had a telephone," Bravo said. "We couldn't afford a telephone. He was on welfare and he loved his mother very, very much and was very close to her. But it's strange; as well as I knew Bobby and as friendly as we were, I was never invited up to his house. I don't know if that's because he was poor, or if he was ashamed."
Bravo also became the Bronx's own Duncan Yo Yo champion and would travel around the borough teaching kids how to work the yo yo. "Bobby was not good at all, he didn't have the knack, and he begged me to let him win—it was very important to him," he said. "He wanted to be a winner, to get one of those patches he could sew on his sweater. We always used to joke about that.
"Bobby had a way about him that, whenever he met somebody, he would always remember some obscure fact about your relationship with him that would surprise you," Bravo said. "He would always ask and would remember something about your mother, and that was always touching. It brought you close to him. He had this steel-trap mind; if you met him five years later he would remember some stupid thing you'd be shocked to hear about."
Bobby also showed an interest in the drums, and took some lessons from a school pal, Joel Kaswan. "He used to come to my house and I taught him how to play the drums," Kaswan said. "I remember when we met—he was a little kid, comparatively slight and was a very sick child. We met in glee club in junior high school. He used to come over my house after school and I tried to teach him on my drums, which were two cheap little drums and cymbals, not a big fancy set. He really took to it and enjoyed it."
Bobby eventually ordered his own cheap drum kit from a catalogue. He would spend hours in the basement of the apartment building, thrashing around and driving the neighbors crazy with the racket. He also taught himself piano, skipping lunch in school to spend an hour hammering away on the beat-up old piano in the cafeteria ("gradually I learned to put two hands together"). Bobby also played playing the harmonica "and he played it very well," Bravo said.
"He was probably the most musical person I ever knew," he said. "He could listen to a record and if someone hit a flat note, he'd hear it. If someone went off the rhythm, he'd hear it. He could pick up virtually any instrument and play it by ear."
Another neighborhood friend, Anthony Grosso, was, like Bobby, a sickly kid. They found they had a lot in common.
"He used to cut up 145th Street and he'd be in my neighborhood, which was mostly Irish," Grosso recalled. "You see another Italian face and you become pals. We'd walk up to school together and talk about casual bullshit, the stuff thirteen-year-old kids talk about.
"As a kid I was an asthmatic and wasn't allowed to participate in physical activities at school. And Bobby, with his rheumatic heart, he'd sit on the side with me so he was a familiar face. We talked a lot—he was a little smug sometimes, as thirteen-year-old kids will be, but he always had plenty of energy coming off him."
Junior high wasn't much more challenging to Bobby, who pulled an A average, continued to play the drums and read prolifically. Polly liked to remind Bobby that he had an IQ of 137, and all the hard work paid off. Bobby skipped a few grades and, at the age of fourteen, earned a berth at the prestigious Bronx High School of Science.
"We both had very high IQs and we had discussed going to the High School of Performing Arts because we were both interested in show business," said pal John Bravo. "On the ill advice of a guidance counselor it was recommended we go to the Bronx High School of Science or to Stuyvesant, the two top schools in the city. We decided on the Bronx High School of Science because of our proximity to the school and we went there together, as partners in a sense."
Established in 1938, the school was already a highly respected institution that required its applicants to pass a rigorous exam to qualify for admission. School officials like to boast that ninety-eight percent of Bronx High School of Science graduates entered some type of professional field.
"That's where I learned that I was nowhere near being a genius," Bobby said. "I met guys whose IQs began at 180. They pulled grades in the high nineties and mine were in the eighties." In its short life, the school had counted E.L. Doctorow, Mark Rydell, Harold Bloom and William Safire among its graduates. Each man would eventually make his mark as author, Hollywood director, professor and columnist. Soon, Bobby would be added to that distinguished list.
The transition from Clark Junior High to Bronx High School of Science was a tough one for Bobby and John Bravo. "We were kind of thrown into it and it was a culture shock for us, these two poor kids from the Bronx," Bravo said. "There were a lot of middle- and upper-class Jewish kids who came from a totally different income strata, lifestyle and religious background.
"And it was also a financial shock," he said. "Bobby and I were kind of misplaced there. At one point, after about a year there, they took the two of us and put us in a room by ourselves and gave us an aptitude and personality test. They never gave us the results of those tests, or never even told us why they were giving us those tests, but they picked Bobby and I to do that.
"We were really way out of our league in that school."

Life in the Cassotto household took on a different dynamic as Bobby entered his teenage years. Nina, now nineteen, had married and moved out of the house. Her new husband, Charlie Maffia, was an uneducated, good-natured, charming mechanic and truck driver who struggled to find work. He share his passion for Big Band music with Bobby, taking an immediate shine to his young nephew. "Charlie looked like Clark Gable—he was a very good-looking man," a family friend remembered. "And he had a very good sense of humor and no education. So he would say things in places where you wouldn't expect him to say them."
Soon Nina was pregnant, giving birth to Vivian, or Vee Vee as they called her, and then to Vana four years later. Bobby, who had never been very close to Nina, mostly because of their age difference, relished his new extended family, delighting in his two nieces and enjoying Charlie's company and his brother-in-law's occasional malapropisms. Before long, Nina, Charlie and the girls moved back in with Polly and Bobby to help with the expenses.
Bobby, meanwhile, entered high school with some trepidation. "These were future professional people—lawyers, doctors, scientists . . . suddenly I was with people not pressured financially, people uninvolved with food, rent and clothing," he said.
"I had gone, overnight, from the non-thinkers to the thinkers. It was as shattering as it was abrupt. Then I got up off my knees, decided to park my dungarees, and do something."
That "something" turned out to be music, the one area in which Bobby always felt the most comfortable. He became passaable enough on the drums to join a band fronted by schoolmate Eddie Ocasio, who played the piano and recruited sax player Steve Karmen, trumpeter Richard Behrke and guitarist Walter Raim to round out the fivesome.
"Karmen was much better-looking and was taller than Bobby, but he never had Bobby's charisma," John Bravo said.
Within a few weeks the band had worked up a repertoire. In his memoirs, Karmen recalled the band being particularly strong on Irving Berlin's "You're Just In Love," from the Broadway musical Call Me Madam. Drummer Bobby had fashioned a microphone stand in woodshop, to which he attached to his drum set. He was the featured singer on "The Lion Sleeps Tonight" and "You Call Everybody Darling."
The band knocked around a bit, playing the odd gig—sometimes paid in sticks of chewing gum—and got their first big break through Laurie Newmark, a friend of Bobby's from the Bronx whose mother booked local bands for summer gigs in the Catskills.
"The whole band came to our apartment to audition," Newmark recalled. "That's what my mother did. She used to book bands in the mountains. To get us away for the summertime, she would book the bands and I would be a counselor so that I could meet young men. Waiters and busboys. And one of those bands she booked was Bobby Darin, Steve Karmen, Dick Behrke, Walter Raim and Eddie Ocasio She collected maybe 10 percent of what they made.
"Bobby and I liked each other after that audition," she said. "He was really great."
Newmark's mother spent her summers as the camp director at the Hotel Sunnyland, located about 90 minutes north of the city in Parksville, N.Y. She booked Bobby Cassotto and the boys to play there for the season. Laurie, of course, would be a counselor, with her main goal—or at least her mother's main goal—to meet a nice Jewish boy.
The Hotel Sunnyland was owned by Russian immigrants, who expected the band members to contribute elsewhere during the day—as waiters, counselors, sports instructors and all-around tummlers, entertaining the guests and catering to their every whim. This was customary for the hotels, largely populated by a Jewish clientele, dotting the "Borscht Belt" circuit during that era, and for Bobby and the guys it was no different.
"Bobby worked in the concessions and as a children's waiter and at night he was in the band so he had a full summer," Newmark recalled. "He had one pair of jeans, so he used to jump in the swimming pool with the jeans on to clean them. At night he was the drummer. There was one big cottage with a wall dividing the area in which the band slept and where we slept. We used to try to peek in on them."
As if his day wasn't busy enough, Bobby was also going to summer school—he'd failed a course that spring—and would rise early, hitchhike into town about a half-hour away to attend his class, then hitchhike back to the hotel to start his work day. "I don't know how he slept," Newmark said. "He went to bed at 2 in the morning and had to be at summer school at 8 a.m."
The band, meanwhile, having attained a level of modest musicianship, began performing nighttime shows at other hotels in the area like The Flagler and The Morningside. "That's when he got bitten with the bug," Newmark said. "We used to go from hotel to hotel and put on these little shows and everyone worked very hard for very little money."
Bobby was also establishing a reputation as a handsome Romeo of some note. Richard Loeb, who would later morph into Bobby's close friend Dick Lord, was working at the Melody Country Club in nearby Liberty that summer. Like Bobby, he was a drummer. Unlike Bobby, he wasn't having much luck with the ladies.
"This girl liked me and we were sitting on a swing and she reached for my fly. I got scared and she said, 'That's okay, I'll go see the drummer at Sunnyland.' So that got me curious," Lord said. "So I told the other guys in the band, let's go see the band at Sunnyland. They were getting 15 dollars a week and we became friendly. And Bobby was going to summer school. I think it was in Liberty. I was very impressed by that."
Bobby and Laurie Newmark had also fallen in love—or at least what passed for love for two teens still in high school. "We went steady that summer and he gave me his ID bracelet. You know, that was really serious stuff," she said. "He was just adorable and he was really cute but my mother never liked it because Bobby wasn't Jewish. But he was really respectable and nice."
Karmen remembered a different Bobby that summer, catting around with a girlfriend named Sue Ellen Berger and instructing his bandmates—crudely and explicitly—on the fine art of lovemaking.
Newmark remembered it differently.
"He wasn't too 'fast,' as we called it in those days," she said. "Steve Karmen, in his book, had him as a womanizer at a young age, but he really wasn't. He was a very sweet Bronx boy, very nice.
"But he really wasn't planning on going into show business until that summer. He really wanted to be like Donald O'Connor," she said. "He was a really good dancer; he tapped, he could do all kinds of impressions, Fred Astaire, those kinds of things. He wanted to do everything."
And quickly. Bobby knew that time was definitely not on his side. The rheumatic heart that should have killed him by now was still ticking. Bobby Cassotto was sixteen and not even sure he'd make it to his seventeenth birthday. Time was of the essence...
Thanks for reading CBS NEWS.
Create your free account or log in
for more features.