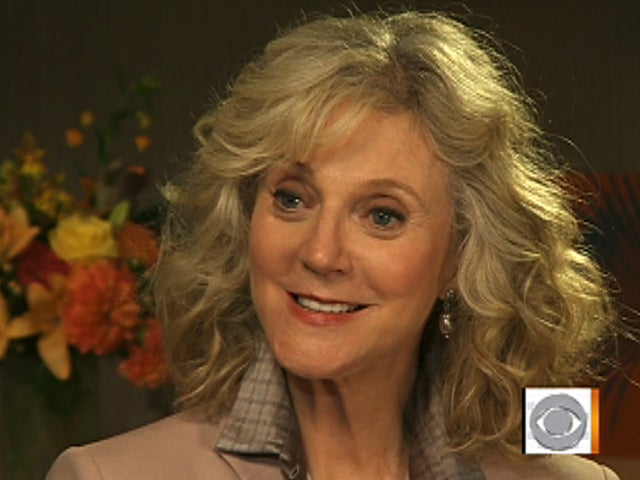 Blythe Danner's new reality: osteoporosis
Osteoporosis is a disease that, over time, weakens the bones, making them more likely to break.

Actress Blythe Danner -- Gwyneth Paltrow's mother -- was recently diagnosed with postmenopausal osteoporosis.

CBS News Medical Correspondent Dr. Jennifer Ashton sat down with the Hollywood veteran to talk about the diagnosis and how it has changed her life.


For the actress, activist, mother, and grandmother, slowing down is not an option.

Danner told Ashton, "I feel really good about the fact that I'm getting the word out, because it is a silent disease, and a lot of women don't know it until they have a broken bone."

A bone fracture can be a life changing event, as Danner learned.

More on Blythe's osteoporosis awareness campaign

"When I heard the statistics that one-in-two women over the age of 50 will have a fracture related to osteoporosis, I really sat up and said, 'This is horrific. This is more than nine million women,"' Danner said.

Ashton said, "OK, so go back to 2009 when you broke your foot. When someone is as active and busy as you are, working woman, grandmother, and all of a sudden, you have an injury. What was that like for you?"

"Terrifying," Danner said. "I've been really proud of my independence."

Nearly 10 years ago, Danner's husband of 33 years, director Bruce Paltrow lost his battle with oral cancer.

Danner said, "My husband was really the heart and strength of my family, he was extraordinary,and I really had to learn how to do it all on my own. But I thought, 'How am I going to do this hobbling around?' so I was really frightened."

Looking back, she says, she wishes her husband had been more invested in making his health a priority. After her diagnosis Danner decided nothing was more important than taking care of herself.

Danner said the diagnosis has made her come up with a plan for healthier living.

"I am so grateful for it, actually, because it has made me do something consistently, to do everything I can to make my bones stronger," she said.

Not being as active in the future concerns the actress, which is why, she says, she's doing everything she can now.

Still, Danner says her most treasured roles in life have been as a wife to Bruce, mother to Gwyneth Paltrow and Jake Paltrow, and grandmother to Apple and Moses.


Gwyneth Paltrow whips up easy family recipes
Pictures: Gwyneth Paltrow


But Danner is getting used to a new reality.

"Apple was doing cartwheels last week, and I really wanted to do a cartwheel, but I stopped myself and thought, 'Maybe I won't be able to do that.' And when I'm in my own private room, I'll do some cartwheels. They run you ragged, but it's such a happy ragged."

Still, her future looks bright.

"I'm feeling really good about it," Danner said, referring to her prognos. "You know, I've got to check in with my doctor. I get out there and do things I'm supposed to do and get the message out."

Osteoporosis, Dr. Ashton added on "The Early Show," affects groups of people you might not think of, such men and teens. Click on the video below for common risk factors and what you can do on an everyday basis to lower your risk.
Thanks for reading CBS NEWS.
Create your free account or log in
for more features.