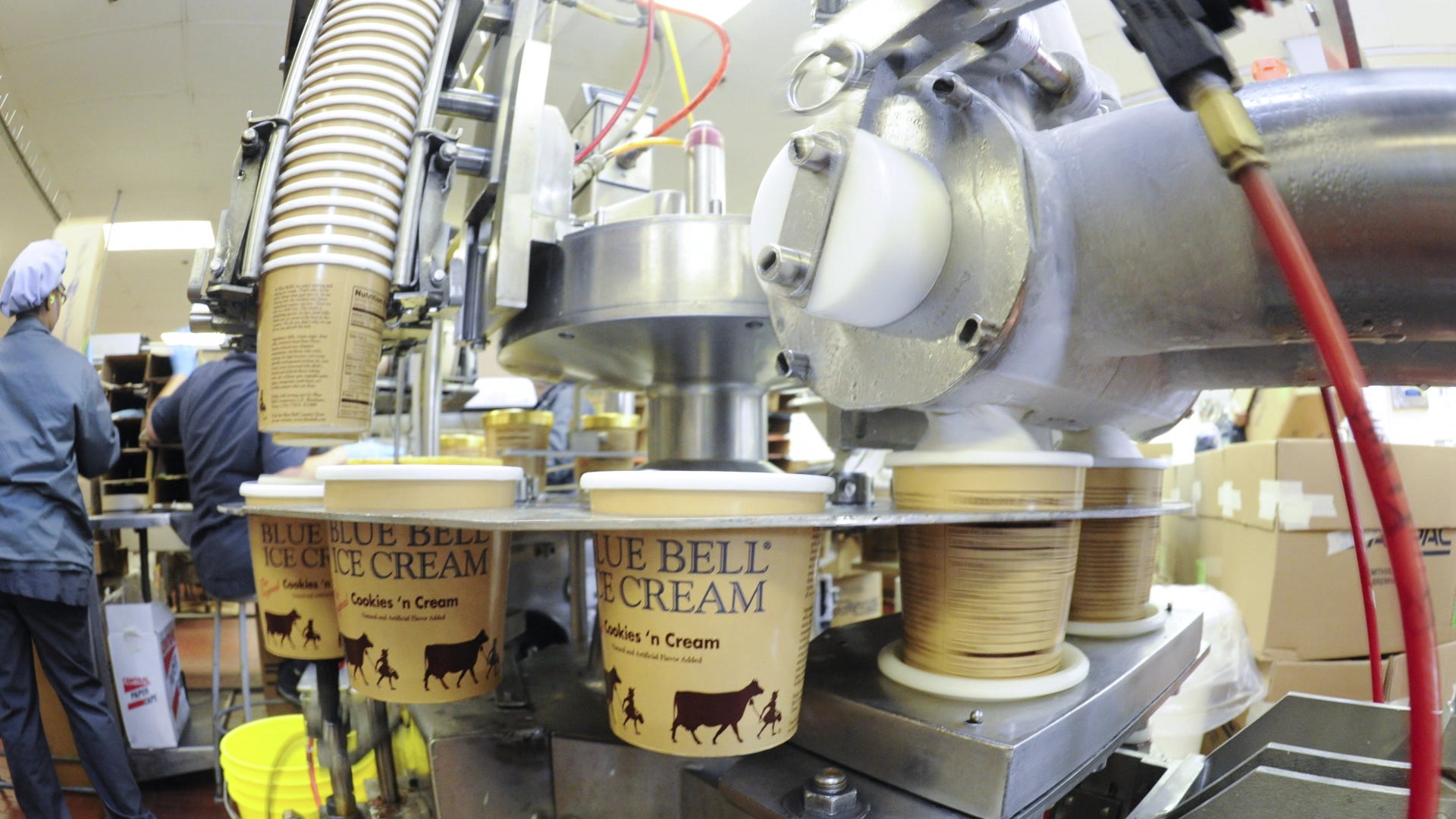 Blue Bell workers detail unsanitary conditions inside plant
Updated on 10/13 with latest statement from Blue Bell
BRENHAM, Texas -- For the first time, former Blue Bell Ice Cream workers are claiming management ignored their complaints about conditions at their factory in Texas that was linked to an outbreak of listeria.
During the outbreak, 10 people became sick and three died. The company recalled 8 million gallons of ice cream. Before this, Blue Bell was the number three brand in the country and was sold in 23 states.
In the early morning hours of August 29, a single truck left Blue Bell Creameries of Brenham, Texas, marking the return of its ice cream.
When the company recalled all its products in April, its loyal customers sang their support and prayed for its return -- and plastered Brenham with signs showing support.
"Well, God bless Blue Bell, " said Terry Schultz. "It's a fantastic product and they've done a lot for this community, but at the same time, there's a bad side to Blue Bell where everything was overlooked."
For the seven months leading up to the shutdown, Schultz operated a machine at the Brenham Blue Bell factory.
"A lot of times when I walked in there was just ice cream all over the floor," Schultz explained. "Sometimes the machines would just go haywire, the product would just continually run through the conveyor belt and just drop right onto the floor."
Schultz said stopping to clean the ice cream would slow down production, so workers left it pooling on the floor, creating an environment where bacteria could flourish. When Schultz complained to supervisors he said nothing was done.
"The response I got at one point was, is that all you're going to do is come here and bitch every afternoon?" recalled Schultz.
Schultz said the message was that production is probably more important than cleanliness.
Five-year Blue Bell veteran Gerald Bland operated a fruit feeder in a different part of the plant.
"It's all about the money," he said.
He said he was told to pour ice cream and fruit juice that dripped off the machine throughout the day into barrels of ice cream mix to be used later.
"You would see oil on top from the fruit feeder leaking that would still go right into the barrel," he explained.
He agrees it would have been possible to have oil from the machines end up in some of the ice cream.
Bland said that practice stopped a year before the shutdown, but other problems persisted. Listeria thrives in wet environments and both Schultz and Bland told CBS News that water was everywhere.
"[Water] on the wall, by the three-gallon machine. If it had rained real hard and water sat on the roof, if would just trickle down," Bland said. "We had a couple of times where it actually flooded area two, to where they had to cut their machines off because there was too much water over there."
What Bland and Schultz told CBS News they saw is consistent with FDA findings.
When the FDA inspected Blue Bell's main plant in Brenham, Texas, in March, they found a number of violations detailed in a report, including condensation dripping into the ice cream, dirty equipment, and paint chipping from the ceiling directly above an ice cream mixer.
In the years leading to the outbreak, the state inspected the Brenham factory about every six weeks and the Army, which had a $4.8 million contract with Blue Bell, inspected it four times a year. None of their inspections revealed violations that stopped production. Bland questions the inspection process.
"We never, the whole time I was there, had a surprise inspection," he said. "As soon as Army pulled up in the parking lot, the phone calls start. Everyone knows right away, which would give you about a 15- or 20-minute window."
The ice cream that sickened five people was made on a production line that Blue Bell shut down in March after confirming it was contaminated with listeria. But in other parts of the plant, production continued for weeks.
"Nothing changed," said Bland. "The last two weeks was when they changed wash-up procedures and they started retraining some of us."
When asked if that was like closing the barn door after the horse gets out, Bland said, "Oh I think all the animals got out by the time they shut the door."
On May 15, 2015, CEO Paul Kruse announced the first layoff in Blue Bell's history -- over 1,400 employees, including Bland and Schultz.
"This is a terribly sad day in the company's history," Kruse said at the time.
Schultz said there's a lot of things that could have been done to prevent it.
"And just no action was taken. ... I just feel sorry for the people that died and the people that got sick," he said.
Blue Bell told CBS News that pending litigation prevented them from addressing CBS News' report. But in a statement to CBS News they wrote: "We are committed to ensuring that we are producing a safe product through our enhanced manufacturing procedures, including increased focus on sanitation and cleaning, ongoing evaluation from independent microbiologists, voluntary agreements with our state regulators, and finally, a test and hold procedure."
That means they can't distribute any product they produce, until a test confirms it is safe. But, their flagship plant in Brenham, Texas, is still closed.
This story is one in a series CBS News is doing on Blue Bell. For more on this investigation, watch "CBS This Morning," on Tuesday.
---
On Tuesday, Blue Bell sent CBS News an updated statement. It reads in full: "While we do not usually comment on matters involving current or former company employees, the isolated views expressed by two former Blue Bell employees on CBS News do not reflect the experience of the vast majority of our employees, who know we take the cleanliness of our facilities and the quality of our products very seriously. Over the years, we have welcomed an average of 200,000 visitors a year to tour our Brenham plant and see our operation for themselves. Our employees, many of whom have worked with us for 20 or 30 years or more, are hardworking, dedicated individuals who are committed to producing the best ice cream possible. Our top priority and commitment is to produce high quality, safe, delicious ice cream for our customers."
Thanks for reading CBS NEWS.
Create your free account or log in
for more features.