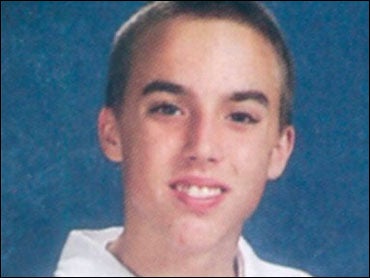 Blood Spilled Over Man's Perfect Lawn
Irritated but calm, the homeowner called 911 and told the dispatcher that he had finally done something about the neighbor boy — the one, the man said into the phone, who had been harassing him for years.
"I just killed a kid," Charles Martin said, according to a recording of the Sunday afternoon call (audio) released by police in Union Township, near Batavia, about 20 miles east of Cincinnati.
"You just killed a kid?" the surprised 911 operator said.
"Yes, ma'am," the caller replied.
Martin, 66, is charged with murdering 15-year-old Larry Mugrage, who lived next door to the house where Martin kept a meticulous front lawn with grass that he could sometimes be seen measuring to the inch.
Police said crossing that lawn is what got Mugrage killed. Martin, who lived alone, told officers he'd had several disputes with neighbors about walking on his grass, but hadn't called police since 2003, Union Township police Lt. Scott Gaviglia said.
"I'm being harassed by him and his parents for five years and today I just blew it up," the caller says on the tape, before identifying himself as "Charles Martin."
In the 911 call, Martin, a retired Ford Motor Co. worker with no criminal record, allegedly told the dispatcher that Mugrage had been "making the other kids harass me and my place, tearing things up."
"I shot him with a (word deleted) .410 shotgun twice," the caller told the dispatcher.
"You shot him with a shotgun? Where is he?" the dispatcher asked.
"He's laying in his yard," the caller said.
Mugrage, who police said was hit in the chest, was pronounced dead at a hospital.
Martin appeared briefly in Batavia Municipal Court on Monday. A judge denied bond and set another hearing for Thursday.
Martin was being held Tuesday at the Clermont County jail, where officials declined to give him a message seeking comment and said he did not have an attorney of record.
The shooting stunned those in the residential neighborhood and students at Glen Este High School, where Mugrage was a freshman. Grief counselors were at the school Monday.
"I think there's a great deal of shock, for two reasons: because of the age of the victim and just how this occurred, killed over some grass," Gaviglia said.
Neighbors said Martin was quiet, often sitting out in front of his one-story home with its neat lawn, well-trimmed shrubbery and flag pole with U.S. and Navy flags flying. In his fenced backyard, he had several birdhouses and a shed painted like a small red barn with white trim.
Neighbor Joanne Ritchie, 46, said Mugrage was known as "a good kid," and that she always considered Martin to be friendly.
"The older gentleman was always riding his bike and tending to his yard," she said. "He would wave at kids and adults. He always had the perfect yard and he worked in it a lot."
Sean Fritts, 16, who also lived nearby, agreed that Martin's lawn was his pride and joy.
"He was real protective over his yard and mowed it a lot, and sometimes even measured the grass with a yardstick," Fritts said.
Still, Fritts said he wasn't aware of any disputes involving Martin.
"I never had any problems with him, and I don't know that anyone else did," he said.

Thanks for reading CBS NEWS.
Create your free account or log in
for more features.