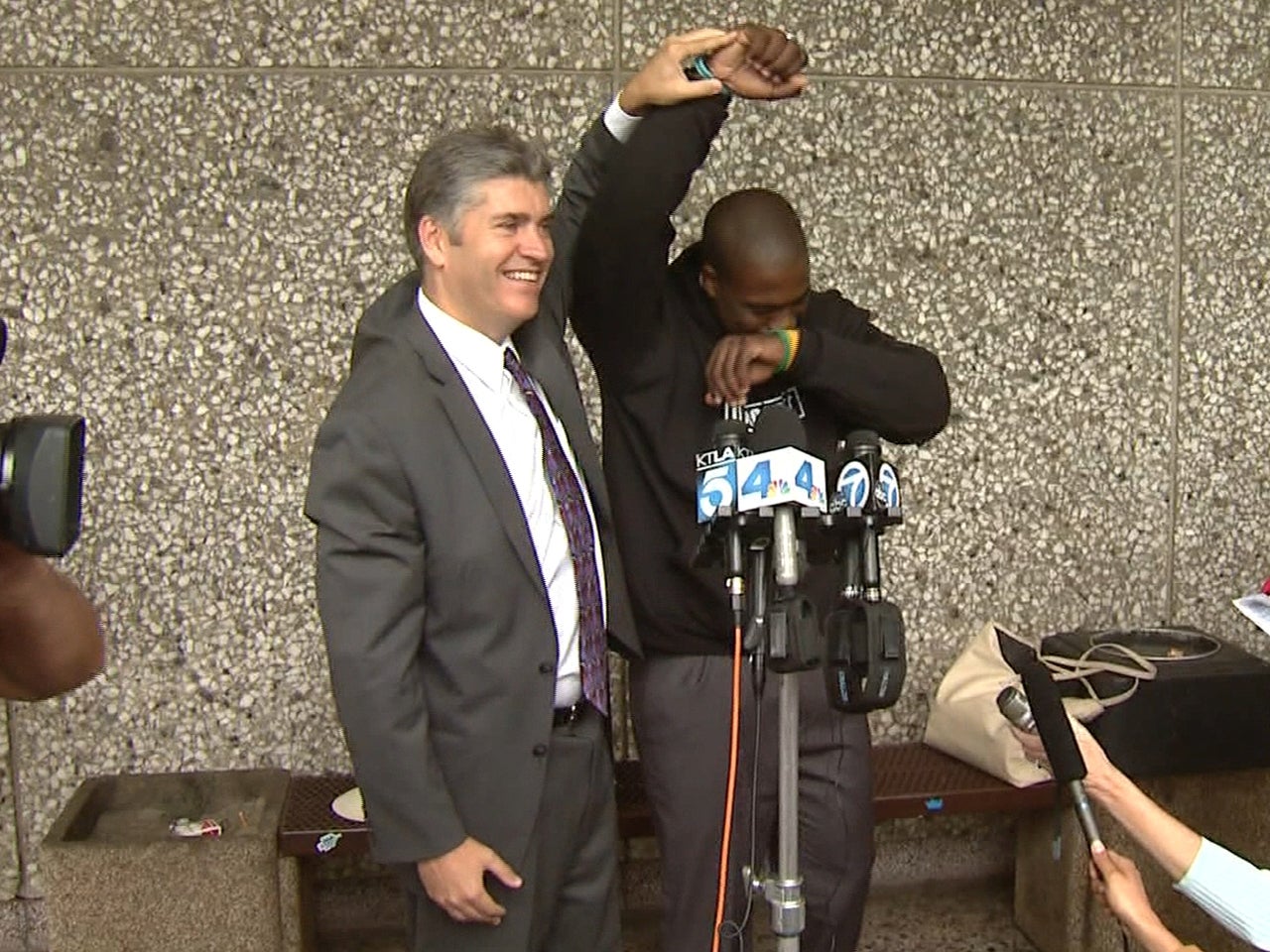 Blindsided: The exoneration of Brian Banks
The following script is from "Blindsided" which aired on March 24, 2013. James Brown is the correspondent. Peter Radovich and Gareth Hughes are the producers.
A little more than a decade ago, Brian Banks was a star linebacker at Poly Tech High School in Long Beach, California. A well-known football powerhouse that's sent dozens of players to the National Football League. He was being recruited by the best college teams in the nation, dreaming of an NFL career of his own. But then, in the course of a single afternoon, his life changed forever and eventually the 17-year-old landed in Chino State Penitentiary for raping and kidnapping a female classmate. However, even though he pled no contest, we now know that Brian was innocent.
It's a story that 60 Minutes has been following for close to a year, and as you're about to hear, almost nothing about Brian Banks' story -- beginning, middle, or end -- is what you'd expect.
Last May, like every other team in the National Football League, the Seattle Seahawks held a spring mini-training camp for players with hopes of making the roster in the fall.
[Ken Norton, Jr.: Let's go, quick, quick, quick! Run it time, let's go!]
Amid the many long shots, one player, in the number 43 jersey, stood out because Brian Banks had not played organized football in 10 years.
Brian Banks: To have my name on the back of this jersey, to be a part of this team for a day, it was more than I could ever imagine.
The last time Brian played football, he was in high school. And he was so good, that as a sophomore, scouts from USC had spotted him at a camp, and soon, the team's head coach, Pete Carroll, got in touch.
Brian Banks: I received a phone call from Coach Carroll. "We're offering you a chance to come play for us." And I gave 'em a verbal agreement saying, "I'd love to."
Everything seemed to be lining up for Brian. Until one day at school, he was hanging out with a girl he'd known for years. Her name was Wanetta Gibson. What happened next changed the course of Brian Banks' life forever.
Brian Banks: We made our way to this area, and pretty much began making out. You know, we kissed. We touched. But we never had sex.
James Brown: No argument? No--
Brian Banks: No argument-- we actually ended on a good note, where, you know, I was making jokes, and, you know, she smiled. And everything just seemed normal. Everything seemed OK.
But it wasn't.
By the end of the day, Brian Banks was sitting in jail, charged with two counts of forcible rape and kidnapping Wanetta Gibson. He was kicked off the football team and expelled from school with all hope of a scholarship, and NFL career, suddenly vanished.
The only thing he could do was fight for his innocence and the only person who was in his corner was his mother, Leomia Myers, who sold her house and car to pay for a lawyer.
Leomia Myers: I consider it doing what a mother should do.
Initially, Brian's prospects appeared to be looking up: DNA samples from the L.A. County Sheriff's Office came back negative - as he insisted they would. Unable to make a million dollar bail, Brian waited for a trial for a year behind bars.
As his day in court approached, Brian says that his lawyer feared that he wouldn't get a fair trial, based on his age, size & race. So she, an African-American herself, convinced Brian to plead no contest to a crime he insisted he didn't commit.
His plea meant he'd avoid a possible 41 years in jail, but he was agreeing to a deal that included a sentence of anywhere from 18 months to five years, and Brian received the maximum.
Brian Banks: I remember leaving that courtroom and going back into a holding cell and just being angry at the world.
In addition to the criminal prosecution of the case, Wanetta Gibson sued the school system for a lack of security, winning a $1.5 million settlement. In 2007, after five years at Chino State Prison, Brian finally got out of jail at age 22, after serving 85 percent of his sentence.
But, he was still required to wear an electronic monitoring bracelet and, for the rest of his life, register as a sex offender wherever he lived.
Then last year came a turn he never could have expected when one day, searching for work online, he got a friend request on his Facebook page. It was Wanetta Gibson, the same woman who had accused him of raping her.
Brian Banks: And I immediately just-- I froze. And I didn't accept the request. Instead, I sent a message to her. And my message asked her, "Why would you friend request me?" And she replied back that she was hoping that we could allow bygones to be bygones. She was really adamant about wanting to see me and wanting to hang out. It wasn't about wanting to help. It was more of wanting to reconnect.
James Brown: Hang out?
Brian Banks: Yep. "What you been up to? What are you doing tonight? What are you doing tomorrow? Let's hang out."
Brian was in disbelief. But he also knew instantly what kind of opportunity this might be. And with the help of a friend's father, a private investigator, they set up a meeting with hidden cameras.
James Brown: You were surprised that she showed up?
Brian Banks: Very much surprised.
With the cameras rolling, Brian asked for her for help in getting exonerated, and here's how she responded.
[Wanetta Gibson: I mean, I will go through with helping you, but at the same time - all that money they gave us - I mean, gave me - I'm not going to give back ... that would take a long time.]
Though Wanetta admitted to not wanting to give back the money she won in her civil lawsuit against the school, she was willing to meet a second time and it was then that Brian and the investigator worked to get the ultimate admission on tape.
[Detective: He's accused of rape, he's accused of kidnapping...
Wanetta Gibson: A lot of stuff.
Detective: Yeah, and I just need to hear from you that those things -- and I'll put it all in the piece of paper -- and I'll meet up with you and we'll go from there...
Wanetta Gibson: You want me to say it now?
Detective: Just so I could- did he rape you?
Wanetta Gibson: No, he did not rape me.
Detective: Did he kidnap you?
Wanetta Gibson: No.]
Brian Banks: "We got it." Just, "The truth is out. The truth is out." I honestly wanted to stand up and walk out of there, there was nothing else to talk about.
[Judge: Brian Banks, Case number NA05491...]
And with the help of the California Innocence Project, Brian took the taped confession to the district attorney's office, who viewed the new evidence, met with Wanetta Gibson, and agreed to recommend to the judge that Brian be exonerated.
[Daniel Ferreira: The people's motion to dismiss this case pursuant to Section 13...
Judge: Anything else?
Daniel Ferreira:: Nothing...]
At that moment, a 10-year nightmare was over for both Brian and his mother.
Leomia Myers: I wanted to scream and shout for joy. I just slouched in my chair and cried. I was just so happy, so happy. That he was free. Because he wasn't free before. You're not free when you have an ankle bracelet on your ankle. It was like your shackle. You're not free when you can't go to a park, or you can't go to your niece's birthday party because of other kids are around. You're not free. Just to see him in the courtroom and the way he responded, it was the best news I've ever had. The best news that I've-- that I've ever had. And I'm just so thankful to God that he's free.
Outside the courtroom, Brian and his defense team celebrated and Deputy District Attorney Daniel Ferreira explained the court's decision ...
Daniel Ferreira: We believe the recantations of the witness, we do not believe Mr. Banks did the crime that he plead guilty to, and therefore, justice has been served.
Banks went straight home that night where, as this cellphone video shows, he wasted no time in getting rid of the device that he had been wearing for five straight years.
Brian Banks' original defense attorney, Elizabeth Harris, declined to talk to 60 Minutes as did Wanetta Gibson who has not returned the money she won in her lawsuit. For its part, the school district has not reached out to get it back.
James Brown: You still have no hopes or desires that she be gone after aggressively?
Brian Banks: No. None whatsoever.
James Brown: Why not?
Brian Banks: My main focus has just been on me.
And from day one, that focus meant football - even if now, playing in the NFL was more of a long shot than ever. But the next turn his story took was another dose of the improbable.
Brian Banks: A few days after I was exonerated, I got a phone call from a 213 number. I'm, like, "Hello." And the voice on the other end goes, "Yeah, I'm looking for a linebacker. You know where I can find one?" I said, "Yeah, yeah, you got the right number, but who is this?" And he says, "It's Coach Carroll."
The same Coach Carroll who'd been interested in Banks ten years earlier as head coach at USC. Now, Pete Carroll was coaching the Seattle Seahawks and he had a crazy idea: extend an invitation to Brian - who hadn't played football since his junior year of high school - to try out for his NFL team.
Pete Carroll: Well I told him how I-- what a shot in the dark this was for him, such a long shot. You know, our guys have prepared their whole lives and never missed a beat and he missed 10 years.
But Carroll felt Banks deserved a chance which is how - just 14 days after leaving the California courtroom - he found himself in Seattle this past June alongside dozens of other Seahawk hopefuls under the watchful eye of Pete Carroll and his staff, which included former NFL all-pro Ken Norton, Jr.
[Ken Norton, Jr.: Spin out when you come at me!! You can't be in the back of the group!]
The hurdles weren't just physical, there was also the matter of making up for lost time in the film room.
[Ken Norton, Jr.: You cheat to the offset back really good.]
[Ken Norton, Jr.: It's all about the eyes. Once a running back sees you running real fast to the left, he's going to cut back, he's not going to run right to you.
Seattle was one of six NFL teams that gave Banks a tryout, but ultimately, he didn't make it onto any NFL rosters.
Pete Carroll: I was hoping-- I was really hopeful that something good was going to happen. But in the workout, you could see that he just couldn't make up the ground. And those 10 years, I don't know who could have.
He may not have been able to get past an NFL practice field, but that wasn't the end of Brian Banks' football season.
Because there was another pro team interested in giving him a shot: the Las Vegas Locos, part of the fledgling "United Football League." And that's how in September, there was Brian Banks on the Locos opening kickoff of the season.
Brian Banks: I ran down the field and got blindsided and got knocked out of bounds. And I got up and I was just like, "Yeah, I'm playing football."
The United Football League ended up folding in October and Brian Banks still hasn't gotten a paycheck. But that didn't put "too much" of a damper on the experience of being a professional football player.
Today, at 27, Brian Banks hasn't given up on his hope to play someday in the National Football League. And, at this moment, Banks is in negotiations with several NFL teams for this upcoming season.
Brian Banks: If it doesn't happen, it doesn't define me. If it does happen, it doesn't define me, regardless of how things end, I'm good. I've already won.
Thanks for reading CBS NEWS.
Create your free account or log in
for more features.