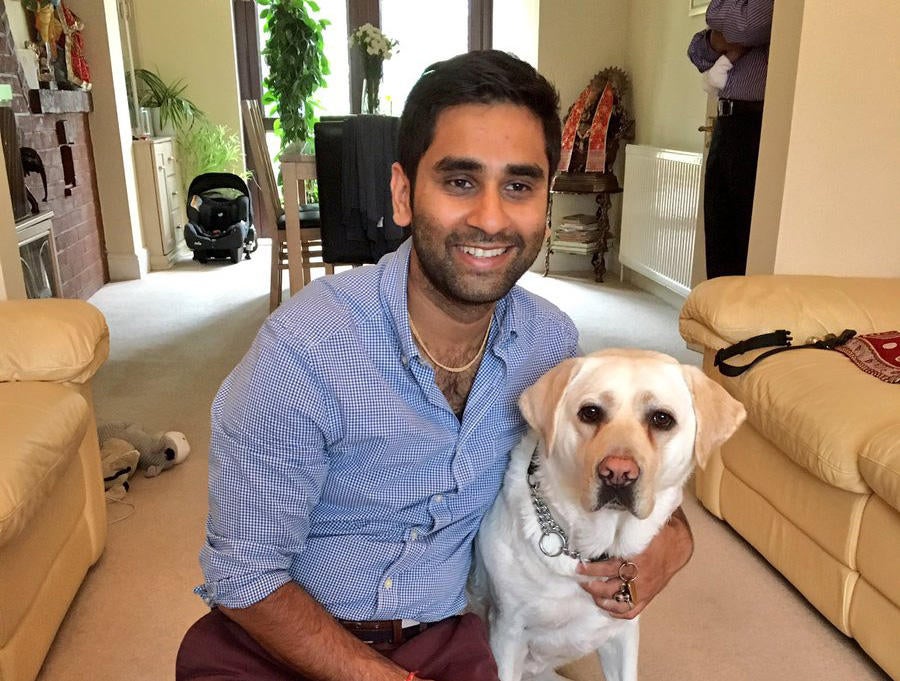 Blind man puts GoPro on his guide dog to show his daily struggles
Former doctor Amit Patel relies on his guide dog, Kika, to get him through his busy London commute every day. And every day, as the GoPro he and his wife glued to her harness shows, they have to face countless obstacles.
Patel, who lost his eyesight in 2012, trusts Kika to help him get up and down escalators, on and off the London subway, and through his entire work day. But that process is often disrupted by daily abuse from fellow commuters.
"It was only when other commuters would tell me 'Someone just kicked you dog,' that I would realize what was actually happening," Patel told CBS News.
So he and his wife, Seema, decided to record what Kika sees. She reviews the footage, then posts it on Twitter to show just how hard Kika has to work to get Patel to his final destination. The couple wants to raise awareness about the importance of letting guide dogs do their work without interruption.
"It isn't to rat anybody out," Patel said, "it's to say she works really hard, and she gives me my independence. You take that from her, you take that from me. You wouldn't take someone's wheelchair from them."
He explained that when Kika gets distressed, she doesn't want to work anymore. When someone pushes her aside on the escalator, she won't want to go on it again. "When she gets upset, it upsets me. And when I get upset, it upsets her more. It's a vicious circle, and she can't work like that."
Recently, Patel was out in the city with his four-month-old son strapped to his chest and Kika guiding him. While they were riding an escalator, a woman in a rush to catch a train tried to climb over Kika. "If she had tripped, we would have all gone down. I don't ever want my child to see someone bullying a dog, or pushing a blind person."
Patel lost his eyesight from a condition called keratoconus, which affects the shape of the cornea. After eight failed transplants, he decided it was time to accept his new path in life. That meant relying on a walking cane to get around on his own. Then he was matched with Kika in September 2015.
"The day Kika came into our life, our life changed for the better. We would never have thought about having a family two years ago. I was struggling to look after just myself with my sight lost."
Patel just wants people to realize how much courage it takes to leave the house every morning, even with his trusty sidekick -- and she needs to be able to do her job effectively.
"Every time I leave the house, it still fills me with dread. London itself can be a scary place, even if you can see. But I have confidence in her."
"She's half of who I am. It's like having your best friend all the time, just without her talking back to you. She's amazing."
Thanks for reading CBS NEWS.
Create your free account or log in
for more features.