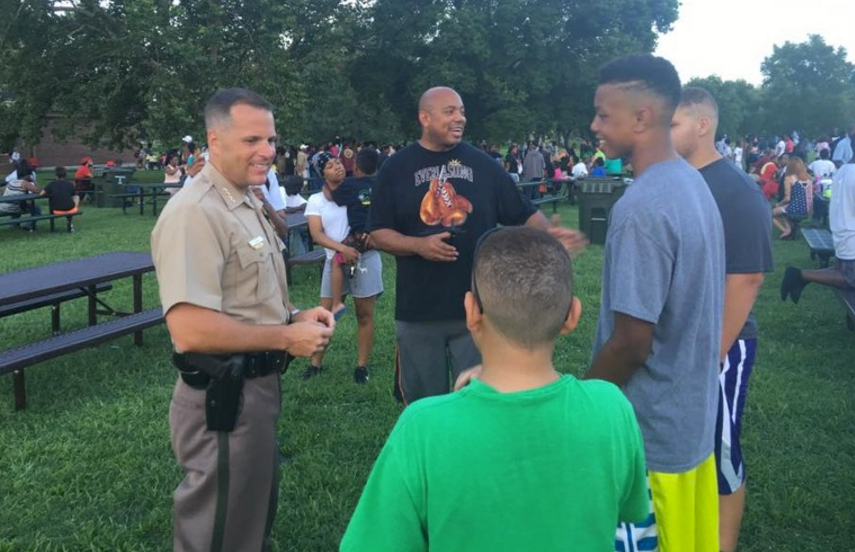 Black Lives Matter protesters have friendly cookout with Wichita police
When a group of Kansas police officers spotted members of the Black Lives Matter movement protesting near a highway last week, they didn't try to put a stop to it.
Instead, the Wichita officers suggested holding a cookout, where members of the community and cops could gather for food, dance and an open discussion. The Black Lives Matter protesters happily agreed.
Now the city is being praised for its response -- with many people suggesting communities across the country should follow their example.
Conlee Borchard, whose fiancé is in the Wichita Police Academy, said protesters stood in line on Sunday and waited patiently to ask officials, including Wichita Police Chief Gordon Ramsay, questions.
"They asked hard questions, such as, 'What are you doing to make sure our officers are held accountable?' 'What do we do if we have a complaint against an officer?'" Borchard told CBS News.
When the Q&A ended, the dancing began, and Borchard captured an inspiring sight on camera. A video of an energetic officer doing the "Cha Cha Slide" with Wichita residents went viral with more than 14 million views on Facebook.
Some applauded the heartwarming video as a welcome alternative to the tensions escalating between communities and police across the U.S.
"Other states are rioting, and killing...Were eating BBQ and dancing with the police!" one Facebook user commented.
"So proud of our hometown for making a 'slide' in the right direction," another replied.
Borchard said it was a productive event.
"It felt like coming into the future," she explained. "In such a short amount of time there was so much restoration. Everyone walked away with hope."
In a Facebook Live video posted on Monday, Chief Ramsay thanked everyone for making the "First Steps Community Cookout" a success.
"I really want to thank those who came out and were a part of this; it can't just be the police that make these changes," Ramsay said in the video. "It takes two parties to make a healthy relationship."
Thanks for reading CBS NEWS.
Create your free account or log in
for more features.