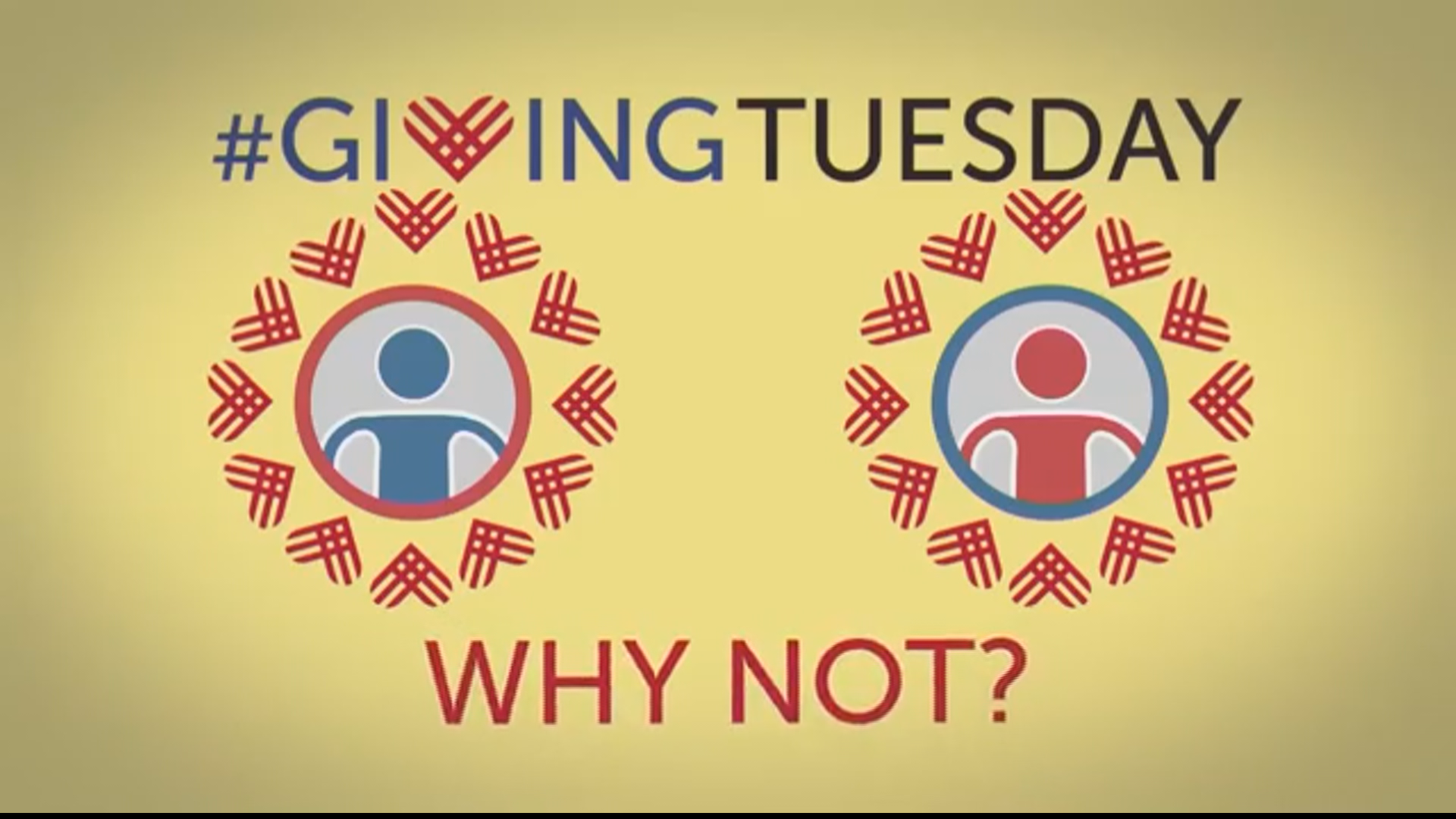 #GivingTuesday: When the shopping ends, the giving begins
NEW YORK -- At the "Giving Tuesday" command cenral in New York City, volunteers are gearing up for December 1st.
The whole idea of Giving Tuesday started at the 92nd Street Y in Manhattan. Henry Timms is the Y's Executive Director and came up with the campaign three years ago.
"We never needed more than six words: It was always Black Friday, Cyber Monday, Giving Tuesday. And people would really say 'Yeah, I think that's a good idea.'"
His idea was simple. After several days of shopping, he wanted people to refocus on giving -- to any charity or purpose they wanted to. He asked others to help, and they jumped right on the bandwagon.
"It was an amazing thing to see that actually all over the country people started bringing their own ideas to Giving Tuesday and started to grow it," Timms said.
The movement now has 40,000 partners worldwide and raised more than $86 million.
Charles Best runs DonorsChoose, a charity which matches teacher wish lists to donors.
"What's great about Giving Tuesday is people can be supportive, can be generous in any way they see fit. They can give their time, they can give up their money," said Best.
Genein Letford is a music teacher from the Los Angeles area. She received dozens of instruments from the DonorsChoose Giving Tuesday campaign.
"The cool thing is it's not just about bringing the materials to the classroom and making sure the kids have this opportunity, but it's connecting the community to our school," said Letford.
"At a time when we feel that most public conversation is about what threatens and divides us, how valuable it is to have a conversation about something that unites us," Timms said about the movement.
Giving Tuesday: a day expected to bring many thanks, after much giving.
Below is a list of some of the organizations participating in the 4th annual #GivingTuesday on December 1st, 2015. To learn more about how to get involved, visit www.givingtuesday.org.
Goodshop: Goodshop offers discounts on major brands -- including Amazon, Best Buy, Apple, and Macy's -- and donates a percentage to causes you support.
The Guardian: Guardian US will donate all advertising inventory on its site on #GivingTuesday to six nonprofit organizations focused on helping those affected by the refugee crisis: Doctors Without Borders, International Rescue Committee, Mercy Corps, Migrant Offshore Aid Station, Oxfam America and Refugees International.
Havas Health: Paris-based communications group Havas Health created a very personal #GivingTuesday campaign benefiting the family of Christophe Foultier, a member of the Havas Health family who died in the Bataclan massacre during the Paris attacks on Friday, Nov. 13.
Microsoft: Microsoft has equipped the 92nd Street Y with technology to turn #GivingTuesday data into a real-time picture of the day's momentum. Microsoft will also display a #GivingTuesday dashboard all day in its stores to promote giving to its customers.
PayPal: The company will offer a one percent match to all gifts of $10 or more donated through the PayPal Giving Fund on #GivingTuesday and throughout December. PayPal is also hoping to set a new Guinness World Record title: Most Money Donated Online for Charity in 24 Hours.
(RED): Landmarks across the world will be lit red on December 1st to mark World AIDS Day and express their support for (RED) and #GivingTuesday. In the U.S., the Wrigley Building in Chicago, One World Trade in New York, Seattle's Great Ferris Wheel, and a number of buildings in Detroit will participate.
Smile Train: Smile Train, the world's largest cleft charity, launched a new "Give a Smile, Get a Smile" campaign to help give smiles to children with clefts and help supporters get smiles of their own in exchange. The Empire State Building will also be lit in Smile Train's red and blue colors on Dec. 1st. New Yorkers are encouraged to share photos on Instagram, Twitter and Facebook using #EmpireStateBuilding and @SmileTrain.
Smithsonian: The Smithsonian's National Museum of American History will open a display, "Giving in America," accepting donations into the collections that represent Americans' gifts of time, talent, expertise and funding. Donations can be made during the Smithsonian's first philanthropy symposium, "The Power of Giving: Philanthropy's Impact on American Life."
Thanks for reading CBS NEWS.
Create your free account or log in
for more features.