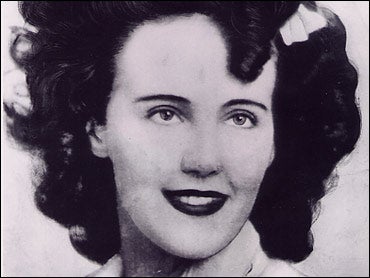 Black Dahlia Confidential
This story originally aired on Nov. 27, 2004.

To crime writer James Ellroy, the brief life and horrific death of aspiring actress Elizabeth Short is a classic American tragedy, known as the Black Dahlia case.
"She's a ghost and a blank page to record our fears and desires," says Ellroy. "A post-war Mona Lisa, an L.A. quintessential."
The Black Dahlia case is the most famous unsolved murder in Los Angeles history. It involves a beautiful young victim and a cunning psychopathic killer. It's a real-life mystery that's inspired countless moviemakers and writers from "Double Indemnity," "Chinatown" and "L.A. Confidential."
Even the nickname, "Black Dahlia," is straight out of the movies. The Blue Dahlia was a nightclub in a 1946 crime film. Newspapers adapted the title to fit the Short murder case - and the "Black Dahlia" legend was born.
The mystery behind the legend continues to inspire great storytellers. This fall, director Brian De Palma, and a cast that includes Hilary Swank, Scarlett Johansson and Josh Hartnett, once again brings the twisted case of The Black Dahlia to the big screen.
"The question always - how does something like that, how does that beautiful girl, we see pin-up shots of, become this and who that too her and why. It's one of those mysteries that will go on forever," says De Palma.
"It's the great L.A. murder," says Ellroy. "And L.A. has had some doozies."
Correspondent Erin Moriarty reports on a story about love and loneliness, murder and madness, all played out in Los Angeles.
Steve Hodel was just five years old when Elizabeth Short was murdered. As a cop, he worked the same Hollywood streets Short once knew.
"I had lots of murders where you had young runaways, and within weeks they'd have a needle in their arm and they'd be doing tricks on Hollywood Blvd.," says Steve, who investigated 300 murders over more than 17 years.
To Hodel, the Black Dahlia case was just another cold case. But after he retired, the case would come back to haunt him. "The upper torso was juxtaposed just off to the left, about 12 inches," he says. "The killer was sure that it would be found fairly quickly, as it was. Clearly, he wasn't trying to hide it. He wanted the notoriety."
And the killer got what he wanted. For weeks, a terrified city watched as the search for the Black Dahlia killer unfolded. There were dozens of false confessions, and hundreds of other suspects questioned and cleared. The killer even wrote letters taunting the police and sent Short's personal address book to a local newspaper.
After the biggest manhunt in L.A. history, the murder was officially listed as unsolved. And it's stayed that way for nearly 60 years.
Short was a vibrant young woman from the working-class neighborhood of Medford, Mass., outside Boston. She was growing up in a dark time, during the height of the Depression.
Post-war Los Angeles was a boomtown, overrun with ex-servicemen, star-struck wannabes and hustlers. It was a place where pretty faces were a dime a dozen and life could be tough. Short became a Hollywood hanger-on, going out on the town each night, usually with a different guy.
Her last night alive was Jan. 14, 1947. "It's a Wonderful Life" was playing at Hollywood's Pantages Theater. Around dawn the next day, a mysterious black car was seen in the spot where Short's body was later found. It was a black car very similar to the 1936 Packard owned by Steve Hodel's father, Dr. George Hodel.
George Hodel was a brilliant man, with an IQ of 186, and a child musical prodigy. After a stint as a newspaper reporter at 16, he sailed through medical school, studying surgery. He settled in Los Angeles, running the county's venereal disease clinic, where it was rumored that he treated some of L.A.'s top brass.
He lived in an exotic house in the middle of Los Angeles that was as eccentric as its owner. "I would describe it as looking like a Mayan temple. It was a fortress from the world," says Tamar Hodel, one of 11 children the doctor had by five different women.
Tamar and her half-brother, Steve, remember their father's house as a place where artists and movie people came for flamboyant parties presided over by the dynamic George Hodel.
In 1999, the doctor died in his high-rise apartment in San Francisco at the age of 91. Hodel says he came across two pictures while going through his father's favorite photo album with his father's widow.
"I said, 'June, who is this?' And June said, 'I don't know. Someone your father knew from a long time ago,'" recalls Steve. "I was trying to pull it in, where do I know this picture? Why do I know this woman? Somewhere deep within me, I made the connection. The Black Dahlia."
To this day, Hodel isn't sure what it was that made him compare pictures of the Black Dahlia to snapshots his father had saved of a mystery woman. But the search for answers soon became an obsession.
Hodel spent months and months combing through newspaper accounts, talking to old-timers and traveling back to his childhood.
He re-visited his father's house in Hollywood, where he and his brothers lived off and on with their father in the late '40s. He suspects one of the pictures from his father's album was taken at the house, which was literally a house of secrets, complete with a secret room where the children were never allowed to go.
It was in this fortress of a house, Steve says, where George Hodel did what he wanted, no matter how immoral or illegal.
Tamar says that at the age of 11, her father wanted to teach her oral sex. She remembers her father's friends, among them, famous photographer Man Ray, who took nude photos of her as a child.
She also remembers the young, beautiful women: "There was always a line of beautiful women waiting to see my father, or to go into his quarters, the golden bedroom."
Michelle Phillips, former singer with The Mamas and the Papas, has been Tamar's friend since 1958. "She told me how she had grown up in this crazy environment with her father," says Phillips. "She obviously had been used as a sexual object with him and his friends. It was all amazing to me."
It wasn't until some years later, after one of her concerts, that Phillips finally met George Hodel. "I felt a chill, and a lot of it was because I knew that he knew that she had told me," says Phillips. "And I recently started thinking about the way he looked at me. I think he wanted to kill me."
Tamar must have felt a similar chill when, as a teenager in 1949, she ran away from her father's home. She told police what had been going on there: incest.
The well-known doctor was put on trial, and charged with offering his 14-year-old daughter to several of his friends at an orgy. "My father had intercourse with me. It wasn't loving," recalls Tamar. "He acted guilt-ridden, ashamed. It was very bad."
But in the courtroom, a parade of family members testified that Tamar made up the story.
"No one wanted George Hodel to go to jail, because George Hodel was the one making all the money," says Phillips. "And he was supporting all the people surrounding this tale."
The jury found George Hodel not guilty, but his troubles with the law were far from over.
As Steve began sorting out the details of his father's past and the Black Dahlia case, he found the two stories merging.
He was convinced the photos in his father's album were indeed of the Black Dahlia. But what caught him by surprise was one of the many taunting cards and letters the killer sent to newspapers. It was written by hand: "Turning in Wednesday, Jan. 29. Had my fun with police. Black Dahlia avenger."
"It was my father's handwriting," says Steve, who took his suspicions to an old friend, deputy district attorney Stephen Kay. "There was no question about it. So at that point, I thought, 'Oh my God, this is the real deal.'"
Kay tracked down the Black Dahlia file in the DA's office: a box of investigative notes and transcripts that no one had touched for over half a century. Steve started going through it, and found a picture of George Hodel. "This is the smoking gun," says Steve. "This is the proof I've been waiting for."
When investigators for the Los Angeles DA's office began questioning Tamar about her father, it was clear there was more than the 1949 orgy on their minds. "They also suspected that he had committed the murder of the Black Dahlia," says Tamar. "They told me that."
But she never told her half-brother, Steve. So years later, when going through the DA's file on the Black Dahlia case, Steve got the shock of his life. In 1949, two years after Short was murdered, the district attorney began to zero in on a suspect.
Kay says that in the file was information from a female witness who told authorities that George Hodel knew Short.
Investigator Walter Morgan is 90 now, but back then, he was a young investigator working for the DA's office, which had taken over the Black Dahlia investigation in 1949. Back then, he did something that couldn't have been legally done today. He, along with police detectives, slipped into Hodel's house, and planted eavesdropping devices all over the house. For the next 40 days, detectives listened to hundreds of Hodel's private conversations.
The recordings no longer exist, but the transcripts are in the DA's file. At one point, according to the transcript, George Hodel is heard saying: "Supposing I did kill the Black Dahlia. They couldn't prove it now. They can't talk to my secretary any more because she's dead. They can't talk to my secretary any more because she's dead."
His secretary, Ruth Spaulding, died of an apparent drug overdose.
Despite the statements caught on wire recordings, the Dahlia investigation was abruptly shut down in the spring of 1950. And even more surprising, chief investigator Frank Jemison summed up the audiotape evidence, saying it "tends to eliminate the suspect."
"How can you say those tapes clear Dr. Hodel," asks Kay. "If anything, they sound like a guilty man, who is ready to take it on the lam."
So why was the investigation closed? The answer may be in those secret audiotapes. At one point, according to the transcript, George Hodel is heard saying, "This is the best payoff I've seen between law enforcement agencies. And I'd like to get a connection made in the DA's office."
"The only thing I can think of is some money must have transpired between people," says Morgan. "Everybody thought that [there was a cover-up.]"
In fact, "48 Hours" has learned that the probe was shut down, even though several within the investigation later told their relatives that they knew who the killer was.
And, according to Kay, actor Jack Webb, who played a cop on television, and had close friends on the force, told a friend that the chief of detectives had specifically described the Black Dahlia killer as "a doctor in Hollywood, who lived on Franklin Avenue."
That was the same street where George Hodel lived.
Back in 1949, the LAPD was a dirty department rocked by scandals involving cops and gangsters, prostitutes and payoffs. It was a time and a place that crime writer James Ellroy knows well.
"Reports recommending whether or not to file charges were on sale for $500 a pop," says Ellroy. "The detective bureau was a repository of drunks and cronies of high-ranking LAPD officers. At the time of Elizabeth Short's death, it was a very corrupt institution."
Before she was known only as the "Black Dahlia," Short was just another struggling young woman in 1946 post-war Los Angeles.
"She lived off her friends. She basically didn't have a job," says Steve. "She'd go out on dates with men, but she wasn't a prostitute. And she didn't drink."
But that clean-cut image of Short didn't sell newspapers, says Ellroy. "[She was] portrayed as a prostitute. It isn't true," says Ellroy. "Portrayed as a movie-mad girl who got parts in a lot of movies ...it certainly isn't true. Portrayed as a lesbian, it certainly isn't true."
Short's beauty certainly entranced men. And after she was murdered, her suitors became suspects. Among the suspects were nightclub owner Mark Hansen, described as one of Short's jealous boyfriends, and Short's landlord, Glenn Wolf, who was also described by others to police as a sexual maniac.
But they can be eliminated, says Steve, for one simple reason: the condition of Short's body.
"What I discovered, to my surprise, was that the killer was a surgeon," says Steve. "Not a meat cutter, not a butcher, a skilled professional surgeon."
"48 Hours" decided to put Steve's theories to the test, and showed the crime photos and short's autopsy to Dr. Mark Wallack, chief of surgery at St. Vincent's Hospital in New York. He was asked to look at the crime scene photos as well as Short's autopsy.
"You don't get this kind of training where you can actually invade a human body, unless you've had some surgical experience," says Wallack, who believes a doctor committed the crime.
Although Steve's father didn't actually practice surgery, he excelled at it in medical school. "He was a surgeon," says Steve. "She was killed by a surgeon. That really is a limiting pool of suspects."
There are other pieces of the puzzle that convince Steve that his father was the killer. For instance, he says the killer's handwritten notes, sent to newspapers right after Short's murder, were in his father's handwriting.
"48 Hours" also asked John Osborn, one of the most respected document examiners in the field, to compare letters the killer sent to the newspapers with examples of handwriting from Dr. George Hodel.
Osborn questioned the uppercase versions of the letter 'N' in Hodel's letters, and said those of the Black Dahlia killer were different.
"There is simply not enough evidence to prove one way or another whether his father was the writer or not the writer," says Osborn.
But what about the photographs of the mystery woman found in the album, the ones that started Steve on his investigation? Is this, in fact, Elizabeth Short?
"Initially, I did think that they were very, very close," says forensic artist Sunni Chapman, who uses and distributes E-Fit, facial recognition software that compiles detailed sketches of suspects for police investigations.
Chapman examined two of the photos and initially saw a lot of similarities between Elizabeth Short and the mystery woman. But upon closer examination, and after measuring the facial features in both photos, Chapman said she was "85 percent certain that these two photographs are not of the same woman."
None of these expert opinions, however, changes Steve's mind. That's because he says he's uncovered yet another clue that points to his father as the killer: a photo taken by George Hodel's close friend, the artist Man Ray.
"He wanted to be like Man Ray," says Steve of his father. "He wanted to be an artist, and I think this was his masterpiece."
Steve believes his father posed Short's body to resemble the Minotaur, the mythical beast that devoured young maidens. He positioned her arms like the horns of the beast.
"I've tried lots of murder cases. And I've only had one other case where the victim had been posed," says Kay, who agrees with Steve's theory.
Kay also says cuts found across Short's face and mouth were meant to mimic another May Ray work: "The Lovers." "I know that this is a bizarre thing, but this was a bizarre man," he says.
After Steve's book was published, the LAPD was wiling to hear his theories. But until now, they weren't willing to open the original police files on the case.
The book Steve Hodel has written about his investigation has won over some powerful allies, including mystery writer James Ellroy. "I think he's solved the Black Dahlia murder case," says Ellroy.
But there are also plenty of skeptics, including Elizabeth's childhood friend, Mary Pacios. She believes that Hodel relies too much on speculation, not facts, in the case against his father. "He could probably go into a list of about half a dozen good suspects," says Pacios.
And the LAPD agrees. A year and a half after the DA opened his files, the LAPD finally revealed, in an off-camera briefing, the secrets of its own Black Dahlia investigation.
There was no surprise. Dr. George Hodel was a major suspect in the case at one point. Police say he was only one of 22 major suspects - seven of whom were doctors.
Police also contradicted Steve and claimed they were unable to find any proof that his father dated or even knew Elizabeth Short. But the LAPD has its own credibility problems.
The LAPD now admits that in the years since Short's murder, virtually all the physical evidence in the case has disappeared. The police aren't sure how this happened, but it has simply vanished from the files.
The bottom line: L.A.'s most famous unsolved murder may never be solved.
"How can you lose all of the physical evidence in the most important crime that the LAPD has ever had," says Steve. "It's not just the physical evidence. It's the interviews. It's the wire recordings of my father. Everything has disappeared. These things don't just disappear."
Shocked and angered by the LAPD's response, Steve also dismisses the findings of two handwriting experts hired by "48 Hours" and the LAPD -- who both said they were not convinced that the handwriting in the killer's letters matched Dr. George Hodel.
"It's my father's handwriting," says Steve. "I don't have to be convinced. I don't need an expert to tell me. I know it as a fact."
Why is he so determined to prove that his father was the Black Dahlia killer? "Because it's the truth," says Steve.
Whatever the truth may be, George Hodel is still causing pain for the people closest to him. His son, Steve, is struggling with conflicting emotions for a man he believes is both a monster and his father.
Was there any sense of revenge against his father by publishing his book? "None at all," says Steve. "I love my father. I love him to this day."
His daughter, Tamar, says she has never gotten over the trauma of being molested at 14 by her father: "I loved him, too, even though I was very hurt by him, and kept waiting for him to be a good guy."
But if Steve is correct, the ultimate victim was Elizabeth Short.
And again, almost six decades later after her brutal killing, The Black Dahlia, the feature film, is set to play upon a mystery and the imaginations of millions of Americans.
And now, real movie stars, like Hilary Swank, Scarlett Johansson and Josh Hartnett will become part of a new story that's already a Hollywood legend.
"You know, not being able to solve a murder of that caliber I think was a pretty big deal," says Swank. "And I think that was the infatuation that people have."
"Anybody that was around the California area at that time knew the whole saga, you know, it was in the newspapers everyday. It was a big deal. I guess you could liken it to the Jon Benet Ramsey case," says Hartnett. "She was young and beautiful, destined to be infamous."
We may never know for sure who killed Short, or whether George Hodel was the Black Dahlia killer. He fled the United States just days after the D.A. stopped its investigation in 1950. He didn't return until 40 years later, when the search for the killer had long gone cold.
"This case, this investigation, has been described as a riddle wrapped in a mystery inside an enigma," says Steve. "I can't think of a more perfect description than that."
It may be a mystery, but to crime writer James Ellroy, it's one with a perfect ending.
"It's divine providence that a mad doctor spawns a son who becomes a LAPD homicide detective, who sees photographs that are not even Elizabeth Short," says Ellroy. "And it turns out that his old man did the job, anyways. I dig it."
Steve Hodel continues to investigate his father; he suspects his father was involved in the murder of 30 other women.
Thanks for reading CBS NEWS.
Create your free account or log in
for more features.