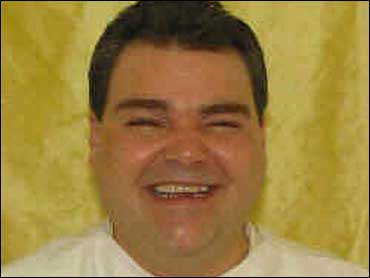 Bizarre Execution In Ohio
A man was executed Thursday after a delay longer than any other since Ohio resumed executions in 1999 because of problems with the lethal injection, which he had insisted on as punishment for beating and choking a cellmate to death.
Christopher Newton, 37, died at 11:53 a.m. at the Southern Ohio Correction Facility, about two hours after the scheduled start of his execution for killing the cellmate after arguing over a chess game.
Newton weighed 265 pounds, according to a physical Wednesday, and prison medical staff struggled to find veins on each arm. The execution team stuck him at least 10 times with needles to get in place the shunts where the needles are injected.
He continued to talk, smile and laugh with the prison staff; sometimes his belly would jiggle. At one point, he was given a bathroom break.
When he eventually was moved from his holding cell and strapped to a table in the death chamber, he made this short statement: "Yes, boy, I could sure go for some beef stew and a chicken bone. That's it."
In a written statement read by public defender Robert Lowe after the execution, Newton apologized to his victim's family. "If I could take it back, I would," the statement said. "To my family, I love you and I'm sorry."
The next-longest delay of an Ohio execution was last May when Joseph Clark died 90 minutes after his scheduled execution time. Prison staff had problems tapping a vein in the longtime-intravenous drug user's arm. Executions typically take about 20 minutes.
A group of Ohio inmates is suing over the state's injection method, saying it is unconstitutionally cruel. Problems with injections have caused delays in other states, including one in Florida in December when an inmate needed a second dose of deadly chemicals, which prompted Gov. Jeb Bush to suspend all executions in the state as a commission examines its lethal injection process.
Newton, who spent much of his adult life in prison, knew killing cellmate Jason Brewer in 2001 was a capital crime and refused to cooperate with investigators unless they sought the death penalty against him, court documents said.
Newton himself even claimed in an interview last month that he had intentionally gotten himself put back in prison by leaving behind a handprint during a 1999 break-in at his father's house.
"He's certainly the epitome of a volunteer," said Leo Jennings, a spokesman for Attorney General Marc Dann.
After the problems with the Clark execution, Ohio announced in June 2006 it would change its lethal injection process to try to prevent such problems in the future.
At the time, prisons director Terry Collins said execution teams would make every effort to find two injection sites and will use a new method to make sure the veins stay open once entryways are inserted.
Newton's delay was exceptionally long and raises new questions about lethal injection, said Richard Dieter, executive director of the Washington, D.C.-based Death Penalty Information Center, which opposes capital punishment.
"This adds to the concern that lethal injections are too risky and unpredictable, at least under the present protocols," he said. "It's not the swift and sort of painless death lethal injection was advertised to be."
Although his attorneys argued Newton should be spared the death penalty because he had a variety of mental disorders, a court last fall found him competent to forgo his appeals. The prosecution had argued that he had feigned mental illness.
Gov. Ted Strickland said Monday he agreed with the Ohio Parole Board's recommendation against sparing him. The governor had delayed Newton's execution for a few months when he first took office in January to research the case.
Strickland was closely monitoring the situation Thursday morning, including speaking with Collins by phone.
"There was not a cause to intervene," Strickland spokesman Keith Dailey said. "Out of an abundance of caution, every precaution was taken before the procedure began to ensure that there would be no problems when the procedure began."
The ACLU of Ohio called on the state to stop executions because of Thursday's problems.
In the interview with reporters last month, Newton said he killed Brewer, 27, because he repeatedly gave up while they were playing chess.
"He kept giving up. Every time I put him in check, he'd give up and want to start a new game," Newton told reporters in April. "And I tried to tell him you never give up ... I just got tired of it."
He had slammed Brewer's head onto the floor, stomped his throat and cut a piece from his orange prison suit to strangle him — then laughed as officers arrived at the cell.
Prosecutors said Newton picked out Brewer as his victim, asking to be placed in protective custody and transferred to his cell, where the two men lived for 30 days before the murder.
Newton first hit Brewer, and said he then had to kill him because he was afraid to be defenseless when he slept. Brewer, about 100 pounds lighter than Newton, was in prison for attempted burglary in Lucas County in northwest Ohio.
He celebrated for the one-year anniversary of Brewer's death, creating a party hat and party blowers, a prison psychiatrist testified.
Newton's family does not want his remains, prison spokeswoman Andrea Dean said, so the state will cremate him and give the ashes to his spiritual adviser.
Brewer's aunt, Rosemary Carter, told the clemency board that she wanted Newton to die. He is a "dark and evil man and is deserving of the verdict put upon him," Carter wrote in a letter.
Newton was the second inmate executed since Strickland took office in January and the 26th since the state resumed executions.

Thanks for reading CBS NEWS.
Create your free account or log in
for more features.