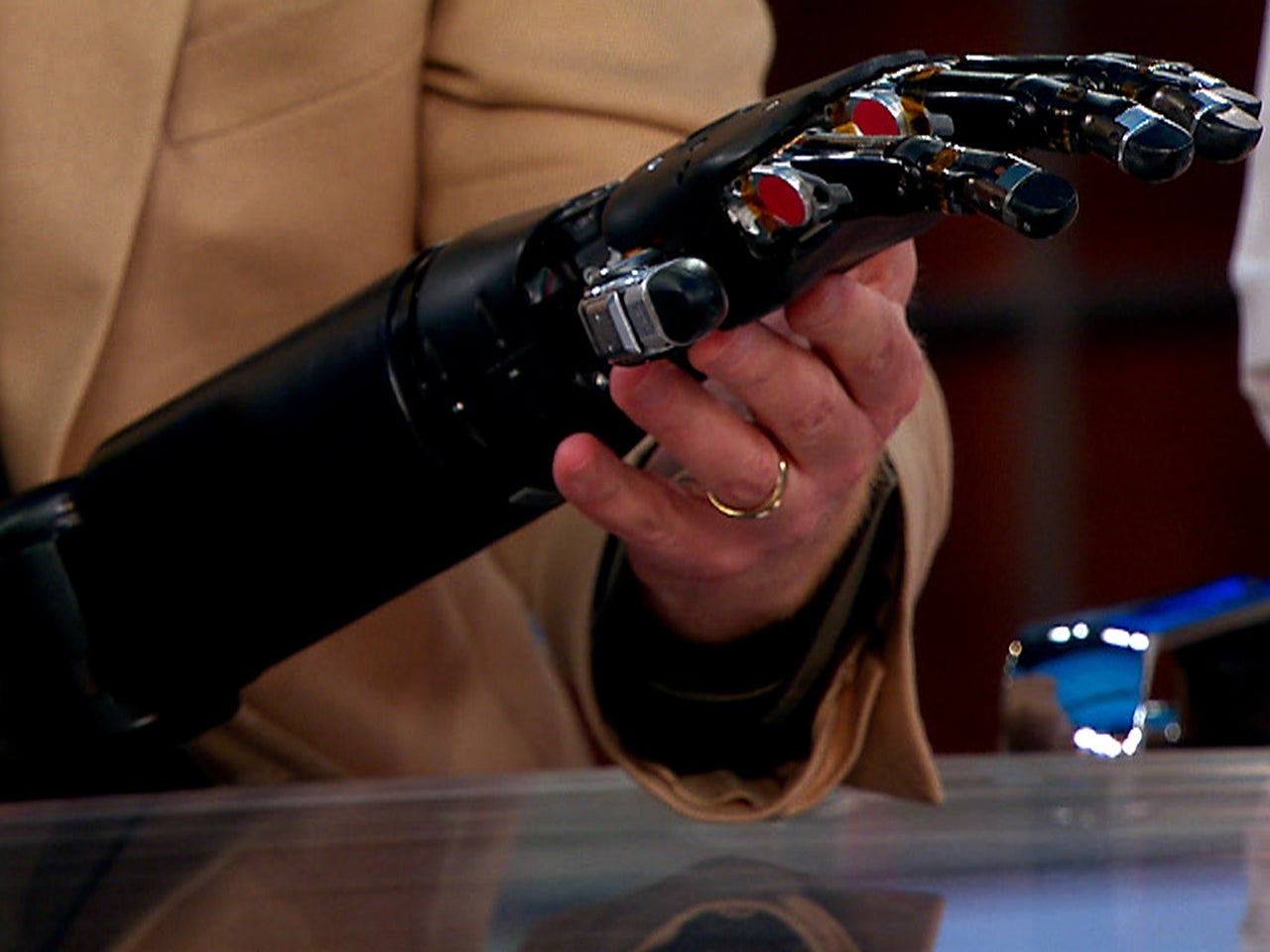 Bionic arm researchers aim for $50K to $60K price, product release "in a couple of years"
(CBS News) Prosthetic devices are undergoing a revolution. Designers at Johns Hopkins University in Maryland have created a bionic arm and hand that works and feels just like a natural limb, and it's controlled by the brain.
This story is part of the "CBS This Morning" series "Eye Opening Breakthrough."
In a report for "60 Minutes," Scott Pelley saw how it works. Watch that report now.
"60 Minutes": The Pentagon's Bionic Arm
Michael McLoughlin is the lead designer of the bionic arm at the Applied Physics Lab at Johns Hopkins. Courtney Moran, also of Johns Hopkins, helps patients use it.
The arm has 26 joints in it and can do virtually everything your hand can do, McLoughlin explained on "CBS This Morning." The arm also has sensors in it so the wearer can have the sensation of feedback. "When you touch an object, you can feel it," McLoughlin said.
Johns Hopkins University has six of the bionic arms, and they are currently a research tool.
The brain aspect of the device works like this: "If you've had an amputation, the nerves that used to run, say, to my finger, are still there. They're just now in my arm. So if I stimulate that nerve, the brain still thinks you're simulating the finger, so the patient really perceives it as pressure in the finger, my hand, not the prosthetic hand."
The bionic arm also has a covering that looks like skin; it has hairs nails and veins. But a number of people don't want to use the covering. Why? McLoughlin said, "Many think the robotic look is really cool and they like it."
People who have used the arm have said the arm has natural movements, Moran said. "It takes a while to learn how to do functional tasks because it takes practice," she said. "It would be like learning to walk again for someone with a stroke. You can do it, but it just takes some thought. However, it's so natural that when they're going to do that, they said that as they're practicing it's not like practicing with any of the other prosthetics they have because it feels immediately like they're practicing with their own arm instead, because you can move- all the fingers move, all the joints move, the wrists move."
McLoughlin said they're aiming for the ability for someone to play the piano with their device. He said, "I'd like you, or whoever needs a prosthetic, to be able to go back and do everything they used to do before they lost it."
The researchers hope to have the first of these devices released "in a couple years," according to McLoughlin. He said, "We hope it will be covered by insurance for the military patients we work with. Of course, the Department of Defense will cover that."
The cost is estimated to be in the $50,000-to-$60,000 range. He said, "It's slightly more than a conventional prosthetic."
For more with McLoughlin and Moran, watch the video above.
Other stories in the "CBS This Morning" series "Eye Opening Breakthrough": Family with rare eye disease may help bring cure for blindness into focus
Thanks for reading CBS NEWS.
Create your free account or log in
for more features.