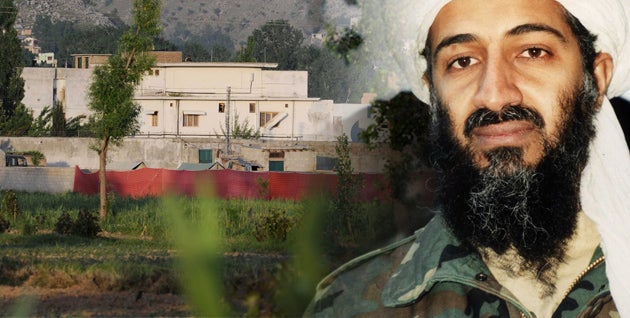 Bin Laden's burial at sea in followed Islamic practices, White House insists
With some Muslims decrying the manner in which Osama bin Laden's was put to rest, the White House insisted Monday that the al-Qaeda leader's burial by sea was in accordance with Islamic law under the circumstances of his death.
Bin Laden was killed during a raid on his compound in Abbottabad, Pakistan on Sunday. Hours later, the Obama administration said, he was flown to Afghanistan for a DNA test to verify his identity. His corpse was then washed in accordance with Muslim rituals and deposited into an unidentified location in the Arabian Sea.
According to White House counterterrorism adviser John Brennan, bin Laden's remains were buried "in strict conformance with Islamic precepts and practices." Brennan said the administration consulted "appropriate specialists and experts" before making the decision.
"There is a requirement in Islamic law that an individual be buried within 24 hours," Brennan told reporters in a press briefing on Monday. "There were certain steps that had to be taken because of the nature of the operation. We wanted to make sure we were able to do that in the time period allotted for it."
"Going to another country, making those arrangements, requirements, would have exceeded that time period, in our view," he continued. "And so, therefore, we thought that the best way to ensure that his body was given ...an appropriate Islamic burial was to take those actions that would allow us to do that burial at sea." Bin Laden's native Saudi Arabia had refused to accept bin Laden's body.

But some Islamic clerics argued on Monday that burying bin Laden's body at sea violated Islamic law - and that it might provoke militants to call for revenge attacks aimed at American targets.
While there appear to be varying schools of thought on whether or not Islamic law permits burying a body at sea, a number of scholars have said such an action is only appropriate under "extraordinary circumstances" - and that bin Laden's death did not qualify.
"They can say they buried him at sea, but they cannot say they did it according to Islam," Mohammed al-Qubaisi, the highest religious law official in Dubai, said of the burial. "Sea burials are permissible for Muslims in extraordinary circumstances. This is not one of them."
"If the family does not want him, it's really simple in Islam: You dig up a grave anywhere, even on a remote island, you say the prayers and that's it," he added.
According to one school of thought, sea burials are permitted only when the person in question died on board a ship.
"If a man dies on a ship that is a long distance from land, then the dead man should be buried at the sea," said Shiite cleric Ibrahim al-Jabari. "But if he dies on land, then he should be buried in the ground, not to be thrown into the sea. Otherwise, this would be only inviting fish to a banquet."
Al-Azhar Grand Imam Ahmed El-Tayeb, a prominent Islamic scholar, condemned the burial as an act that goes against religious and moral values. According to El-Tayeb, Islam forbids the desecration of the bodies of the dead, irrespective of their beliefs and ideologies.
One possible deterrent for burying bin Laden at sea was the fear that had he been buried on land his grave might become a shrine or otherwise contentious symbol.
Nevertheless, some Islamic clerics have said that bin Laden's burial may well serve as a source of future unrest.
"What was done by the Americans is forbidden by Islam and might provoke some Muslims," said Abdul-Sattar al-Janabi, an Islamic scholar from Iraq who preaches at Baghdad's Abu Hanifa mosque. "It is not acceptable and it is almost a crime to throw the body of a Muslim man into the sea. The body of bin Laden should have been handed over to his family to look for a country or land to bury him."
"They don't want to see him become a symbol, but he is already a symbol in people's hearts," Egyptian Islamic analyst and lawyer Montasser el-Zayat said in an interview with the Associated Press.
Republican Sen. Lindsay Graham, of South Carolina, also questioned the White House's decision.
"To me, that didn't make a lot of sense," he said during an interview with conservative radio talk show host Laura Ingraham, according to the Hill.
Thanks for reading CBS NEWS.
Create your free account or log in
for more features.