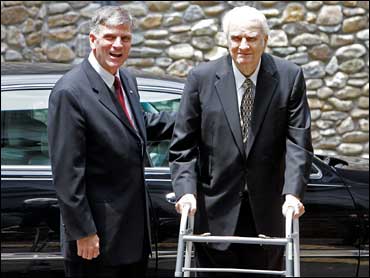 Billy Graham Up And About After Surgery
A postoperative scan of Billy Graham's brain following a surgery to update a shunt that controls excess fluid is encouraging, his doctor said as the world-renown evangelist continued his recovery.
"It looks fine," Dr. Ralph C. Loomis said Thursday. "He's doing well and is alert and articulate. We're pleased with his progress."
After a large breakfast, the 89-year-old Southern Baptist minister began a daily regimen of exercise that includes walking the halls of Asheville's Mission Hospitals. The hospital said Graham is in fair condition and spent part of the day watching local and national news. He also took a call from President George W. Bush, said White House spokeswoman Jeanie Mamo.
"He wished Rev. Graham a speedy recovery and said that he'd keep him in his prayers," she said.
Graham underwent the elective surgery Wednesday to replace a shunt first installed in 2000. The shunt drains fluid from his brain through a small tube that runs down his head and neck and into the abdominal cavity, where the fluid is absorbed by his body.
Doctors determined the old shunt wasn't adequately controlling the brain fluid. A buildup of fluid, known as hydrocephalus, can cause symptoms similar to Parkinson's disease. Graham will remain at Mission Hospitals for several days as doctors gradually adjusted the new externally programmable valve.
Graham has also suffered from prostate cancer and macular degeneration, and was hospitalized last year for nearly two weeks after experiencing intestinal bleeding. Those conditions, combined with his age, have left Graham mostly confined to his mountainside home in nearby Montreat for the past several years.
Graham led a worldwide crusade-based ministry for six decades that packed stadiums with believers and put him on the pulpit in front of millions. He met every U.S. president since Harry Truman, befriending many.
His wife, Ruth Bell Graham, died in June following a lengthy illness.
Thanks for reading CBS NEWS.
Create your free account or log in
for more features.