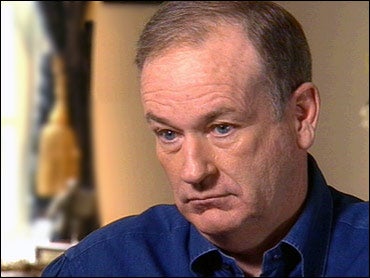 Bill O'Reilly In Abortion Record Tangle
Two abortion clinics asked the state's highest court Monday to investigate Attorney General Phill Kline and Fox television's Bill O'Reilly over O'Reilly's statements that he had obtained information from Kansas abortion records.
During a campaign stop in Wichita on Monday, Kline called the request to the Kansas Supreme Court for a special prosecutor "frivolous." It came from Dr. George Tiller and his Wichita clinic and a clinic operated in Overland Park by Planned Parenthood of Kansas and Mid-Missouri.
Their attorneys also asked the court to seize the records of 90 patients from the two clinics. Kline, an abortion opponent, obtained edited versions of those Oct. 24 from a district court judge after a two-year legal battle with the clinics.
The court's appointing a special prosecutor would be unprecedented. There is no record of the court ever appointing one before, spokesman Ron Keefover said.
The clinics' attorneys want O'Reilly investigated because they fear his information came from the records turned over to Kline. On Friday night's "The O'Reilly Factor" the host said an inside source gave information that Tiller performed late-term abortions because patients were depressed, which he called "executing babies."
Pedro Irigonegaray, a Topeka attorney representing the clinics, also called on Fox to fire O'Reilly.
"I think the attorney general's conduct has been shameful," he said after filing his documents with the court. "Mr. O'Reilly demonstrated callous disregard for women all over this country and his statements about the records were simply false."
It's the second time in six days that a Kline critic has sought an investigation of the attorney general. On Wednesday, former Attorney General Bob Stephan, a fellow Republican who broke with Kline, asked the state Governmental Ethics Commission to examine Kline's fundraising and activities involving churches.
Kline, seeking his second term, is in a bitter race with Democrat Paul Morrison, the Johnson County district attorney. Morrison has attacked Kline repeatedly for seeking the abortion clinics' records, saying Kline abused his authority and invaded patients' privacy.
"There is no basis for such a motion before the Kansas Supreme Court ... it is a political move," Kline said.
Kline said he did not know what information O'Reilly has or where he got it. Asked if it came from someone within his office, he replied "absolutely not."
Kline has said he's reviewing the records to investigate crimes, including rapes of children, forcible rapes, incest, illegal late-term abortions, failure by doctors to report child abuse and making "false writings." He also has said no one in his office provided any information to O'Reilly from the records Kline obtained.
During his Friday night broadcast, O'Reilly also said he had evidence that Tiller had failed to report abortions on girls aged 10 to 15 to authorities, suggesting the doctor was covering up sex crimes against children.
O'Reilly didn't say whether his information came from the 90 records Kline obtained, or whether he or his staff had seen documents themselves.
David Tabacoff, executive producer of "The O'Reilly Factor," issued a statement: "We stand by our story."
Meanwhile, Kline spokeswoman Sherriene Jones questioned whether the Supreme Court is the proper place for the clinics' request.
"Any Kansan who paid attention in civics class would know that the Kansas Supreme Court is an appellate court, and they only hear cases on appeal from a lower court," Jones said. "They do not do any investigating. They don't have any authority to hear this motion because it has not been ruled on in lower court."
Irigonegaray said: "That would be for the Supreme Court to decide."
The clinics' petition not only named Kline as a defendant, but Shawnee County District Judge Richard Anderson. Although the petition criticizes O'Reilly, he isn't a named defendant.
Keefover said the justices didn't have a timetable for handling the clinics' petition, though the defendants in the case have five days to respond to the petition.
Anderson subpoenaed the records at Kline's request in September 2004, and the clinics then asked the Supreme Court to intervene. Although Anderson did not contemplate giving Kline unfettered access to the records, the Supreme Court imposed new guidelines in February for handling the records and returned the case to Anderson.
The judge took possession of the records in August, two months before turning them over to Kline, redacted so that individual patients could not be identified.
"It is apparent that Kline and/or Anderson have failed to maintain the medical records without specific protections in place to protect the privacy of patients," the clinics said in their petition.
The clinic said they want the Supreme Court to intervene because they don't know how O'Reilly obtained his information and a leak could have occurred in "either the judicial or executive branch of the government." The clinics' petition accused Kline of having a "cavalier attitude."
The clinics noted that Kline has joked about the criticism that his pursuit of the records invaded women's privacy.
During a GOP rally Sunday night in Topeka, Kline provoked laughter from thousands of Republicans when he said, "You know, it's great to see all of you in such good health, but, of course, I already knew that. I've seen all of your medical records."

Thanks for reading CBS NEWS.
Create your free account or log in
for more features.