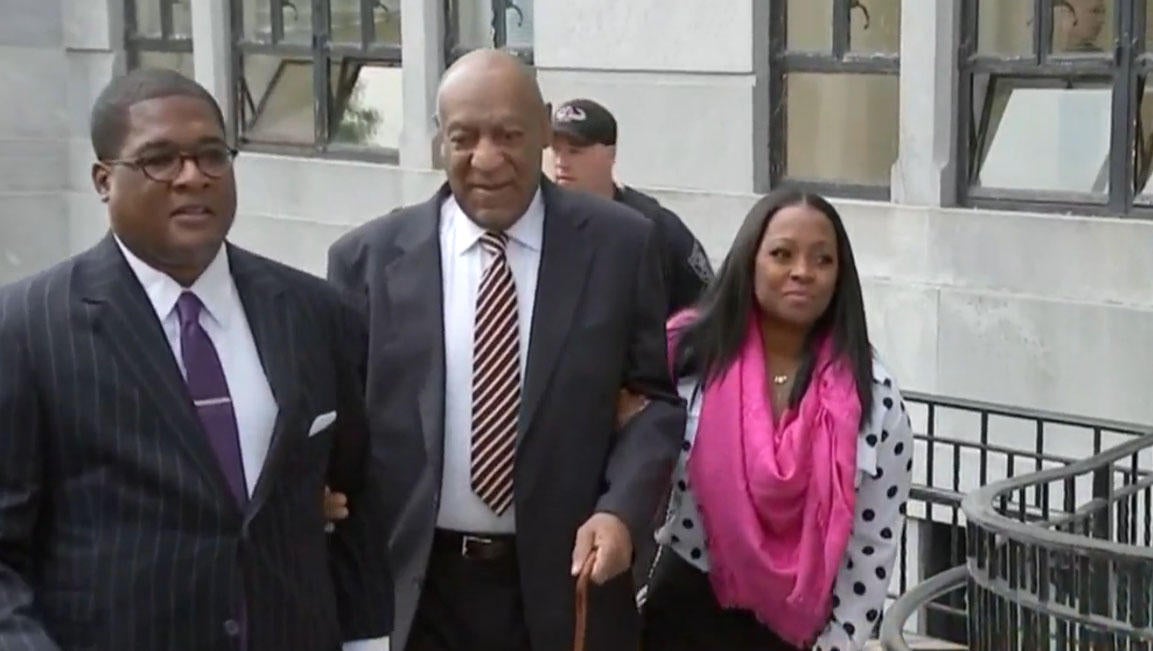 Bill Cosby trial: Prosecutors warn jury not to confuse Cosby with beloved TV character
NORRISTOWN, Pa. -- Bill Cosby went on trial Monday on charges he drugged and sexually assaulted a woman more than a decade ago, with a prosecutor warning the jury not to fall into the trap of confusing the 79-year-old comedian with the beloved family man he played on TV.
Cosby used his power and fame to violate an employee of Temple University's basketball program, Assistant District Attorney Kristen Feden said in her opening statement. The TV star previously admitted under oath that he gave Andrea Constand pills and touched her genitals as she lay on his couch, the prosecutor said.
According to prosecutors, Cosby told Constand, "These three friends will help you relax," referring to the pills.
Prosecutors said the case is about trust, betrayal and an inability to consent, reports CBS Philly.
"She couldn't say no," Feden said. "She can't move, she can't talk. Completely paralyzed. Frozen. Lifeless."
Defense lawyer Brian McMonagle immediately attacked what he said were inconsistencies in Constand's story, disputed that Constand was incapacitated, and made the case that she and Cosby, who was married, had a romantic relationship. McMonagle said Cosby gave her the cold and allergy medicine Benadryl only after she complained she couldn't sleep.
McMonagle said that Constand changed the date of the encounter from mid-March to mid-January of 2004. And he said Constand initially told police that she and Cosby had never spoken after the encounter, when, in fact, phone records show the two spoke 72 times after mid-January — and two-thirds of the calls were initiated by Constand.
Cosby is charged with three counts of aggravated indecent assault. He could get 10 years in prison if convicted.
The jury seated is from the Pittsburgh area, nearly 300 miles away from the Philadelphia-area courtroom where the proceedings are underway, reports CBS Philly. The trial is expected to last two weeks. Cosby is not expected to take the stand.
Cosby's wife, Camille, was absent as the TV star, using a wooden cane, hobbled past dozens of cameras into the courthouse. He chatted with actress Keshia Knight Pulliam, who played his daughter Rudy on the top-rated "Cosby Show," as they walked together.
Cosby smiled but said nothing when someone asked how he was feeling.
Pulliam said during Monday's court lunch break that "ultimately it's about standing by your truth." And, she said, her truth was to be at court and to be supportive.
Knight Pulliam says she doesn't condone any form of sexual assault and that she's sensitive to the gravity of the charges against Cosby. She says she's praying for everyone involved.
She says the job is for the two sides to prove their cases and that she'll accept whatever verdict is handed down.
Constand, 44, of the Toronto area, is expected to take the stand this week and tell her story in public for the first time. Feden said a woman who claims Cosby drugged and assaulted her in a similar fashion in 1996 will also testify.
Cosby built a good-guy reputation as a father and family man, on screen and off, during his extraordinary 50-year career in entertainment. He created TV characters, most notably Dr. Cliff Huxtable, with crossover appeal among blacks and whites alike. His TV shows, films and comedy tours earned him an estimated $400 million.
Then a deposition unsealed in 2015 in a lawsuit brought by Constand revealed an unsavory private life marked by a long history of extramarital liaisons with young women. Dozens of women came forward to say he had drugged and assaulted them.
The statute of limitations for prosecuting Cosby had run out in nearly every case. This is the only one to result in criminal charges against the comic.
Feden told jurors that celebrities like Cosby are seen as "larger than life."
"We think we really know them," she said. "In reality, we only have a glimpse of who they really are."
Prosecutors had wanted to call as many as 13 of Cosby's more than 60 accusers as witnesses, but Montgomery County Judge Steven O'Neill ruled that only Constand and the other woman could take the stand.
Celebrity attorney Gloria Allred, who showed up for the first day of the trial, told reporters she is hopeful "there will be justice in this case."
Allred represents several of Cosby's accusers, including a woman who worked for the comedian's agent at the William Morris agency. She will be the only other accuser allowed to testify for the prosecution.
"I'm not going to predict what the outcome is," Allred said. "We'll see what the evidence is. But this case is not going to be decided on optics, it's going to be decided on the evidence, and finally, it's Mr. Cosby who's going to have to face that evidence and confront the accusers who are against him."
Constand filed a police complaint in 2005 over the night a year earlier, when, she says, Cosby drugged her and put his hand down her pants.
The district attorney at the time said the case was too weak to prosecute. But a new set of prosecutors charged Cosby a year and a half ago after the deposition became public and numerous women came forward.
In one of the more explosive disclosures in the deposition, Cosby said he had obtained quaaludes in the 1970s to give to women before sex.
On Monday, McMonagle suggested Constand and the other accuser set to testify were seeking payouts over the allegations. And he told jurors that Cosby apologized to Constand's mother in a phone call the year after the encounter not because he had assaulted her, but to say, "I'm sorry, I'm a married man, and I never should have done it."
Cosby's lawyers tried repeatedly to get the case thrown out. They said Cosby testified in the lawsuit only after being promised he could never be charged. And they argued that the delayed prosecution makes the case impossible to defend, given that witnesses have died, memories have faded and Cosby, they say, is blind.
Cosby and his family, ahead of the trial, have suggested the charges are fueled by racism. Some of his accusers, including the former William Morris employee, are black.
The AP does not typically identify people who say they are sexual assault victims unless they grant permission, which Constand has done.
Thanks for reading CBS NEWS.
Create your free account or log in
for more features.