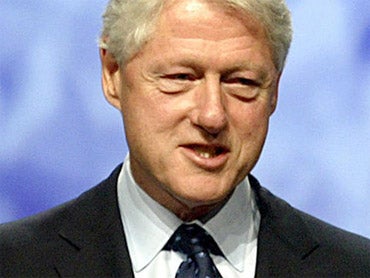 Bill Clinton Hospitalized in New York City
Former President Bill Clinton, who had quadruple bypass surgery more than five years ago, was hospitalized Thursday to have a clogged heart artery opened after suffering chest pains.
Two stents resembling tiny mesh scaffolds were placed inside the artery as part of a medical procedure that is common for people with severe heart disease.
Dr. Alan Schwartz, the chief of cardiology at New York Presbyterian Hospital said that Clinton was experiencing "chest discomfort" repeatedly, and based on his symptoms, they decided to admit him and perform angiography. Initial tests showed Clinton hadn't suffered a heart attack and had no damage to his heart.
The procedure went smoothly and Clinton has been up and around visiting with his family, Dr. Schwartz said. He expects Clinton to be able to go home Friday.
The 63-year-old Clinton was "in good spirits and will continue to focus on the work of his foundation and Haiti's relief and long-term recovery efforts," said an adviser, Douglas Band.
Secretary of State Hillary Clinton left Washington for New York to be with her husband, reports CBS News anchor Katie Couric. But aides to Mrs. Clinton said she still plans to go ahead with a previously scheduled trip to the Persian Gulf. The trip is to begin Friday afternoon but could be delayed slightly.
Chelsea Clinton, their daughter, is at the hospital with her father.
CBS News medical correspondent Dr. Jon LaPook reports that in Clinton's 2004 procedure, doctors relieved blockages in four arteries supplying his heart by using blood vessels taken from other parts of his body. After his initial surgery, the hope was that a healthy diet, exercise and medication would prevent further blockages.
However, it is not uncommon for bypass patients to have blood vessels used to relieve the blockage close up again - it happens 10 to 20 percent of the time in the first year after bypass surgery, and at six years the number rises to at least 30 percent of bypass patients, LaPook reports.
"The big key is to open up the arteries before they close so much that you don't have enough blood flow to that part of the heart and the muscle dies," LaPook said. "If you do it soon enough, which it sounds like it was, the blood is restored and you don't have a heart attack."
Stents are tiny mesh scaffolds used to prop open an artery after it is unclogged in an angioplasty procedure. Doctors thread a tube through a blood vessel in the groin to a blocked artery, inflate a balloon to flatten the clog, and slide the stent into place. It is one of the most common procedures in the United States, reports LaPook adding that more than 1 million are done a year.
When Clinton had the quadruple bypass in 2004, he did not have a heart attack first, but what appeared to be unstable angina, which is a muscle pain that indicates the heart may be starved of oxygen, reports WCBS in New York. He did not sustain heart damage back then, but it did indicate a developing health problem.
Clinton's legend as a voracious and unhealthy eater was sealed in 1992, when the newly minted presidential candidate took reporters on jogs to McDonald's. He liked hamburgers, steaks, french fries - lots of them - and was a sloppy eater who could gobble an apple (core and all) in two bites and ask for more.
Two of his favorite Arkansas restaurants were known for their large portions - a hamburger the size of a hubcap and steaks as thick as fists.
He was famously spoofed on "Saturday Night Live" as a gluttonous McDonald's customer.
Friends and family say Clinton changed his eating habits for the better after his heart attack. Dr. Schwartz told reporters at a news conference Thursday evening that his symptoms were not a result of lifestyle and that Clinton had "towed the line with diet and exercise."
Clinton has been working in recent weeks to help relief efforts in Haiti. Since leaving office, he has maintained a busy schedule working on humanitarian projects through his foundation.
After hearing the news about Clinton, both former presidents George W. Bush and his father George H.W. Bush issued statements wishing Clinton well.
"We have been in touch with President Clinton's staff and, of course, Barbara and I wish him a speedy and full recovery," George H.W. Bush said.
A White House source said that President Barack Obama called Clinton Thursday evening and wished him a speedy recovery, telling him that efforts in Haiti were too important for him to be laid up too long. Clinton told Obama he was feeling "absolutely great."

Thanks for reading CBS NEWS.
Create your free account or log in
for more features.