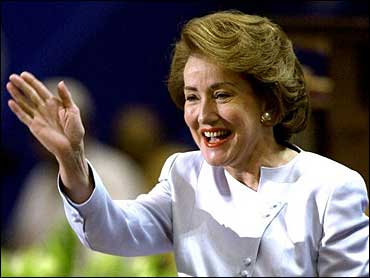 In her latest Political Points commentary, CBS News Senior Political Editor Dotty Lynch takes a look at how some high-profile women candidates are faring on the 2002 campaign trail.
---

On September 28, 1987, when Rep. Patricia Schroeder announced she had decided not to run for president, she burst into tears and said, "I couldn't figure out a way to run. There must be a way, but I haven't figured it out yet." Political women spent a long time defending those tears, but behind the scenes they were mortified.

Much has happened in the past 15 years, and while no woman has made it to the White House – or even into the presidential primaries – women candidates have figured out a lot. They know how to raise money, how to run a campaign and how to handle the brutal give and take of modern politics without dissolving into tears.

But there are still stereotypes, both positive and negative, about women candidates. Voters begin by thinking women are more honest and caring than men; they also wonder if women have what it takes to hold political office. Strategists planning campaigns against women often use a one-two punch. Republican consultant Linda DiVall says that the "first thing opposition campaigns try to do is to tar a woman candidate's integrity." Then they exploit the idea that the woman is incompetent.

As the 2002 campaigns unfold, we are beginning to see some textbook cases of how to attack women candidates and how the candidates are working to deflect these attacks.

Exhibit One
Janet Reno has been under attack from within her own party. There has been a great deal of resistance to her campaign for Florida governor from the Democratic establishment because of the widespread perception that she's a loser. Even her friends and liberal soul mates worry about her and refer to her campaign as "sad." One Democratic consultant said he turned down her campaign because, while she can win the Democratic nomination, she can't win in November. "Janet Reno has no right to run," he said testily.

But there she is down in Florida riding around in her red truck and creating a sensation with her re-creation of Saturday Night Live's Janet Reno Dance Party. Reno is running an in-your-face campaign by making jokes about the tremors caused by her Parkinson's Disease and stepping up to the plate about her baggage – like Elian Gonzales and Waco. And she's so confident of winning the Democratic nomination that she scheduled a concert with Elton John for Sept. 18, a week after the primary.

Exhibit Two
Elizabeth Dole's North Carolina Senate campaign has been the object of a classic two-pronged attack. First, attack the integrity; then, question the competence. "That's what they tried to do to Dole on Enron," DiVall said about the Democrats' yelps about Dole's Enron contributions. That didn't stick, so now the Democratic Senate Campaign Committee has a Web site called "the Dole Duck" (with accompanying audio of a quacking duck), poking fun at her low-key campaign and accusing her of "photo-oping her way through the campaign."

Dole is staying mum from a position of strength. She's running 30 points ahead of her probable opponent, Erskine Bowles, who is still slugging his way through the Democratic primary. The entire Republican Party is backing her and President Bush and Vice President Cheney have raised $2.2 million of the $8.2 million in her campaign coffers. Dole's discipline in refusing to take the bait and come out swinging is regarded as a savvy move by many seasoned politicians.

Exhibit Three
The attacks leveled against Maryland gubernatorial canidate Kathleen Kennedy Townsend are reminiscent of those against Dole, but in Kennedy Townsend's case they are sticking. The Republican-appointed U.S. Attorney is investigating grants awarded by the Office of Crime Control, which reports to Kennedy Townsend, the Maryland lieutenant governor. Her response was to nail the prosecutor as a political animal who was doing the biding of her opponent, Bob Erlich, who supported him for his job. In addition, there is a whisper campaign that she is a "lightweight," who is "in over her head." These perceptions have taken their toll. In a recent poll, Kennedy-Townsend's lead was down to 3 percent over Republican Rep. Bob Erlich. And she's having trouble with male voters. She leads Erlich with women by 52-38 percent, but trails with men, 51-41 percent.

The Kennedy Townsend campaign has launched a round of paid advertising to try to deal with these perceptions by stressing her accomplishments. She's also done something non-traditional and picked an admiral as her running- mate to shore up support from those who admire brass. She's now being urged to shed her "nice" image to show her toughness by going on the attack against Erlich. Most expect her media consultants, Bob Shrum and Tad Devine, to carry out the mandate.

Women have strengths beyond money and political consultants. Attacking a woman can be tricky, especially if she is sympathetic and popular. Sen. Jean Carnahan, D-Mo., is an example of a highly sympathetic candidate. Her husband and son were killed in a plane crash just before the 2000 election and then her house burned down. Her opponent, Jim Talent, has been trying to accentuate the positive rather than launching a frontal negative attack. Pollster DiVall says that voters see Carnahan "through the prism of personal tragedy," and that Talent has to get the campaign focused on the issues to overcome her personal appeal.

Attacks can also backfire. Republican Rep. Connie Morella, 71, is defending her seat in her heavily Democratic district in the Maryland suburbs. Morella is extremely popular, however, and Amy Walters, an analyst with the nonpartisan Cook Report, says her opponent "will have to run a smart and sophisticated campaign. A mean-spirited attack against the opponent would certainly backfire."

Yes, women have learned a few tricks in the past few years. Big girls don't cry anymore. Like Janet Reno, they just boogie the night away.

Thanks for reading CBS NEWS.
Create your free account or log in
for more features.