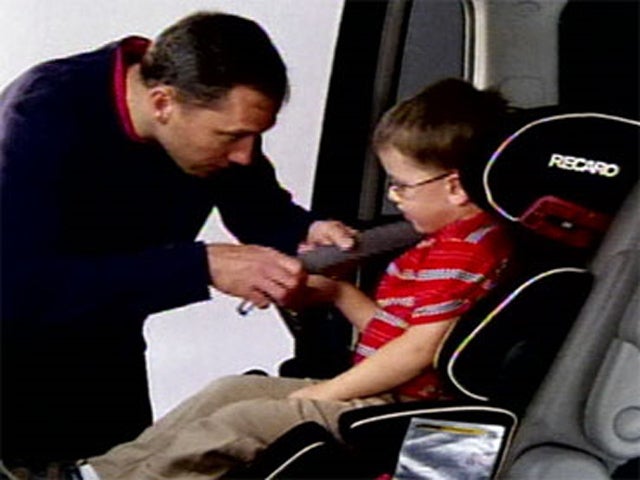 Big changes in car seat safety recommendations
For years, many parents have followed the general rule of thumb that, once their child turns a year old, his or her car seats should face front -- but that's about to change.
On "The Early Show" Monday, CBS News Medical Correspondent Dr. Jennifer Ashton reported approximately 1,500 children under 16 die in motor vehicle crashes each year in the U.S., nearly half of whom are completely unrestrained.
New child-restraint guidelines are out that aim to help parents make more informed choices.
Special section: Eye on Parenting
Ashton reported that The American Academy of Pediatrics (AAP) now says such extreme injuries could often be prevented by keeping children in rear-facing car seats longer.
The odds of severe injury to forward-facing children is five times greater than children in rear-facing car seats. Ashton explained this is because the rear-facing seats distribute forces from a crash over the child's entire body.
In guidelines published today, the AAP advises parents to keep children in rear-facing car seats until age 2 - or until they reach the maximum height and weight allowed for their car seat. That's an increase of one year from the previous policy.
Ashton explained the guidelines on "The Early Show":
She said, "For infants up to the age of 2, they need to be riding in a rear-facing car seat until they reach the age of 2 or until they reach the maximum height and weight for their seats."
Ashton added, "Toddlers 2 years of age or older should ride in forward-facing seats as long as possible."
"Kids should use a booster seat until the ages of 8 to 12, which is significant," Ashton said. "Older kids should use lap and shoulder belts and they need to be used correctly and fit properly."
According to the new guidelines, Ashton said all children younger than 13 should ride in the back seat.
To help begin making these changes in car seat use, Ashton recommended parents first check their child's seat.
She said, "With a third of children or more in this country being overweight or obese, weight is a problem. A lot of these models now extend to greater height and weight limits. So you want to check with the make of these car seats. And make sure they fit properly."
Ashton also issued a call-to-action for pediatricians. She said doctors should discuss with parents the safest way for their children to ride in car seats.
For more information on child seat safety, go to Seatcheck.org.
Thanks for reading CBS NEWS.
Create your free account or log in
for more features.