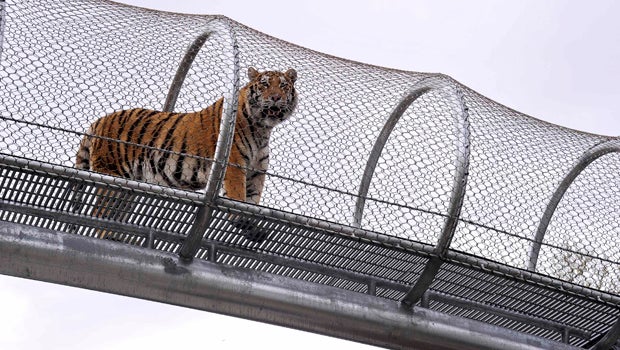 Philly zoo lets lions and tigers roam outside exhibits
PHILADELPHIA -- Visitors to the Philadelphia Zoo might want to beware of stray cats: A new enclosed passageway allows lions and tigers to roam outside their exhibits.
Humans, though, can safely gawk at the predators traveling along Big Cat Crossing. The protected, open-air path snakes above the felines' habitat to an archway over the zoo's main promenade and ends at a viewing spot along a lake.
The concept for the catwalk unveiled Wednesday stems from the increasingly common practice of animal rotation, which lets animals take in new stimuli while visitors encounter them in unexpected places.
"It becomes much more of a safari-like experience," said Philadelphia Zoo CEO Andrew Baker.
The $2.3 million project is the latest addition to the zoo's travel system, which has a similar trail for small primates and another for orangutans.
The system was primarily designed to improve animal well-being, but "we realized that there were huge opportunities from the guest experience side as well," Baker said.
By that, Baker means that visitors might be challenged to track down animals that aren't lolling around in their usual habitats.
"It's really cool to see them walking above you. You almost feel like you're in the wild with them," said visitor Johanna Dinardo, of Philadelphia, as she watched Amur tigers Wiz and Dmitri cross over the pedestrian walkway.
Animal rotation has become more popular as "the public challenges zoos to improve," said Ed Hansen, CEO of the American Association of Zoo Keepers.
The O Line at the National Zoo in Washington lets orangutans travel between enclosures by swinging from cables high above the property. At the Denver Zoo, keepers rotate lions, African wild dogs and hyenas through a habitat.
"It's to replicate the natural environment as best as we can," Hansen said. "It's enriching to their environment and their mental capacity."
In Philadelphia, the zoo has meshed those two concepts - travel and timeshare. Lions, tigers, pumas, jaguars and leopards already rotate among five exhibits. Now, they'll take turns using Big Cat Crossing.

The zoo plans to extend and connect all three trails, though species will use them separately. So when it's too cold for orangutans to be outside, cats can use their trail, said Baker. Hooved animals like rhinos and giraffes also will get to travel.
Thanks for reading CBS NEWS.
Create your free account or log in
for more features.