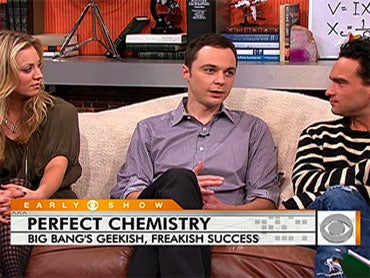 "Big Bang Theory" Cast Has Perfect Chemistry
With an average audience of almost 15 million viewers a week, many people are geeking out to the hit CBS comedy "The Big Bang Theory".
It certainly isn't rocket science to recognize a major part of the sitcom's success is the chemistry between the show's hot ensemble cast.
Actors Johnny Galecki, Jim Parsons, Kaley Cuoco, Simon Helberg and Kunal Nayyar stopped by to chat with "Early Show" co-anchor Harry Smith about their characters and their ever-growing success.
The show is No. 2 sitcom on TV and the No. 1 comedy in the 18-49 demographic.
"Big Bang Theory's" Cuoco on New Romance
Barenaked Ladies on "Big Bang Theory" Theme Song
The cast members, who meshes well together with their friendly banter and inside jokes, say that they can somewhat relate to the roles they play.
"We all have elements of our characters," Nayyar said.
Recently, fans got to see Cuoco and Galecki's characters, Penny and Leonard fall for eachother, but it became too serious when the 'L word' (love) came up.
"It was very scary," Cuoco said.
Now the two are broken up, leaving Penny worrying that dating Leonard has ruined her for "normal guys." It seems like loyal fans are more heart-broken about the break-up then the characters themselves.
Smith jokingly asked the cast if America is in mourning.
Parsons' character, Sheldon, just might be lucky in the love department.
In next week's season finale, former "Blossom" star Mayim Bialik guest stars, but will she be a match for Sheldon?
"We do have some match-making that goes on in the last episode," Parsons said. "I don't know what it could 'blossom' into!"
You can see the season finale of "The Big Bang Theory" on Monday night at 9:30/8:30 Central on CBS.
Watch the cast chime in on their characters' relationships as well as life on the set.
Thanks for reading CBS NEWS.
Create your free account or log in
for more features.