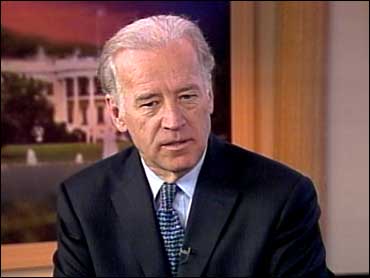 Biden's Comments Ruffle Feathers
Facing criticism, potential 2008 presidential candidate Sen. Joe Biden has been forced to explain his recent remark that "you cannot go to a 7-Eleven or a Dunkin' Donuts unless you have a slight Indian accent."
On a recent edition of the C-SPAN series "Road to the White House," the Delaware Democrat is shown shaking hands with a man and boasting about his support among Indian-Americans.
"I've had a great relationship. In Delaware, the largest growth in population is Indian-Americans moving from India. You cannot go to a 7-Eleven or a Dunkin' Donuts unless you have a slight Indian accent. I'm not joking," Biden said.
The clip made its way through cyberspace this week and caught fire in Washington, where Biden is known as one of the more long-winded senators.
The founder of the Indian-American Republican Council, Dr. Vijay, said Biden's "recent gaffe is clearly over the top."
"We're not asking Sen. Biden to apologize for his embarrassing, stereotypical comments. However, we do appreciate knowing what he really thinks of his Indian-American constituents in Delaware," Vijay said.
Biden's office said the senator admires, supports and respects the Indian-American community — and also sought to explain his gaffe.
"The point Sen. Biden was making is that there has been a vibrant Indian-American community in Delaware for decades. It has primarily been made up of engineers, scientists and physicians, but more recently, middle-class families are moving into Delaware and purchasing family-run small businesses," said Margaret Aitken, a Biden spokeswoman.
"These families have greatly contributed to the vibrancy of the Indian-American community in Delaware and are making a significant contribution to the national economy as well," she said.
Earlier Friday on MSNBC, Biden added, "It was meant as a compliment."
Supriya Christopher, executive director for the bipartisan U.S.-India Political Action Committee (USINPAC), tells CBSNews.com that Biden's comments were taken out of context and she did not consider them derogatory or racially charged.
Christopher dismissed blaming Biden's poorly-received comments on his speaking style.
"For anybody who's been in office that long, I'd hope he'd speak extemporaneously," she said.

Thanks for reading CBS NEWS.
Create your free account or log in
for more features.