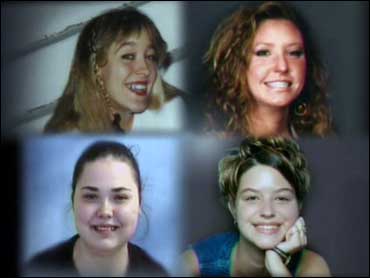 This story originally aired on May 19, 2007. It was updated on Feb. 21, 2008.
"We're in the midst of rejuvenating Atlantic City," says local radio host and Atlantic City legend Pink Kravitz. "The casinos this past year generated $5 billion.This industry has created over 40,000 jobs for people right here in Atlantic City. Come see for yourself."
But a few short miles from the Atlantic City's glittering casinos sits a strip of low-rent motels. Behind them, a lonely path runs along a drainage ditch.
As correspondent Harold Dow reports, police in the Atlantic City suburb of Egg Harbor Township were alerted on Nov. 20, 2006, to a grisly discovery: spaced out along the drainage ditch were four dead women.
At the time, John DeAngelis was a captain on the force. When police examined the first body, they immediately noticed something strange. "They had discovered that the victim did not have shoes on and was barefoot," he explains.
In fact, it turned out that all four victims were methodically positioned in the same bizarre manner. "All facing east, all with no shoes on, no purse, no cell phone, no personal belongings," DeAngelis explains. "It appears that these women were killed just for the sake of being killed."
And DeAngelis believes that most likely, one killer was involved with all four victims.
Fear of a serial killer on the loose rocked Atlantic City and the entire Northeast. Police had a high profile case on their hands with few clues. And as they began to identify the victims, it took on a new and more troubling dimension. All four murdered women had friends and families who loved and supported them. So why and how did they end up in a place like this?
Barabra Breidor's sisters Francine and Valerie were not surprised when they learned that she was one of the victims; Barbara had been missing for weeks.
Fran and Val prefer to remember their sister in happier days, growing up in the Philadelphia suburbs, spending summers with Barbara on the Jersey shore. "Barbara was raised in a very stable, loving home," Val remembers.
But Barbara had trouble coping with the sudden death of her father. The death, says Val, completely devastated the family and left Barbara depressed.
After a tough year at Penn State University, Barbara left school and returned to the South Jersey shore. She held several steady jobs, and in 1997, achieved a life-long goal: motherhood.
Barbara Breidor was 42 years old. Her daughter Dominique is only 9.
Solving Barbara's murder was the job of Atlantic City Prosecutor Jeffrey Blitz. He formed a special task force to crack the case. Even before Blitz identified Barbara Breidor, he revealed the name of the first woman found in the ditch: 35-year-old Kim Raffo.
Kim's cousin Juliette remembers the two of them growing up on the streets of Brooklyn. "Always smiling, you know, always happy," Juliette recalls.
As Kim grew into a young adult, she seemed to be headed in the right direction. "She really had it together. I was so proud of her," Juliette says.
Hugh Auslander fell in love with Kim and married her in 1989. The young couple moved to Florida and had two children; Hugh worked a good construction job, while Kim devoted herself to the kids.
"Everything was about as good as it gets," Hugh remembers.
But then things began to fall apart. Kim fell in love with another man, a chef she'd met at a cooking class and by 2003, the marriage was over. Kim eventually moved to Atlantic City with her lover. Three years after they arrived in town, Kim Raffo was dead.
Kim was strangled to death. The second victim identified died similarly. She was 23-year-old Tracy Ann Roberts, who, according to DeAngelis, came from a small town in Delaware and trained to be a medical assistant.
Tracy had only moved to Atlantic City within the past year. "Everybody that knew her said that she was a really nice, pretty, young person that had her whole future ahead of her," DeAngelis says.
Six days after the bodies were found, Barbara Breidor was identified through dental records.
Identifying the fourth victim was difficult, because she had been in that ditch for more than a month. To determine who she was, Jeffrey Blitz's office released images of her tattoos.
"There was a tattoo of a bulldog, an English bulldog. And all the family members recognized it immediately," explains the victim´s uncle, Steve Taylor.
The woman's name was Molly Dilts, just 20 years old. Her uncles Steve and Sam Taylor struggled to cope with the loss. "She was a warm and loving caring kid," Steve recalls. "She had a lot of good to spread to the world and it's just a shame that she won't be able to do that."
Molly was from Black Lick, Pa., a mining town where money is tight and family is tighter. "For everything that that poor girl had gone through, I think she came out pretty damned well," Steve says.
Molly had endured her fair share of hardship, losing both her mother and her brother when she was just a teen. Her uncle Steve says that's was the start of a rebellious side.
Molly had had some minor scrapes with the law, but after she gave birth to her son Jeremiah, she seemed to be getting her act together.
But in the summer of 2006, Molly left Jeremiah in the care of her family, and left Black Lick behind her. "She was just going out there to pursue a better life," Steve says.
In the first week of October Molly contacted her family, calling collect from a New Jersey number. Steve says the call was traced to a payphone in downtown Atlantic City.
They would never hear her voice again.
Four lives were lost, with little apparent connection. But investigators quickly discovered that the four victims did have something in common: they all had a dark side. The hunt for the killer would lead deep into that darkness.
For decades, Atlantic City has been an iconic American vacation land - a powerful magnet for people trying to escape their troubles. Kim, Barbara, Tracy, and Molly were no exception.
"These are four people who came to Atlantic City to remake themselves," explains historian Prof. Bryant Simon. "Something that fantasy cities promise all the time."
"Summer 1940, it would be wall to wall people. You could not walk a full stride down the boardwalk," Simon explains.
But in the 1970s, the city's economy collapsed, so New Jersey made the ultimate gamble by legalizing casinos. In the 30 years since, the impact has been profound.
Today, the Atlantic City casinos generate more than $5 billion dollars in annual revenue, and roughly 30 million people come there each year. Most come for a visit; a few come to stay and start a new life. But everyone's hoping for the same thing: to get lucky.
Kim Raffo took a chance on Atlantic City, moving there in 2003 with her new man, Kenny Bilecki. "Things were really good when we got up here. We were making money and we were trying to build a life," Kenny remembers.
Kim and Kenny, a trained chef, both held steady jobs at a restaurant in the Taj Mahal casino. Kim became close friends with a local bartender, John Pesce.
"When I first met her, she had an apartment and a job. And she was just a regular person like everybody else," Pesce explains.
But it didn't take long for Kim to learn that life in Atlantic City changes the second you walk out the casino doors. "The wealth generated by the casinos has created a boom outside the city. Leaving the core of the city with the least fortunate," Prof. Simon explains.
The result? An almost surreal juxtaposition: magnificent, opulent casinos surrounded by dead zones of poverty and crime.
"It's definitely a dichotomy. It's a small town with big city problems," says Jim Hutchins, a recently retired Atlantic City police captain, who took Dow out on the streets.
Dow and Hutchins cruised Pacific Avenue, known locally as "the track," just a block inland from the boardwalk, where Hutchins says prostitutes wait for clients. "They're working girls," he says. "I don't think they're selling girl scout cookies over there."
It was in this double world of glitz and grime that Kim Raffo struggled to make ends meet. "Every time we would leave our building, you know, we would be approached by drug dealers and to buy drugs," Kenny recalls.
Kenny says that eventually, they both got caught up in the scene. "We started drinkin' and fell into the crack scene, you know, and started smokin' it," he admits.
Kim had left her kids with Hugh. John Pesce says that searing regret drove her drug abuse. "She was in pain mentally, emotionally. It was important to her to take care of her kids. And when she didn't, it really upset her," he says.
Kim had used drugs socially before. But now, she was a full-blown addict. Asked how crazy things got, Kenny tells Dow, "Absolutely crazy. I thought I was losin' my mind, mentally. I mean, just losin' it."
Unable to hold their jobs, Kenny launched a new career as a shoplifter, while Kim started turning tricks on the track to support her habit.
Papa Joe Boccino runs a café just off the track, on Tennessee Avenue. He knows all the local prostitutes. But he says Kim was different. "You would think she would be the last person that would be on crack," he explains. "Kim was too clean cut."
Kim's murder hit Kenny hard. "I got a lot guilt because she's dead. And I shoulda watched her a little better," he says.
During the interview, Kenny allowed 48 Hours to videotape him smoking crack. "I loved her with all my heart. I'm dyin' a slow death right here," he says.
Like Kim, Barbara Breidor also worked the casinos. She was a cocktail waitress. But her sisters say she got trapped in an abusive relationship with Dominique's father.
Asked how she ended up on the streets, Val tells Dow, "She was a victim. A victim of domestic violence."
"She ended up self-medicating herself ... with drugs," Fran adds.
Barbara spent years in and out of rehab programs for heroin addiction, but the situation didn't improve, especially for Dominique.
"None of my parents watched over me because they were, had something to do. I was left all alone to do nothing," Dominique says. "My dad locked me out of the house. I called police because he was trying to beat up my mother. He ripped her hand open right there," she adds, pointing to the palm of her left hand.
Her father ended up in prison; Dominique was taken away from her mother, and briefly put into foster care.
Alone in Atlantic City, Barbara sank into the dark world of the track.
Tracy Roberts, herself a young mother, had developed a bad drug habit back in Delaware. "Tracy gave me the impression that she was a street girl," explains Papa Joe Boccino.
Friends in Atlantic City say Tracy worked for a time at a local strip joint, and was then out on the track with the other working girls.
Twenty-two-year-old Kristen is a five-year veteran of the Atlantic City streets. Her daily struggle mirrors what Tracy and the other victims were living through shortly before they were killed.
Driven by a $200-a-day heroin habit, Kristen is constantly working, soliciting johns on the track or in the casinos. "You walk through the casino. Like, say you play a slot machine or somethin'. Somebody's going to say something to you," she explains.
The streets make anyone tough but Kristen's pain is never far from the surface. "You just miss everything. You miss, I have a little sister, I miss her growing up, you know? It's hard. I can't get out of this damn place, though," she admits.
Like Kristen, Kim, Barbara, and Tracy were deep into the street life. "I have to support my drug habit. Killer or no killer," Kristen admits.
Kristen is still out there, and so is the killer.
As investigators learn more about the troubled lives of Kim, Barbara, Tracy, and Molly, a picture of their final days during the fall of 2006 begins to emerge. The timeline is a heartbreaking history.
On Sept. 9th, while Kim Raffo's boyfriend Kenny is in jail for shoplifting, her ex-husband Hugh Auslander arrives in Atlantic City. Hugh's goal: to find, and maybe rescue, the mother of his children.
Asked what steps he took to get her out of this world, Hugh tells Dow, "Well quite simply, I just came up there and I said, 'Look, here's your opportunity. I'm more than happy to help you out of here. And get you re-established to being a normal person.'"
Kim said yes, and just before she left, she recorded a message for her friend, bartender John Pesce. "Hi John, it's Kim. I'm gettin' the hell out of dodge. I would really like to say goodbye. Thanks for everything, and I love you," she said in the recording.
Kim spends the next several weeks clean and sober with Hugh in Long Island.
In the meantime, women back in Atlantic City started to disappear. On Oct. 7th, 20-year-old Molly Dilts called her family and then vanished.
Molly's uncle Sam Taylor points out that she had no prostitution arrests. But several people on the street, including Papa Joe, say she'd fallen into the life.
Asked to talk about Molly, Papa Joe tells Dow, "Molly, a new kid on the block. She got here in the summertime. She was here about four or five different times with some of the girls."
On Oct. 17th, Barbara Breidor left the house in nearby Ventnor where she was living with a friend. When she never returned, her sisters Fran and Val eventually tried to file a missing persons report. They say they got the run-around, especially after police discovered a past prostitution arrest.
Val thinks it would have made a difference had police taken it seriously. "Had it been put out in the newspaper it could have scared [the killer] away. I believe that there was enough time to maybe save the last two victims," she says.
Sometime in mid-November, a street hustler named Dante said he went clothes shopping with Tracy Roberts. She bought the outfit she was wearing when her body was found.
"She said, 'I'll be back in like a hour,'" Dante remembers. "She never came back."
As the days pass, Kristen started to worry. "It's not like her. So we knew something was wrong," she recalls.
During this time, Kim Raffo, unaware of what was happening, made a tragic decision to leave Hugh and return to Atlantic City for good. Kim stayed for a while with John Pesce, but quickly found herself back on the track.
Papa Joe may be the last person to see her, early in the morning on Sunday, Nov. 19th. He says he saw Kim get into a car. "I literally threw her out of here after I fed her and opened the car door. And she said hi to the guy, whatever. And he said hello. And then, they left," he recalls.
Sources tell 48 Hours that Raffo went with a john to the Taj Mahal, but then left him around 5:00 a.m. to score drugs. The very next day, Kim and the other women were found, barefoot and facing east in the drainage ditch.
That scenario fits the toxicology reports, which revealed large amounts of cocaine in the Kim and Tracy's bodies, alcohol in Molly, and a potentially lethal dose of heroin in Barbara. That raised the theory that the killer sedated his victims with alcohol or drugs.
Not wanting to tip the killer, Atlantic County Prosecutor Jeff Blitz has remained tight-lipped since his first-and last-press conference. But retired Atlantic City police captain Jim Hutchins thinks the prosecutor should do some explaining.
Hutchins says his former squad, the Atlantic City vice cops who actually knew the streets and the girls, were not brought into the investigation until precious time had been lost. He says he was contacted three days after the bodies were found.
"I would have gave them whoever they asked for to help to knock on doors, to interview witnesses, neighbors. The neighborhood where the girls live. And I wasn't asked to do that," he says.
Hutchins says that may be why, to this day, investigators still don't know if the murders occurred right where the bodies were found, or another location such as a hotel room or a car.
Retired Egg Harbor Township Police Captain John DeAngelis points out another problem: there is no apparent motive.
On top of all that, an FBI source tells 48 Hours that the scene at the ditch was contaminated by some of the first responders, limiting the amount of forensic evidence that could be retrieved.
"Decomposition occurred, which made it very difficult for investigators to take fingerprints or any other kind of forensic evidence," DeAngelis explains.
The prosecutor denies Hutchins' claims, and has recently stated that crucial evidence was recovered from the victim's clothes and bodies.
Still, with few signs of progress, some in law enforcement started paying attention to a profiler named John Kelly. "The profile's goal is to flush the person out. To try and inform the public. To help stimulate the investigation," Kelly explains.
Kelly thinks he can get inside the mind of the Atlantic City killer.
For one, he believes the killer is a local, from the area.
Kelly, a psycho-therapist, runs STALK, Inc.: an organization of former cops and mental health professionals. They created a profile on their own to help the investigation.
"Some people look at the work of a profiler as some kind of voodoo or something. Does it really work?" Dow asks.
"Certainly it works in many cases. It should be used as a tool. But it's not some answer all, end all," Kelly explains.
Certain aspects of the profile are rather exotic. Kelly thinks the killer may be into photography or another visual art. "In watching many of these serials killers, what we've seen is this underlying artistic nature," he explains.
Other elements are more predictable: for instance, the profile describes the killer as a social misfit, and a patron of prostitutes. "The stroll areas are his hunting grounds. And drug addicted prostitutes are his prey," Kelly theorizes.
Pursuing the theory that the killer knew the streets, police took an interest in an ex-con named Bill Schlue.
Dante the street hustler and his buddy Smiley say they hooked Schlue up with drugs and hookers - among others, Kim Raffo and Tracy Roberts.
"So he would have these binges with these women for days?" Dow asks.
"Yeah, days," one man replied.
Schlue was questioned by police, but never arrested. He has denied 48 Hours' repeated requests for interviews.
Asked what kind of a person committed these crimes, criminal profiler John Kelly says, "A man on a mission. And his mission is to eliminate prostitutes."
Could the killer be on a religious mission? Kelly thinks the strange fact that all of the victim's faces were turned to the east could be a sign of reverence for the Holy Lands of Jerusalem or Mecca.
"Whatever the demented message is that he's sending has something to do with the east," Kelly explains.
That's how a Muslim named Charles Coles, a convicted drug dealer and a friend of Kim Raffo, says he also wound up being questioned and released.
Whatever the killer's religion, Kelly feels strongly that he's left a more important clue - one that could be the key to the case: all the victims were found barefoot. "He's taken their shoes and he's taken their socks. I have to believe we're looking at a serial killer with a foot fetish here," Kelly says.
The foot-fetish theory reportedly led police, and 48 Hours, to an ex-con named Mark Hessee, who's now an aspiring minister. At the time of the murders, Hessee was living at a flop house on the track, the Fox Manor Hotel. He once offered a woman there a foot massage.
"Do you think you became a suspect because they heard about you massaging someone's feet?" Dow asks Hessee.
"Yeah," he replies. "I admire women that take care of their bodies. I mean, you know, and when I see a woman in sandals, and her toes are all painted up. And her feet are taken care of. I will compliment her."
During his stay at the Fox Manor, Hessee crossed paths with both Kim Raffo and Barbara Breidor. He remembers trying, unsuccessfully, to get Kim to give up prostitution. "And that's what bothers me the most. Is these people that are not ready to come to the Lord, and walk away. A lot of 'em end up dead," he tells Dow.
Asked if he killed those four women, Hessee says, "No. No I didn't. I can't kill anybody. I never have. Never will."
Hessee is apparently not the only man in town with a thing for feet. Denise Hill, an experienced prostitute, told police she had a close personal encounter with a foot freak at a Best Western the same week the bodies were discovered.
"He was talking my shoes. He liked my shoes. But at this time I didn't know anything about the murders. But he was so obsessed with my shoes," she recalls.
Denise says she even gave the john a pair of her shoes. "I got him the shoes. They were just like this color, same color," she says.
But then the date went from strange to terrifying. "He was talking about some crazy stuff. He was talking about like really bizarre stuff like he's killed some people," she explains.
If Denise had seen the killer, what did he look like? To find out, 48 Hours hired criminal image profiler Jeanne Boylan, who frequently works with the FBI. Boylan is the artist behind thousands of famous sketches, most notably the Unabomber.
Denise told Jeanne she spent several hours with the man, and though he was wearing glasses and a hat the entire time, she claims his face is seared in her mind. Getting that image on paper took all day. But by nightfall, the sketch revealed what had been locked in Denise's memory for months.
(CBS/Jeanne Boylan)

Looking at the sketch, Denise was convinced it was the same man she had spent time with in the hotel.

48 Hours sent the sketch to investigators, but Prosecutor Blitz would not comment on Denise's story. Still, Boylan thinks it can be useful, despite its limitations.

"The likelihood is that this is a common outfit for him, something that might trigger a memory with a landlady, a neighbor," she says.

In fact, the sketch caught the eye of Barbara Breidor's daughter, Dominique. She thinks the man may have come by her parents' house years ago. "Well when I was in the middle of playing with my mom she opened the door. He tried to sell her something. I've just seen him. And I'm pretty sure it is him," she explains.

Still, as the months roll on, none of these leads pan out. Schlue, Coles, and Hessee are never charged with the murders. And some of the victims' families grow frustrated.

But soon, and suddenly, a new suspect was about to emerge. After five months of dead ends, the harsh spotlight of the investigation turns toward this man - 35-year-old Terry Oleson.

On April 3, 2007, police, acting on a tip, searched Oleson's home in rural southwest New Jersey. They discovered a surveillance camera inside a birdfeeder. Oleson came in for questioning.

As it turns out, in the fall of 2006, Oleson was doing odd jobs at the Golden Key motel, just steps from where the bodies were found. He stayed in a corner room, and fellow guests say he was a loner.

Relatives say Oleson was estranged from his family for years, and had been having domestic difficulties with a long-term girlfriend. That seems to match the trait of social alienation mentioned on John Kelly's profile.

"Mister Oleson comes across as being a very non-social, shy person," Kelly says.

Days after the search, Oleson was charged with an unrelated offence - videotaping a minor in the nude with a hidden camera. He is being held on $100,000 bail.

"He is charged ultimately with being a peeping tom…. Yet, they're treating him like he is 'Jack the Ripper,'" says Oleson's attorney, James Leonard. "Terry Olson is not a serial killer. He is not a monster."

Leonard points out that his client, a divorced father, has no felony convictions and is supported by his family. "In our opinion, he is an innocent man who has been caught in this tangled web of an investigation," he explains.

But Olesons' alleged interest in surveillance video is consistent with another trait on Kelly's profile: visual artistry. "If that's enough to call someone a serial killer, then that list of suspects is gonna grow a lot longer," Olesons' attorney argues.

Leonard says Oleson actually helped investigators search for evidence back when the bodies were first found. And so far there's nothing to suggest he's ever had a foot fetish, or any kind of contact with the victims. "I did ask him, very candidly if he knew any of these women. And he answered me, very adamantly, 'No,'" Leonard says.

And last October, a clean-cut Oleson , out on bond, recalled how he was questioned by police. "'We know you did it.' That was their exact words. And I'm like 'You knew what. How did you get from this to this that's it that's it I'm done," he said.

Atlantic County authorities took a hard look at Terry Oleson, even getting him to give a DNA sample to compare with evidence from the victims. But so far, they have not charged him with anything related to the murders.

"I wish I had some information for everybody. I have no idea how I got involved in any of this but I hope they find whoever did this," Oleson said.

The identity of the man in the sketch still remains a mystery.

For now, there will be no Hollywood endings or clichés about closure for the families of the victims. Precious memories, and heartfelt tears will have to suffice.

"Dominique is holding up well considering," Barbara Breidor says.

Like Barbara, Tracy, Molly and Kim sadly all left young children behind.

In the meantime, in Atlantic City, tourists swarm the boardwalk, and the working girls on the track maintain their wretched routine.

"I make some money, then I go get some drugs. Then when the drugs are gone I go and make more money," Kristen says. "I'm a good person, I'm just stuck in a bad life."

For Kristen, the young drug-addicted streetwalker, the future is painfully clear. "It's hard cause part of you wants to get better and part of you is sick," she says. "I know what is going to happen. I am not going to lie to myself, I'm not going to lie to people. It's jail or death."

But for all the lost souls trapped on Atlantic City streets, there is one ray of hope. Val and her husband have adopted Dominique and are raising her with their two sons in Florida. Dominique's homelife is stable, she's getting counseling, and she's performing superbly in school.

"I plan to go to college, all the way up to college. And stay in college for ten years," she says, laughing.

"Dominique's future is very bright," Val says. "This isn't the end for her, at all."
---

Atlantic County now has a new prosecutor. He says the case remains open and under investigation.

Anyone with information about this case can call the Atlantic County Major Crime Unit at (609) 909-7666.
Thanks for reading CBS NEWS.
Create your free account or log in
for more features.