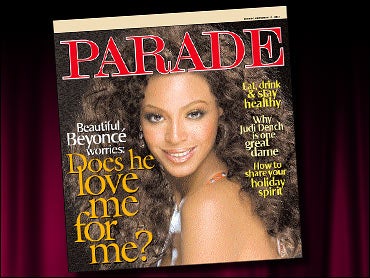 Beyoncé On Love, Depression And Reality
Beyoncé Knowles is known for being sexy, seductive and provocative when she performs on stage, but she says that's not really her; that's her alter ego Sasha.
"I wouldn't like Sasha if I met her offstage." Beyoncé tells Parade Magazine in an article for the upcoming issue.
She said Sasha is "too aggressive, too strong, too sassy, too sexy!
"I'm not like her in real life at all," she said. "I'm not flirtatious and super-confident and fearless like her. What I feel onstage I don't feel anywhere else. It's an out-of-body experience. I created my stage persona to protect myself so that when I go home I don't have to think about what it is I do. Sasha isn't me. The people around me know who I really am."
Beyoncé says that in real life, she is shy and vulnerable and suffered a bout of depression when her former group, Destiny's Child, disbanded.
"I didn't eat," she said. "I stayed in my room. I was in a really bad place in life, going through that lonely period: 'Who am I? Who are my friends?' My life changed."
In the article, the singer also discusses her much-publicized love life. Although she is now dating rapper-turned mogul Jay-Z, Beyoncé tells the magazine that she had the same boyfriend from age 12 to 19, and that letting go of him was extremely difficult.
"Now that I was famous, I was afraid I'd never find somebody again to love me for me," she said. "I was afraid of making new friends."
She says she wants to get married; rumors have abounded lately that she and Jay-Z are close to tying the knot.
"My parents have been married for 27 years, and they're still in love," she said. "That's a great example for me. I know it's possible."
Despite her status as an Hollywood A-lister who many say could be nominated for an Oscar for her role in "Dreamgirls," Beyoncé said she doesn't need celebrity or crave fame.
"I do normal things, walk in the park," she told Parade. "I don't want to be off on my own diva planet. I want to be on Earth. I want to be normal. I think I am past needing celebrity. I don't want to feel the void I see in a lot of celebrities ... the unhappiness underneath the smile."
Happiness comes from family, friends love and doing positive things, she said. In the future she hopes to have a life beyond the spotlight that she can still find fulfilling.
"I think about the future, about what my life will be like when people are tired of my songs and movies," Beyoncé said. "I'll still want a life then, beyond the music. Maybe I'll teach or mentor at a Boys & Girls Club. I want to have a family. I want to be happy."

Thanks for reading CBS NEWS.
Create your free account or log in
for more features.