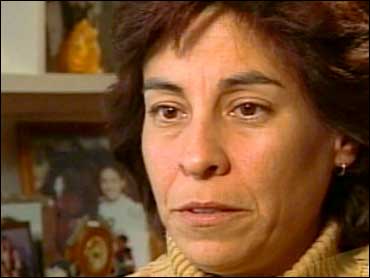 Best Friends Held In Teen's Death
Two California teenagers are behind bars charged with murdering their best friend - after the two built a memorial and joined in the search for girl when she was missing. The Early Show National correspondent Hattie Kauffman reports the next court date for them is in mid-December.
The bizarre tale began earlier this fall when 18-year-old Kelly Bullwinkle disappeared just as she was to start college. In September, her mom pleaded for the return of her only child.
"Anybody who has Kelly, please send her home," Diane Bullwinkle urged. "Don't hurt her."
Kelly's car was found in a nearby mall. A search by friends and family ended three weeks later when Kelly's body was discovered in a desolate canyon. In an area strewn with garbage, passersby made a gruesome find.
Chris Catren a detective with the Redlands Police Department says, "They came upon a smell, and did a little more investigation and then saw what they believed to be the remains of a human foot coming out of the ground"
Pointing at the site, he says, "The indentation where you see the purple cloth and the plant, that's the actual grave where Kelly was discovered."
Police say Kelly was lured to this junkyard by her two best friends: Kinsey Noordman and Damian Guerrero, who had dug the grave the day before.
Catren says Kelly was shot twice.
Kelly's mom says she had seen her daughter with those friends "That's what hurts. That's what is devastating," she says.
Noordman and Guerrero are being held at the San Bernardino Detention Center. Bail for each set at $5 million, but defense attorneys suggest the killing was simply a practical joke gone bad.
Defense attorney Richard Leonard says, "Well the joke is: here is your grave and this is where you could die, and that would be the practical joke."
Diane Bullwinkle counters, "Its not a joke. How could it be a joke? She's dead. She's been murdered."
The defense suggests Noordman and Guerrero simply wanted to scare Kelly and the gun went off by accident.
Leonard explains, "You know it is a joke only because the way that they dug the grave. The grave is only a foot deep and it is about 58 inches to 51 inches long. So it's not a real grave."
The cops aren't buying it. Police say the first shot was fired by Guerrero and the second by Noordman.
Defense attorney Leonard says the second shot was fired "to put Kelly out of her misery."
Noordman and Guerrero were fans of the violent film "Natural Born Killers." Friends say they considered themselves soul mates. Police detectives say Kelly had a brief relationship with Guerrero and that might have rocked the boat.
Leonard says, "No, I don't think Kinsey was jealous. He had broken up with Kelly, oh about three weeks prior to all this."
Incredibly, both Noordman and Guerrero attended Kelly's memorial service. Both had also searched for her when she was missing.
A classmate says, "It was really surprising. They were actually there. Like one of the guys, Damien, I think his name, he was one of the most upset ones there. He was crying, like bawling."
The three became close friends while attending high school, where they were part of the Goth scene, dressing in black and celebrating death.
Most of their friends wouldn't talk. One said they're still shocked: "Just to find out that it was Damien, it was kind of like it was, I don't know, it was scary to me."
Out at the canyon, there's a memorial to Kelly Bullwinkle, built by her best friend, Kinzie, before she was arrested.
Det. Catren says, "Oh, it's very sad. I mean this is one of those cases where you know the truth is pretty hard to take - friends killing friends. It's tough."
Diane Bullwinkle says, "I planned everything for her, around her, with her, just so she has a better life. What do I do now?
"I expect her to come home from school. I see her picture and I'm not ever going to see her again. My heart's been ripped out."
Thanks for reading CBS NEWS.
Create your free account or log in
for more features.