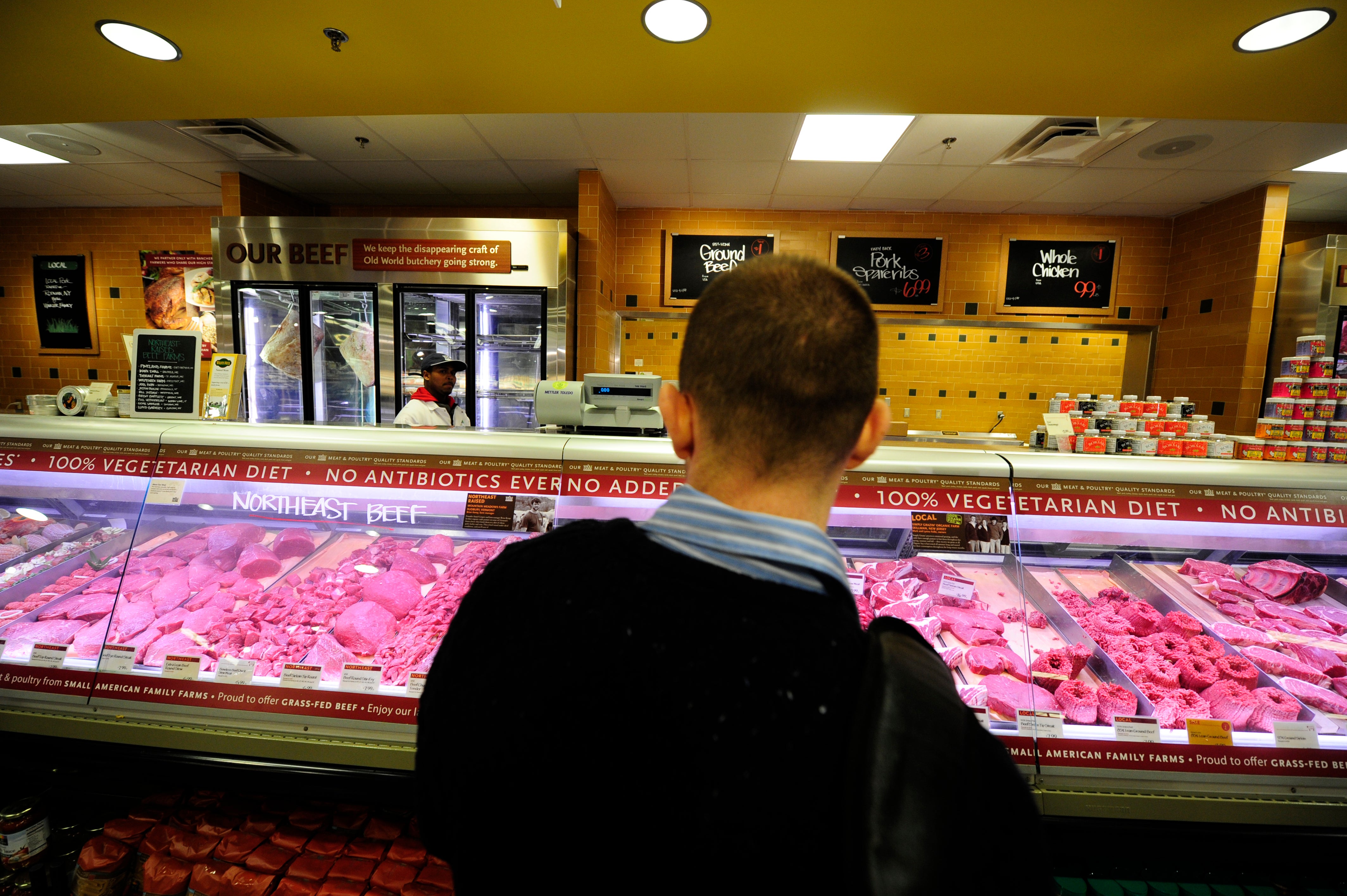 Paleo ranked last of the "Best Diets of 2014"
U.S. News & World Report's Best Diets of 2014 are in, and coming in last place this year is the popular Paleo Diet.
"Experts took issue with the diet on every measure. Regardless of the goal -- weight loss, heart health, or finding a diet that's easy to follow -- most experts concluded that it would be better for dieters to look elsewhere," the editors wrote.
U.S. News' annual diet rankings are determined by a panel of dietary, nutrition, obesity, food psychology, diabetes and heart disease experts. They ranked the diets in seven different categories: how easy it is to follow, its ability to produce short-term and long-term weight loss, its nutritional completeness, its safety and its potential for preventing and managing diabetes and heart disease. They also factored in the experts personal opinions on diets they liked and other things they thought dieters should know about this specific plan.
Diets were graded on a 1 to 5 star scale, with 1 being the lowest score.
The Paleo Diet is based on the theory that humans were meant to eat like their ancestors, and not made to eat processed foods and products with carbohydrates. If you cut out refined sugar, dairy, legumes and grains, and instead chow down on meat, fish, poultry, fruits and vegetables, the diet purports that you'll be able to ward off excessive weight gain, Type 2 diabetes and heart disease.
But experts who reviewed the diet said there's no clear-cut proof that Paleo will cause you to lose weight. If you eat fewer calories than you burn, you'll see some pounds fall off. However that would occur on any diet plan.
One study the U.S. News team reviewed showed that 14 people lost about 5 pounds in three weeks on Paleo, but the researchers admitted the study was "underpowered." Another study showed that the Paleo Diet could reduce blood pressure, "bad" LDL cholesterol and fatty triglycerides, but the study was too small to make general conclusions. There also hasn't been any definitive proof that the Paleo Diet can combat Type 2 diabetes, except that some research has shown that it can lower hemoglobin A1C, which doctors use to measure blood sugar.
What's more known is that by not eating dairy and grains, you might be missing out on essential nutrients like calcium and vitamin D, according to U.S. News. Eating too much lean meat may also raise risk for heart problems. The diet also contains about 4 percent more fat than the daily recommendations and 3 percent more protein.
There were some benefits, in that Paleo contained significantly lower carbohydrates and salt than what's recommended. Dieters will also get high amounts of fiber, potassium and vitamin B-12. The editors suggested taking vitamin D supplements if dieters didn't spend time outdoors, some calcium supplements and fish oil capsules if they don't eat enough seafood.
The panelists gave the Paleo Diet 2 stars.

U.S. News also added five new diets to its annual review of diet plans: Acid-Alkaline Diet, the Spark Solution Diet, the Fast Diet, Gluten-Free Diet and the FODMAP Diet.
The Acid-Alkaline Diet came in 27th place on the list of top 32 overall diets. Dieters focus on controlling their pH balance, a measure of acidic and base qualities of substances.

Our bodies naturally rate around 7.35 to a 7.45. Vinegar is on one end of the scale with 2.0 measure, while calcium comes in at around 10. Dieters try to lower their acidity consumption by following a 60/40 majority alkaline diet.
The diet has been shown to have weight loss potential because it skimps on processed foods, which in turn lowers calorie consumption, and it may help with diabetes. However, there are no cardiovascular benefits, and those with acute or chronic kidney failure may have more health problems if they attempt this diet, U.S. News found.
The Spark Solution Diet was the highest ranked new diet, coming in at number 13. The two-week structured program is based on a book that aims to jumpstart weight loss and better eating choices, and gives suggestions on how to continue the new eating habits long-term. The diet was shown to have qualities that can improve cardiovascular health and help with diabetes-related problems as well.
The Fast Diet, a diet that focuses on restricting yourself to low-caloric intake on two days a week and allowing yourself to eat normally on the other five, ranked 28th this year. The problem U.S. News' panel had was that it was hard to stay full on low calorie days, which could lead to extra indulgences.

If dieters could stick to the plan, there was potential for weight loss, and Fast Diet also had aspects that could lead to cardiovascular and diabetes benefits. However, women who are trying to get pregnant or are pregnant, plus children and adults with Type 1 diabetes, may suffer health consequences from fasting.

Another popular diet, the Gluten-Free Diet, was reviewed this year, but it was not ranked by U.S. News because it was first designed for medical purposes.

The diet was initially formulated for the 1 percent of the population with celiac disease, when the consumption of gluten causes an autoimmune attack on the intestinal lining. This leads to gastrointestinal problems and the inability to absorb nutrients. However, about 10 percent of people are estimated to have gluten insensitivity, meaning they suffer some of the problems that those with full-blown celiac disease have, but to a lesser degree.

Gluten-free dieters avoid items with gluten like wheat, barley, rye and oats. Those that follow the gluten-free diet supposedly avoid problems like digestive problems, eczema, chronic fatigue, headaches, infertility, attention deficit-hyperactivity disorder, depression, weight gain, diabetes, thyroid disease and chronic inflammation, according to advocates.

The final new addition this year, the Low FODMAP Diet, was a medically-designed diet to combat irritable bowel syndrome and some cases of inflammatory bowel disease. The diet aims to make digestion easier by avoiding hard-to-process carbohydrates, including fermentable oligosaccharides, disaccharides, monosaccharides and polyols. U.S. and World News Report did not rank FODMAP because it was medically necessary for some people, and was not intended for weight loss.




Overall, the top 10 diets stayed the same as 2013's rankings. The DASH Diet, a government-designed balanced eating approach that was intended to help prevent and lower high blood pressure, topped the list. People who partake in the DASH Diet focus on getting plenty of potassium, calcium, protein and fiber, as well as cut back on salt.

The TLC Diet, Mayo Clinic Diet, Mediterranean Diet, Weight Watchers, Flexitarian Diet, Volumetrics, Jenny Craig, Biggest Loser Diet and Ornish Diet rounded out the top 10.

For the complete list, visit the U.S. and World News Report website.



Thanks for reading CBS NEWS.
Create your free account or log in
for more features.