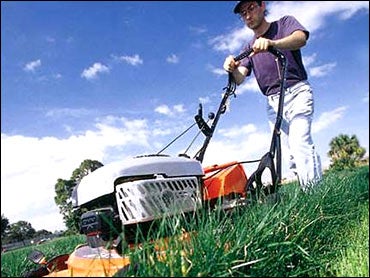 Best Bets For Lawn Mowers
It's Memorial Day weekend and you can't avoid it any longer. It's time to pull out the lawnmower and cut your grass.
Having the right mower can make this often-dreaded job much easier. Consumer Reports magazine has tested several, and test engineer Tom Mutchler visited The Saturday Early Show with the results.
When buying a lawn mower, you have a lot of choices in a wide range of prices. How do you know which to choose? Mutchler says the decisions rest on two factors: What type of lawn you have and how much you want to spend.
According to Mutchler, consumers really don't need to invest in a riding lawnmower unless they have half an acre or more to tame. And tractors are an real investment. They cost between $1,500 and $1,800.
When choosing a mower, Mutchler says, there are three big decisions you'll need to make.
Self-Propelled or Push?
The traditional lawnmower is a push mower. Self-propelled mowers have an engine that helps push the wheels along, meaning there's less physical exertion involved. Push mowers are less complex which means they are cheaper and tend to break down less. However, says Mutchler, if you have hills or lots of grass to mow, you may want to invest in a self-propelled mower.
Yard-Machines 11A-439G, $200
This is Consumer-Reports' top-rated push mower, and it's a best buy. Mutchler says you get great performance for the money.

Rear Bag or Side Bag?
The bag on most lawnmowers is in the rear, right underneath the handle. Mutchler says people tend to prefer rear bags because they are more compact, and they hold two to three times more grass clippings than a side bag. Consumer Reports says rear-bag mowers are generally better overall. But, Mutchler says, if you don't bag your grass and you typically just blow it out the side of the mower, a side-bag mower will do a better job.
Yard-Machines 11C-084D, $180
This push mower comes with a side bag, and it's another Consumer Report best buy.
Features
Mowers come with a variety of features now, and this is where you can wind up spending extra money. The average push mower runs about $200; the average self-propelled runs about $500. You can spend up to $900 on a self-propelled mower, but Mutchler says there's no need to spend more than $550. Mowers that cost more will have more features, but the average consumer will be satisfied with the several key features and great performance available on models that cost $550 or less.
There is one feature that Consumer Reports says you shouldn't pass up: a mower that will cut three different ways. A mower should mulch grass, bag grass and discharge it out the side of the mower.
Craftsman 37779, $500
This is Consumer Report's top-rated self-propelled mower. It has two specific features that Mutchler says CR's testers really likes. They are:
Blade-brake clutch: Often, when you are mowing, you have to stop to move a stick or a child's toy out of your path, and of course, you also have to stop when bagging grass. On most mowers, when you let go of the handle, the engine stops. The blade-brake clutch is a safety device that allows you to stop only the mower's blade while the engine continues to run, says Mutchler, eliminating the need to restart the engine.
Single-lever height adjustment: Depending on the grass and terrain you are mowing, it's often necessary to adjust the height of the mower's wheels. Mutchler says this feature allows you to adjust the height on all four wheels at once instead of getting down on your hands and knees and using a wrench to adjust each wheel separately.
John Deere JS63C, $550
This mower is rated number two in the self-propelled category, right behind the Craftsman, says Mutchler. The feature CR likes is the front swivel wheels, which make it easy to turn the mower at the end of a swath of lawn.
Yard-Man 12A-569T, $375
This mower also rates well in the Consumer Report study and it has an unusual feature - big rear wheels. Mutchler calls it a result of the "SUV phenomenon." The mower is designed for folks whose lawn is not well-manicured; the oversized wheels help the mower navigate rough terrain.
Replacing Your Mower
While these lawnmowers might sound fabulous, Mutchler says there's no need to rush out and replace your current model if it's just a few years old. Lawnmowers are a "mature" product - they've been around for a long time. Mutchler says you won't see massive improvements from year to year. The most recent changes have been improved emission controls. Lawnmower engines are actually worse polluters than car engines. Manufacturers are working to change this.
Mutchler says you can expect your lawnmower to last eight to 10 years. After that, you'll need to determine if it's worth the money to repair it or if it makes more sense to replace the mower. Of course, to get the full life out of your mower, you will need to perform some minimal maintenance, he says.
In addition to comparing how well lawnmowers cut grass, Consumer Reports also looks at the repair histories of the machines. Some brands consistently break down more than others. Earning the dubious titles of least reliable: Lawn-Boy and Snapper. Mutcher says Honda and Toro top the lists as the most reliable.
For more about Consumer Reports' Lawn & Garden Guide click here.
Thanks for reading CBS NEWS.
Create your free account or log in
for more features.