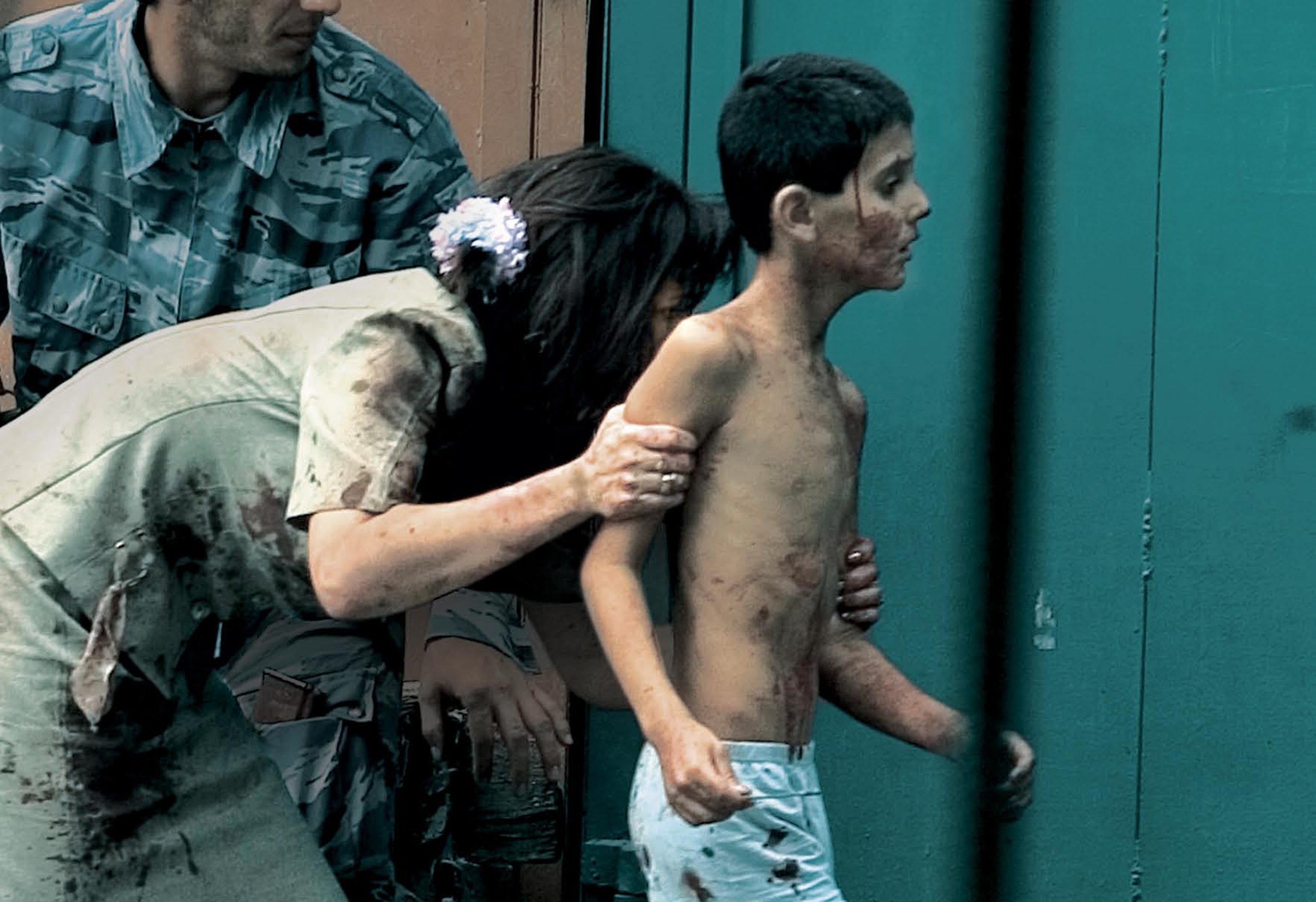 Beslan: Three Days in September
Editor's note: A tribute to humanity and courage. In our proud tradition of broadcasting excellence, CBS News' "48 Hours" is honored to have produced this powerful documentary for Showtime.
"Three Days in September" is the dramatic story of the 2004 Chechen terrorist attack and three-day siege of a school in southern Russia. When it was over, nearly 331 people lay dead -- many of them children.
The film is narrated by award-winning actor Julia Roberts. She introduces audiences to Beslan, a small, rural city of nearly 35,000 people situated at the foot of Russia's beautiful Caucasus mountains, and 1,000 miles from Moscow. The journey through those three days begins with then-16-year-old Dariya Fadeeva. She's proud of her town and is a happy, normal, teenage girl. But the events of those three September days change her life forever.
SEPTEMBER 1, 2004
Throughout Russia, September 1 is an annual celebration marking the opening day of school. In Beslan, that celebration turned into a nightmare when some 30, heavily armed Chechen terrorists attacked School Number One. Nearly 1,200 teachers, parents and children were immediately taken hostage. Dariya's younger sister was one of them.
"Three Days in September" tells the story of ordinary people who found themselves at the gates of hell. Two of Russia's elite soldiers from the Spetznaz force also share their story in a rare interview with a captain and one of his key snipers. This is the inside story of an unspeakable tragedy - but it's also a story of courage - and survival - and the will to keep going by those who survived it.
While working in Beslan, filmmakers were given a remarkable tape discovered by teenagers in the rubble of the school after the siege. A video camera brought to school that September morning by a proud Beslan parent, found its way into the hands of the terrorists. The tape reveals never-before-seen details of the drama unfolding inside the besieged school. The video lets us see, first hand, the absolute horror of the takeover, including a pile of bodies dumped out of a classroom window after having been shot by the terrorists on the first day.
We witness the only face-to-face negotiations during the siege. In a dramatic breakthrough, a group of mothers are allowed to walk out of the school with their nursing babies -- in some cases forced to leave older children behind.
This tape would become a critical piece of evidence as the Kremlin investigated this act of terrorism.
Two of Russia's elite Spetznaz troops at the school tell us their story. Both served in Chechnya and both participated in the taking back of Beslan School Number One. It's a rare interview with a captain and one his key soldiers -- a sniper.
The chilling climax of "Three Days in September" is the moment when everything goes horribly wrong. An explosion in the school marks the beginning of the end. A ferocious gun battle erupts and after a 10-hour fight, the depths of this tragedy become clear. Hundreds are killed, most are children, and all but one of the terrorists is dead. There would be years of outrage toward the Kremlin over the lack of answers to many unanswered questions. The only terrorist to survive the hostage taking was sentenced to life in prison in May 2006. In July of that same year, Shamil Basayev, the Chechen terrorist leader and alleged mastermind behind the siege at Beslan, was killed by an explosion. Even today it is unclear who, in fact, killed Basayev.
Amid the tragedy the heroic acts of many stand out - empowering everyone. The strength and courage of the survivors carries on to this day. This was in deed a very real example of real life heroes.
Dariya Fadeeva, 16, a Beslan high school senior, who had just returned from a year abroad as an exchange student in the Dallas suburb of Euless, Texas. She spent three excruciating days waiting outside Beslan's School Number One for word about her younger sister, Alya, a hostage.
Elena Kosumova, 37, the assistant principal and beloved language teacher at Beslan School Number One. Just as she was about to lead the ceremonial school opening on Sept. 1, 2004, Chechen terrorists attacked the school. She found herself, along with her 9-year old son, Timor, trapped inside the gym.
Zalina Zandarova, 27, brought her 2-year-old son, Alan, along to mark sister Alana's first day in school. On the second day, a negotiator secured the release of mothers with the youngest children and Zalina was forced into a "Sophie's Choice": allowed to walk out with her son, but forced to leave 6-year-old Alana behind.
Ruslan Aushev, 50, a retired Soviet general, decorated Afghanistan war hero, former president of the neighboring republic of Ingushetia, who arrived in Beslan at the Kremlin's request. Alone and unarmed, Aushev went into besieged School Number One, and was the only official allowed to negotiate with the Chechen terrorists.
Sergei Urmanov, 35 an electrical engineer, accompanied his wife and only child, Zalina, to her first day of first grade. Sergei has retained a detailed memory of everything the terrorists did during the three-day crisis. His wife, daughter, sister, and three nieces all died during the siege.
Dimitri Beliakov, 34, a Moscow-based photojournalist who rushed to Beslan and managed to embed himself with Russian Special Forces, the Spetznaz counter-terrorism troops. He won an Overseas Press Club Award for his brilliant pictures and aggressive reporting.
Ten years later
Dariya Fadeeva came to the United States to attend Texas Christian University. After graduating, she attended Georgetown University's School of Foreign Service. She is now working for the Center for Strategic and International Studies.
Her sister, Alya is currently a student at Moscow University. She is studying Economic Crisis Management at the Moscow Institute of Management.
Thanks for reading CBS NEWS.
Create your free account or log in
for more features.